When you mix two of the best things together – peanut butter and chocolate chips, the end result is nothing short of exceptional. Soft, chewy and delicious, peanut butter chocolate chip cookies not only satisfy your sugar cravings but also make your soul happy. It is one of the most sought-after cookie recipes for the festive season and equally easy to make at home. So what are we waiting for? Let's get started.
How to Make Peanut Butter Chocolate Chip Cookie?
To make the best batch of peanut butter chocolate chip cookies, ensure that you have the perfect blend of peanut butter and chocolate chips. Consistency is the key, to get the perfect cookie recipe. If you serve them warm, loaded with chunky chocolate chips and a rich peanut butter flavor, the cookies will be melt-in-the-mouth good.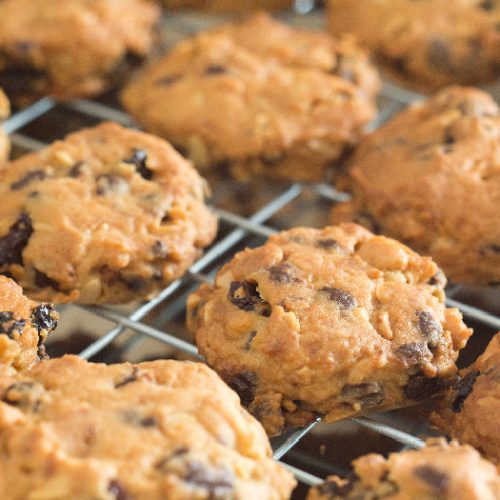 Peanut Butter Chocolate Cookie Recipe
Rich, chewy, and delectable, peanut butter chocolate chip cookies are the go-to desserts to satisfy your sweet tooth!
Print
Pin
Rate
Instructions
To make peanut butter chocolate cookie, first and foremost, in a bowl, mix 1/2 a cup of creamy peanut butter and unsalted melted butter (of the same quantity) until it reaches a smooth consistency. Then, to the mixture add 1/4 cup of white granulated sugar and 3/4 cup of brown sugar and mix well till it becomes creamy.

Thereafter, add 1 tsp of vanilla extract, an egg yolk, and salt and mix well. Thereafter, add 1 and 3/4 cups of all-purpose flour slowly to the mixture, until the cookie dough is formed. Add chocolate chips to the dough.

On cookie sheets covered with parchment paper or silicones baking mats, scoop and place 2 tbsp-sized cookie dough balls (make how many ever you can with the dough) and allow it to chill for 30 minutes.

Meanwhile, preheat the oven to 350-degree Fahrenheit. Use a fork to press the cookie dough balls flat. Once the dough balls are flat, bake them in the oven for nearly 8 to 15 minutes, until the bottom of the cookies begin to look slightly brown and their top loses its wet texture, indicating that they are properly baked.

Now that it's ready and good to go, store them in a glass container for 3-5 days. It also has a shelf-life of a month if you freeze them.
Connect With Us
If you have tried this recipe, we would love your feedback in the comments section below. And while we can't taste it, we would love to see how it turned out! You can connect with us on Facebook or Instagram and tag your picture with #organicfactsrecipes. [1] [2]
Do you wish to share your winning recipes with us? Please click here and fill in the details to get started.