If you ask about the national dish of Senegal, a name that is bound to come up more than the others is thieboudienne. It is also quickly becoming one of the representatives of West African cuisine, making a mark around the world. Also known as ceebu jën, thieb, or tiep, if you haven't come across this dish before, you would be surprised by how humble it is. In all its versions, chebu jen is an easy-to-make, unassuming yet versatile plate of one-pot rice and fish, which is what most of those names translate to. Use this recipe to cook up a traditional and exotic rice-and-fish bowl right in your kitchen.
What is Thieboudienne?
The name might make it look complicated but it is pretty simple, like its pronunciation. Called 'che-boo-jen', thieboudienne is the most popular dish in Senegal, but several versions of this prevail all across the Sahel region and West Africa. From another perspective, it is the jollof rice of Senegal and Ghana, but that comparison might be unfair to either. While the most traditional dish in Senegal is considered to be the preparation of white fish and rice, versions across the region use chicken or meat as well.
Irrespective of how it is prepared or what ingredients are used, one commonality binding all versions of tiep and making it truly traditional is the way it is eaten. It is a dish to be eaten with your people and everyone is welcome. The way it is prepared, served and eaten aptly represents teranga, the Wolof language word which signifies the standards of hospitality in Senegal.
This explains slight tweaks in the recipe from one kitchen to another. What makes thieboudienne a popular dish and representative of Senegal on the global food scene is the welcoming nature of the hosts and the love and effort they pour into making humble fish and rice.
That being said, making the best ceebu jen is something we wouldn't mind doing. And we have a recipe for that. Gather your close ones around for a one-pot feast.
How to Make Tiep?
To start with, you are going to need some firm, white fish. This means you are free to pick your favorite or the best available option. Your options include catfish, halibut, snapper, barramundi, tilapia or other such varieties of fish. Picking locally grown and available ones is a sustainable practice and we would recommend the same. If you are comfortable with cutting and cleaning the fish, buy a whole fresh catch. Alternatively, you can choose a cleaned fish or even fish steaks.
One of the most surprising elements in this traditional dish is the use of flavor cubes or bouillon. The use of such cubes is very popular in African cuisine and they have even adapted their classic recipes to modern taste and convenience. We don't mind doing the same.
The cooking process of this thieboudienne can be deconstructed into three parts: the fish, the vegetables, and the rice. As with cooking, so with the serving. While it can be cooked in a single pot, the dish has to be assembled while serving.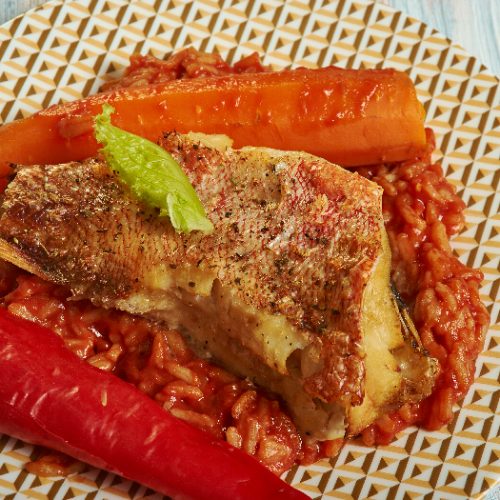 Humble, One-pot Thieboudienne
The magic of thieboudienne lies in bringing people together to experience Senegalese hospitality, teranga. When you make this simple, flavorful fish-and-rice dish, don't forget to invite your loved one over for a global feast.
Print
Pin
Rate
Total Time:
1
hour
40
minutes
Ingredients
For the Fish Stuffing
3

medium-sized white fish

cut in large pieces

1.5

cups

parsley

roughly chopped

4

cloves

garlic

1

bouillon cube

shrimp or fish

1

quarter

onion

diced

habanero pepper
For the Rice
3

cups

broken jasmine rice

4

carrots

2

cassava

2

onions

1

cabbage

small or medium

1

eggplant

large

2

cups

tomato paste

2-3

bouillon cubes

shrimp or fish

2

onions

chopped

2-3

habanero peppers

4

cloves

garlic

crushed

water

salt

to taste
Instructions
To begin your thieboudienne, start by prepping your fish and vegetables. Clean and cut your fish in large pieces and start piercing two or three holes in the flesh with a knife. The filling will be stuffed in these holes. Do not prick the skin of the fish.

For the vegetables, cut them into big pieces. Clean and peel the carrots, cut them in half only if needed to fit in the pot. Quarter the eggplant, as well as the peeled cassava. Clean the cabbage and cut it into quarters as well.

For the fish stuffing, start by making a garlic paste in the mortar and pestle. To this, add parsley, onions, habanero pepper, and finally bouillon powder. Keep grinding as you add new ingredients to achieve a paste-like consistency.

Fill the knife cuts in the fish with this stuffing. Shallow fry these pieces till brown on all sides. Take them out of the pan and let it rest.

In the same pan, add onion and fry until translucent. To this, add the tomato paste and mix it well. The color of this mix will turn somewhere between red to brown.

Once the paste is properly fried, add crushed garlic. Let the garlic turn golden before you add the peppers. You can crush the habanero peppers in a paste or roughly chop them.

Add the vegetables to this mix. Add water so the vegetables are almost covered and stir in bouillon cubes. Cover the utensil with a lid and let the vegetables cook for 10-15 mins on medium-high heat. Stir the pot through the process, if necessary.

When the vegetables are close to done, add the fried fish to the pot. Let it sit till the vegetables are properly cooked.

Once done, pick the fish out and let it rest. Next, pick the vegetables and place them in a separate dish.

Let the pan with the gravy be on heat. To this, add rice which has been soaked for about 15-20 minutes. Stir it well, put the lid on, and let the rice cook properly.

Once your rice is done, it is time to serve. This is a dish that brings people together and is supposed to be served in a way to reflect that. Start by taking a large hollow plate or a bowl.

Start by plating the rice as the deepest layer in the bowl. Over this, add a layer of burnt rice, if any. Place the vegetables and fish over this as the final layer.

Enjoy with friends and family.
Notes
If you are sensitive to heat, you can swap the habanero pepper for a milder pepper or use suitable amounts of paprika instead. You can also use ghost pepper, or more habanero peppers if you like more concentrated heat.
The recipe recommends for broken jasmine rice but if you cannot find that, use any variety of broken rice as the recipe traditionally requires it.
Once you get comfortable with the recipe, you can easily use the vegetables you like along with, or instead of, the ones mentioned in this recipe.
Cassava might take longer to cook than the other vegetables. We recommend adding it first and letting it cook in the pan for a few more minutes. You can do this for all the vegetables that take longer to cook.
Maggi cubes or bouillon cubes are popular in several West African dishes. However, if you are finding it difficult to get them, use concentrated broth instead.
Do you have any such traditional recipes from around the world? We would love to hear about it. Drop us a recipe submission here. Also, don't forget to tell us if you have tried this recipe. We would love to know about it in the comments below.