Drinking sake is a traditional part of Japanese culture. While it is usually paired with sushi across the US and abroad, it can be had with any kind of cuisine. You can think of sake as closer to beer because it is brewed from fermented grain. It also makes an interesting base for cocktails.
What is Sake?
Sake is a popular beverage that is made by fermenting rice. A common staple of Japanese culture, it has now become a popular drink worldwide. While wine is made through the fermentation of crushed grapes or other fruits, sake is brewed in a similar way to beer, in which the starch of polished rice grains becomes sugar and begins to ferment. In terms of alcohol content, Japanese rice wine usually has a concentration of 15% ABV, making it similar to traditional wine. [1] [2]
This alcohol also tastes quite like wine and is commonly compared to dry white wine, or light and fruity white wine. The rice used to make sake is not fit to eat, but there are nearly 100 different types of rice throughout Japan that are used to prepare it. Thus there is a wide variety of flavors and styles of this popular beverage. It can range from delicate and floral to a rich and funky-tasting beverage.
Nutrition Facts

---

Alcoholic beverage, rice (sake)

Serving Size :
Nutrient
Value
Water

[g]

78.4
Energy
134
Energy

[kJ]

561
Protein

[g]

0.5
Carbohydrate, by difference

[g]

5
Calcium, Ca

[mg]

5
Iron, Fe

[mg]

0.1
Magnesium, Mg

[mg]

6
Phosphorus, P

[mg]

6
Potassium, K

[mg]

25
Sodium, Na

[mg]

2
Zinc, Zn

[mg]

0.02
Copper, Cu

[mg]

0.01
Selenium, Se

[µg]

1.4
Alcohol, ethyl

[g]

16.1

Sources include : USDA [3]
Nutrition Facts
Due to the fact that sake is made from rice, it has some nutrients that are not found in most alcohols, including selenium and various amino acids. A 100-gram serving of sake contains roughly 135 calories, as well as a minimal amount of protein and iron. [4]
Benefits
There are potential health benefits associated with drinking Japanese rice wine in moderation. These health benefits are due to either the ingredients used to make sake or the fermentation process itself. These include:
However, sake is meant to be enjoyed as an experience in moderation and not as a health drink. Alcoholism and binge drinking is detrimental to your overall health and can undo any possible good things that moderate amounts can impart. [9]
How to Drink?
The consumption of sake is deeply ingrained in Japanese culture, and in many Japanese restaurants, there are certain traditions associated with this beverage, such as drinking it from specific cups and serving it from specific saucers. Depending on the season and the type of sake, it can be served cold, chilled, hot or warm.
How to Make Sake?
The production of sake is quite a challenging and time-intensive process so amateurs rarely attempt to make this beverage. That being said, if you do wish to make your own, the general steps in the process are below.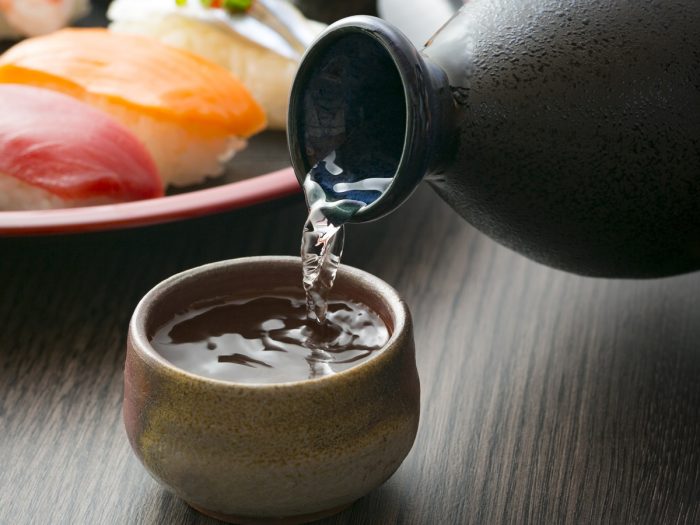 Homemade Sake Recipe
Relish the malted beer-like taste of Japan's favorite rice wine!
Print
Pin
Rate
Ingredients
4

kg

of polished rice

1.13

kg

of koji

7.6

liters

of water

4

grams

of yeast
Instructions
Wash and steam-cook the polished rice bran.

Mix the rice with yeast and koji, a type of rice that has already been cultivated with a specific mold.

Allow the mixture to begin to ferment, adding rice, yeast, and koji over the next four days.

This fermenting mash will be allowed to sit for 3 to 5 weeks.

Press, filter, and blend the liquid that remains.
Side Effects
There are a few side effects that are specific to this beverage. The side effects of drinking excess Japanese rice wine include the following:
Hangover
Dehydration
Nausea or a headache
As with any kind of alcohol consumption, there are health risks if had in excess. The risks involved with drinking excessive alcohol can be short term such as violence and injuries to long-term health risks such as chronic diseases. [10]