The ways people make a sidecar remain pretty uniform across the board. The brandy based cocktail uses some classic simple ingredients which, if you prefer, can be swapped for something more likeable or accessible. Even for a purist, it is difficult to argue against it because even though the way it is made is standard, its origins remain debated. Let's take a look at what the sidecar cocktail is, and how you can make it.
What is the Sidecar Cocktail?
Named after the extra passenger car attached to the side of a scooter or bike that were more prominent till a few years ago, the sidecar cocktail is a popular evening drink invented probably sometime between the first and the second world war. Some say it happened at a bar in New Orleans, some believe it came from Paris, France, more specifically at the Paris Ritz Bar. Another group would want to give New York the credit, and a whole other crowd would point across the pond, towards London. [1]
Irrespective of where we got it from, the identity of the sidecar today is a yellow-orange mix of brandy (usually cognac), Cointreau or other triple sec, and lemon juice, poured in a sugar-rimmed cocktail glass. The sugar on the glass was usually to balance out the citrus-y sourness of the cocktail. If you aren't a fan of the technique, it would be helpful to add a little sweetener to your sidecar.
It is important be careful about the portions used when making a cocktail as well as how much you consume. Brandy, a distilled wine, has an alcohol concentration of 35% to 60%. On the other hand, triple sec, has 15% to 40% ABV. The exact percentage depends on what product your are using. [2]
How to Make a Sidecar?
The recipe calls for cognac but you can easily use a brandy of your choice. Similarly, you can use Cointreau or any available triple sec. We recommend squeezing fresh lemon juice and using the peel to make a twist for garnish. This isn't mandatory but it certainly adds to the appeal.
Another thing you are going to need to make this cocktail is a cocktail shaker. If you do not have one, use any tight-lid tumbler or shaker as a makeshift cocktail shaker. Now gather all these together and call over your company for the evening, and let's get started on a sidecar cocktail.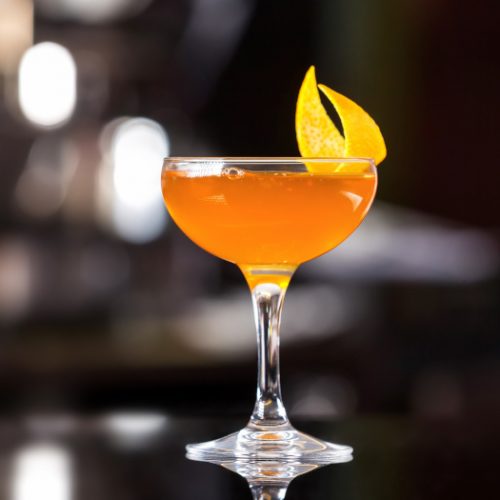 Sidecar Cocktail Recipe
A refreshing evening drink you can easily make at home, the sidecar cocktail is said to have been inspired from Brandy Crusta. The three-ingredient drink is commonly served in a sugar-crusted glass with a lemon or citrus twist on top.
Print
Pin
Rate
[3]
[4]
Ingredients
60

ml

brandy

20-30

ml

lemon juice [5]

freshly squeezed

30

ml

triple sec

lemon/citrus twist

optional

crushed sugar

optional
Instructions
Pour the brandy, triple sec, and lemon juice in the cocktail shaker. Mix them well.

Crust your serving glass with sugar, if you like. Optionally, you can adjust the quantity of lemon juice and add sugar directly to the cocktail before shaking it.

Pour your cocktail in the serving glass.

Garnish with a lemon twist.
Since the days of its invention, a sidecar cocktail has come a long way. If you are up for experiments with your glass, you can try swapping the brandy for gin, or try adding crème de cacao to the original recipe. How do you like your sidecar? Did you enjoy this recipe? Write to us in the comments section below.
Word of Caution: Consumption of alcohol can lead to health risks. Drink responsibly. [6]