There are certain people who prefer eating soy yogurt due to its unique nutritional compounds and additional health benefits.
What is Soy Yogurt?
Quite simply, soy yogurt is yogurt that is prepared with soy milk. Soy milk, in turn, is prepared from soybeans, one of the most commonly grown commercial crops. This type of yogurt is particularly popular with vegans, as it is not derived from an animal product, unlike regular yogurt, and is a great dairy-free alternative. Other people who want to lower their overall fat intake will also enjoy the nutritional benefits of this yogurt. Most notably, this yogurt contains a complete protein meaning that it provides all the essential amino acids that the body requires. This is in addition to the probiotics found in this yogurt. Similar to the production of regular yogurt, soy yogurt is produced by adding certain bacteria cultures to soy milk.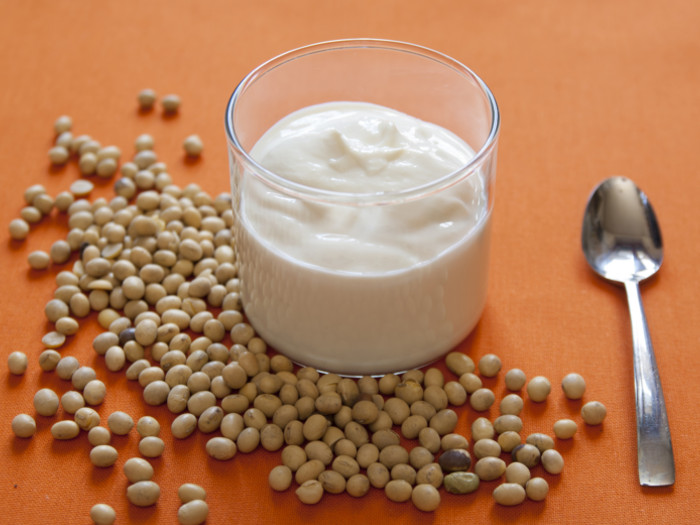 How to Make?
While soy yogurt is widely available in most grocery stores and supermarkets, some people prefer to make their own soy yogurt at home.
Step 1: Bring one quart of soy milk to a boil and then reduce heat
Step 2: Pour the soy milk into a bowl and add the bacterial starter or culture
Step 3: Warm the oven for a few minutes and then turn off the heat
Step 4: Place the bowl of soy milk in the oven for four hours
Step 5: Warm the oven a second time, turn off the heat and then return the bowl to the oven
Step 6: Taste the yogurt to ensure it is not too sour. Add sugar if necessary, and store in the

refrigerator
Nutrition
Nutritionally speaking, one cup of soy yogurt contains roughly 20% of your protein needs for the day, as well as good levels of calcium, magnesium, vitamin C, and iron. A single cup of this yogurt contains approximately 250 calories, as well as 5 grams of fat, most of which are monounsaturated and polyunsaturated in nature.
Benefits
The most impressive benefits of soy yogurt include its ability to prevent osteoporosis and fight high blood pressure, among others.
Strengthening the bones due to good mineral content
Promoting

antioxidant

activity to reduce the risk of chronic diseases
Managing the symptoms of diabetes
Improving

circulatory

system
Protecting the

gastrointestinal

system

Anticancer

potential
Soy Yogurt vs Regular Yogurt
The primary difference between soy yogurt and regular yogurt is that regular yogurt utilizes dairy products (e.g. cow's milk) as the base, whereas soy yogurt uses soy milk, which is derived from soybeans.
Furthermore, depending on the type of soy-based yogurt you're consuming, it may have higher levels of calories than traditional yogurt.
Regular yogurt also tends to have higher concentrations of protein.