On a lazy Sunday, your inner chef wants you to create something new in the kitchen. After experimenting with different types of vegan protein foods for a while, give a try to something new, like tofu scramble? Tofu scramble is an uber-chic vegan breakfast similar to scrambled eggs. Although this recipe involves onions and green peppers, one can try adding fake meat crumbles or mushrooms, spinach, and green onions. The possibilities are never-ending. Also, a vegan tofu scramble is a game-changer for all the health connoisseurs who love trying out new vegan recipes. After making tofu scramble with special seasoning and fresh veggies, it will be a vegan-friendly meal that everyone will enjoy!
Tofu is a protein-packed powerhouse with its neutral flavor that is nutty and sweet and mingles well to give flavor. Scrambled tofu has a texture similar to scrambled eggs, is as versatile and notably customizable. In this recipe, the light texture of the tofu mimics that of scrambled eggs, and turmeric gives the yellow eggy color. Soy sauce, spices, and nutritional yeast supply savory flavor. Now, read along and find out more about this delicious recipe and give it a try! [1]
How to Make Tofu Scramble?
Once you tackle vegan meals head-on, it seems the next logical thing to do is master the art of making breakfast tofu scramble. Remember the taste and enjoyment of eating scrambled eggs? So now, if you want a new variety and have recently gone vegan, give our recipe a read. If it hit the right spot for us, we are sure it will for you as well!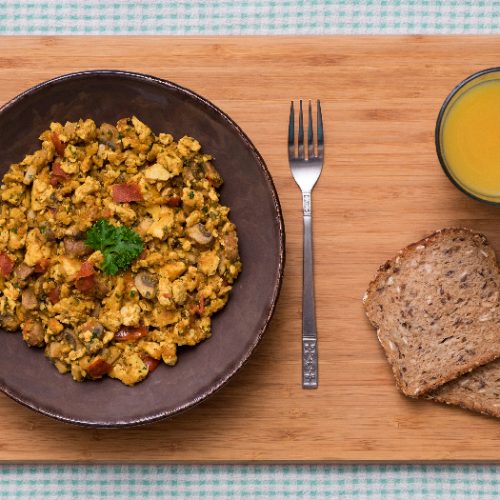 Quick and Easy Tofu Scramble Recipe
Have you recently entered the world of veganism or looking for more plant-based recipes for breakfast? Fret not because this tofu scramble is super easy to make and packed with nutrition!
Print
Pin
Rate
Instructions
Drain the tofu and pat dry with a fresh dishtowel.

Put the tofu in a huge bowl and use a fork to mash it into irregularly shaped pieces.

Stir in the olive oil, turmeric powder, salt, and pepper.

In a non-stick pan, add garlic powder and cumin. Cook on a medium flame for a minute until it turns aromatic.

Mix in the tofu and increase the flame to a medium-high.

Cook for about 5-6 minutes, stir it occasionally until it is completely heated turning lightly brown.

Remove from heat and serve immediately with toasted bread and top it with fresh parsley.
Notes
Pressing the tofu is very important as it allows the tofu to absorb more flavors and seasonings that are added. The more water you get out, the better-flavored tofu you get.
If you want a soft and minimal texture, use soft tofu. But if you want it to be firm and chewy, use extra-firm tofu.
Tofu scramble also tastes great with all sorts of vegetables mixed in.
Omit oil if desired to make the tofu scramble oil-free.
If you're cooking it oil-free, use some water or vegetable stock instead.
Tofu Scramble FAQs
What can you add to tofu scramble?
Tofu scrambles taste delicious as is but with other ingredients, it transforms into a whole other recipe! You can add veggies such as mushrooms, bell peppers, zucchini, beans, and greens. If you want cheesy tofu, melt in some vegan cheddar or mozzarella. You can also plate it with raw greens and let the hot scramble make them moist.
How many calories are there in tofu scramble?
According to USDA FoodData Central, a 100 g serving of branded tofu scramble has 133 calories. [2]
How long does tofu scramble last?
Cooked tofu lasts for about 4-5 days in the refrigerator. Make sure to store it in an airtight container and separate the sauces (if any). You can reheat the scramble in the microwave, heat for about 60-90 seconds.
How does adding nutritional yeast benefit?
The nutritional yeast adds a cheesy and nutty flavor to the tofu scramble.