The medicinal use of winter melon tea is an ancient and highly effective remedy for various health conditions.
What is Winter Melon Tea?
Winter melon tea is a traditional herbal tea that is made with the fruit of the winter melon (Benincasa hispida), the only member of that genus. Also known as a white gourd and ash gourd, this fruit is native to Southeast Asia, although it is now grown in Europe and the United States. Like the flavor of the gourd itself, the tea is quite mild, although it has the appearance of black tea, hence the name. There are no tea leaves involved in the preparation of this tea, and the many nutritional benefits are due to the components of the fruit. [1]
Winter Melon Tea Benefits
The major benefits of this tea come from its vitamin and antioxidant content, which can aid gastrointestinal distress, help you maintain weight, eliminate stress, lower overall cholesterol, and even eliminate carcinogens in the body. As a natural remedy, this tea may provide relief from blood pressure. In a 2017 rat study published in the International Journal of Pharmaceutical Sciences and Research, researchers found that winter melon extract had anti-diabetic potential because it helped control blood glucose levels. [2] [3]
How to Make Winter Melon Tea?
You can make the melon tea at home, provided you have a winter melon on hand, along with some sweet spices. Let us take a look at the recipe below.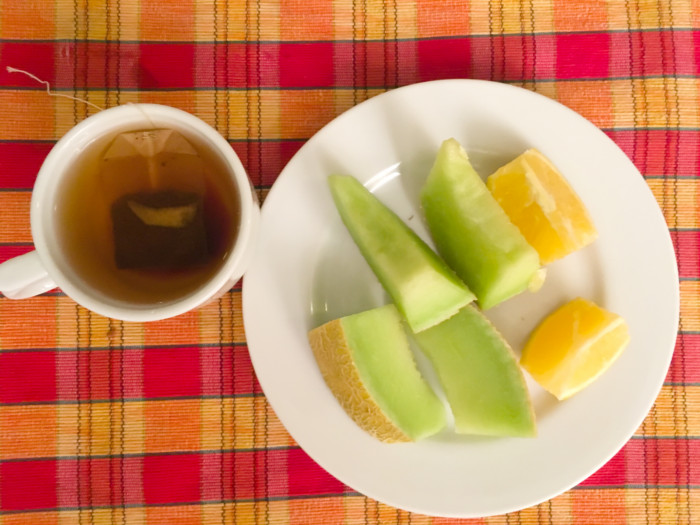 Ingredients
1

kg

winter melon

200

grams

of brown sugar

35

grams

of rock sugar

1

tsp

of lemon syrup (to each cup of tea)

(optional)
Instructions
Cut a winter melon into cubes; you will need about 1 kilogram of the fruit for a large batch.

Place the cubed winter melon and 200 grams of brown sugar in a pot.

Allow this to sit for an hour as liquid begins to form.

Add 35 grams of rock sugar and bring the mixture to a boil.

Cover and reduce heat, then simmer until the fruit becomes completely transparent (approx. 1.5 hours)

Remove from heat, strain and press out as much liquid as possible. This is your concentrated syrup.

To make a cup of tea, mix 1 part syrup and 3 parts water. Usually, it is had cold, so you can either refrigerate it or serve it with ice. You can add a tsp of lemon syrup to each cup of tea as an optional taste enhancer.

Store excess concentrate in a glass jar in the fridge.
Side Effects
Generally speaking, use moderation, as excessive consumption can lead to diarrhea and nausea. Pregnant women are generally not recommended to take this tea, although breastfeeding women have reported that it can help to induce lactation. As a rule, it is important to speak with your doctor before adding any new remedy to your health regimen, particularly if you are pregnant or caring for/breastfeeding an infant. [6]