Adding Yarrow Tea to your daily or weekly health regimen can provide a major boost in your overall health. It helps to ease fever and has anti-inflammatory properties.
What is Yarrow Tea?
Yarrow tea is actually a common weed that has been used as a medicinal herb for the better part of 60,000 years, making it one of the first plants ever used by humans in this way. Scientifically known as Achillea millefollium, this plant grows wild throughout the Northern hemisphere and has a very recognizable appearance – a sturdy stem with small white flowering heads at the top, as well as delicate, feather-like leaves. Yarrow is a hardy plant that can survive in difficult environments, which may explain its prevalence in so many countries and cultural traditions. [1]
Uses of Yarrow Tea
Yarrow tea can be used in a number of surprising ways, both in culinary and cosmetic applications. In terms of consuming this herbal tea, it is prepared hot and has a number of gastrointestinal and metabolic benefits. It can be drunk 1-2 times per day for best effects. Topically, you can also let the tea cool and then apply it to burns, scrapes or patches of inflammation on the skin for rapid relief. [2]
How to Make Yarrow Tea?
Yarrow tea is quite simple to make at home and can be made in bulk for both consumptions of medicinal use.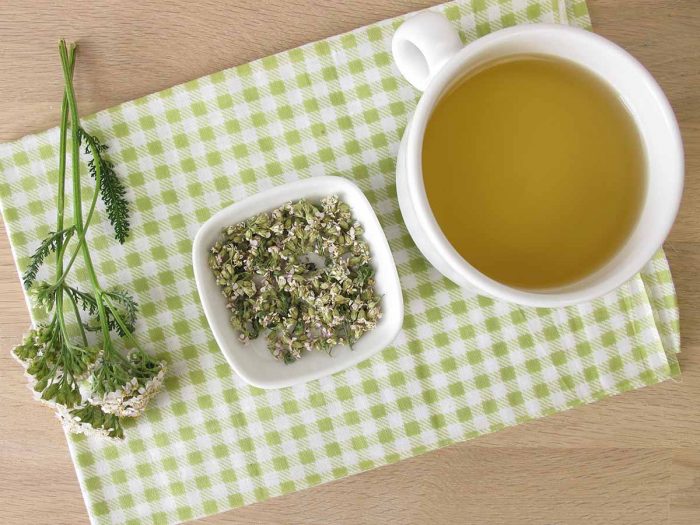 Yarrow Tea Recipe
You can easily make this anti-inflammatory tea at home!
Print
Pin
Rate
[3]
[4]
Ingredients
1

tsp

dried yarrow leaves

1

cup

water

filtered

honey

optional

lemon slices

optional
Instructions
Add 1 teaspoon of dried yarrow leaves (may include the stem and flower) to a teapot.

Add boiling water and let it steep for 5 minutes.


Strain the tea in your favorite cup! You can add honey or a slice of lemon for flavor.
Notes
If you plan to use the tea for topical purposes, allow it to fully cool before applying. Store in the refrigerator, if needed.
Yarrow Tea Benefits
The best benefits of yarrow tea include its ability to heal wounds, soothe anxiety, optimize digestion, protect the heart, and boost immunity, among others.
Wound Healing
When topically applied, the combination of vitamins and antioxidants in this tea can speed up the healing process, while also protecting against infection. [5]
Anxiety
Known as a soothing tea and often used for relaxation, research has found that it does have anxiolytic properties and can lower your total stress hormones. [6]
Mastitis
Although it often affects pregnant women after breastfeeding, painful breast tissue (mastitis) can be resolved by regularly drinking this tea, or applying it cold to the affected tissue. [7]
Inflammatory Issues
Known to help break fevers and also relieve the pain associated with arthritis, this tea has a number of anti-inflammatory properties that can help with quite a few health concerns. [8]
Digestion
Perhaps the most famous use of yarrow tea is as a digestive stimulant, but also a drink that can settle stomach upset and inflammation, soothing the gut, preventing dysentery and clearing up symptoms of diarrhea.
High Blood Pressure
If you suffer from high blood pressure, drinking this tea can be a soothing method of eliminating hypertension symptoms and easing the strain on the cardiovascular system. [9]
Immune System
Often used as a first response to the common cold, yarrow tea can significantly help to boost the body's immune defenses. [10]
Yarrow Tea Side Effects
While there are clearly many benefits to this herbal tea, there are also some possible side effects that should be considered, such as allergic reactions, bleeding issues, and problems with pregnant or breastfeeding mothers.
Allergies
If you are allergic to ragweed or other common pollens, there is a chance that the tea could cause an allergic reaction, both on the skin or in your gastrointestinal system, depending on how you use it.
Bleeding Disorders
This tea does have certain blood-thinning properties, so if you are taking blood-thinning medication or have a bleeding disorder, consult your doctor before use.
Pregnancy
This is a potent herb, and it can affect hormones in the body, meaning that it is best for pregnant and breastfeeding women to avoid its use.