Bacon is a breakfast delicacy for many but cooking it can be quite tricky. It is a form of processed meat and we all know that fat can be harmful. That is why one has to be wise when it comes to cooking bacon as too much of grease can not only be too messy to handle but also have an adverse effect on your health. Whether you like your bacon thick and chewy or prefer to go for a light and crispy one, it's better to cook it in an oven. [1]
Why Cook Bacon in an Oven?
There are several reasons for cooking bacon in an oven. Let's take a look at these points.
Unlike fried bacon, the baked one remains flat and doesn't curl up.
It requires less amount of oil to bake an entire pound of bacon in just a few minutes.
In an oven, the bacon will always be consistently cooked, which is quite a task when done the old fashioned way.
The splitter-splatter of oil can entirely be avoided when the bacon is cooked in an oven. You need not worry about intensively cleaning up skillets and oil stains splashed all across the counters and stovetops. By using an oven, you can totally avoid the ugly grease burns.
You can also multi-task and take lesser time to cook your entire meal. For instance, when the bacon is in the oven, you can divert your attention towards making eggs at the same time.
How To Make Bacon in an Oven?
It is very easy to cook bacon in an oven. All you need to do is wrap a rimmed baking sheet with a foil. Place raw bacon slices on it and bake. But, let's take a look at the simple step-by-step process of cooking your favorite breakfast meal to perfection.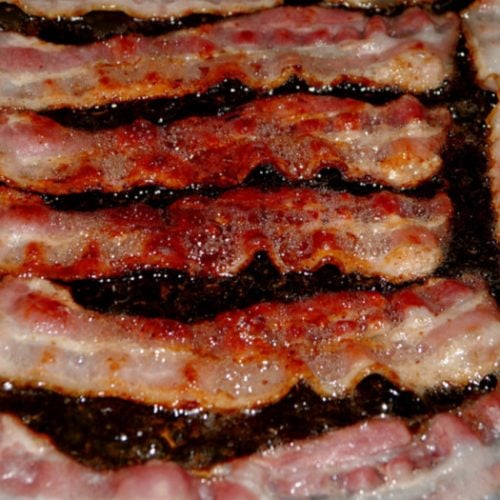 How To Make Bacon In An Oven
Are you tired of frying the bacon the old fashioned way? Well, we have a solution for you - bake it in the oven. The end result? Crispy, salty and absolutely flavorful slices of meat that will go extremely well with your eggs and toast. Let's take a look at the easy-to-follow recipe of how to cook bacon in an oven, shall we?
Print
Pin
Rate
[2]
[3]
Instructions
To get started, preheat the oven to 400° Fahrenheit.

Use a foil to line a baking sheet. Gently place the bacon slices on the sheet, ensuring that they don't overlap as that would cause them to stick to one another.

Should you prefer to have your bacon crispy, take a metal cooling rack and place it inside the baking sheet. However, this step is not mandatory. Some of you may not have a cooling rack or may like your bacon to be chewy. In that case, skip this part.

Now bake for 20 minutes until the bacon is crispy and the color, golden brown. The time taken to bake the meat is entirely dependent on its thickness. It would be advisable to keep checking it every 10 minutes to ensure it doesn't get burned as some ovens can be tricky, especially if they are old.

Once they are done, drain the grease from the bacon (if any) and serve it with eggs or an elaborate meal of your choice.
Notes
There are different types and sizes of bacon that's available, right from the hickory smoked, uncured/cured versions to applewood. First, decide what type of bacon would you prefer before you start roasting it. That will also help you determine the time taken to roast it as it varies depending on the bacon. If you don't have a baking rack, worry not as you can crumple up extra foil and place the bacon on that to separate it from the grease. To avoid any kind of oven splatter, cover your bacon with foil, which will prevent the grease from spilling all over the oven. You can always remove the foil towards the last few minutes of cooking, to make sure your bacon is as crisp as you'd like.
Connect With Us
If you have tried this recipe, we would love your feedback in the comments section below. And while we can't taste it, we would love to see how it turned out! You can connect with us on Facebook or Instagram and tag your picture with #organicfactsrecipes. [4] [5]
Do you wish to share your winning recipes with us? Please click here and fill in the details to get started.