Do you think it is a coincidence that cantaloupes show up when temperatures start to rise? Maybe. They do come across as sweet saviors when summers are intense and you come back home craving for anything that hydrates you. If you are new to the juicing bandwagon, cantaloupe juice is a cool and refreshing way to quench your thirst. It is host to many beneficial nutrients. So, take a look at the recipe and fill those jugs with this sweet, tasty treat.
How to Make Cantaloupe Juice?
To make fresh cantaloupe juice all you have to do is blend the fruit with some ice and a sweetener. It is a great after-workout beverage. You can also make it for your kids when they come in hungry and thirsty after playing.
Before you make the juice, here are a few things to keep in mind. Look for a ripe melon with a sweet smell. You can combine many other fruits and vegetables like oranges, pineapples, carrots, and kale with cantaloupes. Some people also like adding ginger and lime to the juice. When it comes to sweeteners, you can go for sugar, honey, or any other alternative you like. There are multiple ways to make this juice. So, try out a different ingredient every time you make it and discover new flavors you can fall in love with.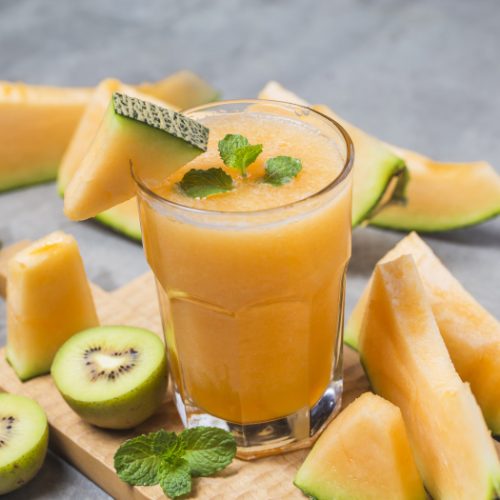 Refreshing Cantaloupe Juice Recipe
Enjoy the summer breeze with an ice-cold glass of cantaloupe juice!
Print
Pin
Rate
Instructions
Start by cutting the cantaloupe into two halves. Now using a spoon, scoop out the seeds from both the halves.

There are two ways to remove the flesh to make the juice. You can scoop it using a spoon and keep adding the pieces to the blender or you can slice the melon into wedges, peel the skin, and then cut it into cubes.

Once you have added all the cantaloupe pieces in the blender, add a couple of ice cubes. If you want to have a smoothie-like consistency, add milk to it. You can add sugar if you like having sweet juices.

Blend the ingredients until you see a smooth consistency. Your cantaloupe juice is ready!

Pour it into glasses. Top it with mint leaves and stick a cantaloupe cube on the rim of the glass to enjoy an exotic-looking drink.
Notes
You can make the juice ahead of time and store it in the refrigerator.
Filipino Melon Juice
The Melon sa Malamig or Filipino melon juice is an interesting way to make a cantaloupe summer drink. You can easily make it for summer parties. To make it, combine 1/2 cup sugar and 1/2 cup water in a saucepan over high heat. Once you see the water boiling, reduce the heat, and let it simmer until the sugar dissolves completely. Keep stirring it occasionally. Turn the heat off and then let the syrup cool. Meanwhile, cut the cantaloupe into half. Using a melon scraper, shred the cantaloupe flesh into long noodle-like strips. Now take a pitcher and fill it with three cups of water. Add the cooled syrup followed by cantaloupe ribbons to the pitcher and mix well. Refrigerate it well as it tastes great when it is cold.
Benefits and Nutrition
Cantaloupes are mostly made up of water, which helps to keep you hydrated. They are also a good source of beta-carotene, vitamin C, fiber, potassium, and folate. While juicing it may reduce the fiber content, it is still a beneficial beverage to have. [1]
Consuming this fruit or its juice helps to reduce skin inflammation and helps prevent skin disorders. [4]
Cantaloupes are low in calories, so you can enjoy the juice without worrying about your weight.
Did you like the recipe? Let us know in the comments below.