In a world where most people are gradually moving towards a plant-based diet, replacing your chicken wings with some delicious crispy cauliflower wings is not entirely a bad idea. Soft and succulent on the inside and crispy and crunchy on the outside, cauliflower wings are the real deal. You can cook these cauliflower florets exactly like you would the buffalo chicken wings, and we bet you won't miss a thing. Maybe the hardcore meat eaters will, but even they will vouch for it to be an appetizing starter.
These cauliflower wings are crispy, spicy, savory, versatile, quite healthy, and extremely delicious. They are the perfect snack for a game night, last-minute parties, family get-togethers, potlucks, or for the times you simply crave some comfort food to uplift your mood. Not only are cauliflowers a rich source of protein, calcium, phosphorous, magnesium, iron, potassium, and fibers among other vital vitamins and minerals, they also make for the perfect food option for those who are following a ketogenic, vegan, paleo-friendly, Whole 30, low-carb and Weight Watchers diet. This is fairly an easy recipe to follow and requires just 6 ingredients to make it. Let us look at the detailed recipe below. [1]
How To Make Crispy Cauliflower Wings?
To make crispy cauliflower wings, all you'll require to do is gather the six ingredients you wish to use to make the dish. We are using cauliflowers, garlic powder, buffalo sauce or hot sauce, milk of your choice, flour as per your liking, and oil or butter. Apart from this, you can choose an additional ingredient such as breadcrumbs or crushed cashews to make it crunchy on the outside. Here are a few important steps (with alternate ingredients for your benefit) to take into consideration while making your preferred version of crispy cauliflower wings.
Batter: For the batter, you can use a cashew-arrowroot-salt-spice mix. You can make this by adding one and a half cups of raw cashews, which are finely blended into a meal with arrowroot starch. This is if you are vegan. If you are not, you can use any milk of your choice along with the finely crushed breadcrumbs for that extra crunchiness. In this recipe, however, we have used a combination of almond flour and garlic powder.
Sticking agent: Some people like to beat the eggs gently to create an egg wash, in order to apply it to the florets to help the batter stick to them. Again, if you are vegan, avoid using the same and instead substitute it with any non-dairy milk. You can use an almond buttermilk mixture for it as well. Sometimes just dabbing the florets with oil suffices. Once you dredge them in either of the two mixes as mentioned, you can coat your cauliflower florets with the batter to either fry them or roast them.
Bake: You can fry them if you want but that is not a healthier option. We prefer to bake it at a high temperature of 425°F in the oven for the perfect crunchy exterior. Just remember to drizzle a little bit of oil on them before baking them. You will get a gorgeous crust. Additionally, remember to keep a cooling rack over the baking sheet to enable the cauliflower florets to turn crispy sans getting too brown on the bottom.
Post-bake: Once the florets are properly baked, you can stir it into a warm glaze of oil/butter and buffalo or hot sauce. Doing this after baking will allow the cauliflower florets to be crispy and pull in the flavors. Some like to bake and broil after that but the choice is entirely yours.
These were some of the important steps to remember while preparing the crispy cauliflower wings. But take a look at our detailed 6-ingredient cauliflower wing recipe in the card below.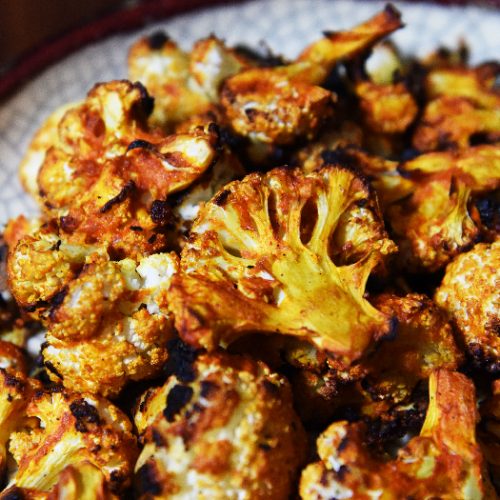 A Simple Recipe To Make Crispy Buffalo Cauliflower Wings
You will find vegetarians, vegans, and meat-eaters fight over these delicious baked cauliflower florets!
Print
Pin
Rate
[2]
[3]
Ingredients
1

whole medium-sized

cauliflower cut into florets

1-4

tsp

oil or butter

as per your choice

1/2

cup

almond flour [4]

or any other flour of your choice

1/2

tsp

garlic powder [6]

1/2

cup

hot sauce or buffalo sauce

1/2

cup

breadcrumbs or finely crushed cashews

(optional)
Instructions
To make buffalo cauliflower wings, first cut a medium-sized cauliflower into florets and dab them with a bit of oil.

Meanwhile, preheat the oven to 425°F. Line a parchment paper over the baking dish.

Once you have heated the oven and dabbed the florets with a bit of oil, toss them up in almond flour and garlic powder. This is the easiest and the most effortless combination that you can find to work as a batter.

In the meantime, if you wish to add breadcrumbs or finely crushed cashews as a coating to the florets, now would be a good time to keep it ready.

Once all the cauliflower florets have been evenly tossed around in almond flour and garlic powder, add the milk of your choice and the bread or the cashew crumbs to them. Neatly spread the ingredients over the cauliflower florets and place them in one layer over the baking pan.

Allow it to bake for 25-30 minutes on the center rack. Once done take out the pan. Now cover the baked cauliflower florets with melted butter or oil before dipping them in hot sauce or buffalo sauce. Bake it for an additional 15 minutes or so.

Once that is done, you can try broiling the florets for 5 minutes to add a smokiness to the flavor. This has to be done carefully as you would not want to burn them.

Finally, your buffalo cauliflower wings are ready to be devoured. You can serve them with delicious dips. It goes extremely well with ranch dressing, which is made into a sauce by mixing

buttermilk, onion, mustard,

salt, garlic,

herbs, and spices, mayonnaise, or another oil emulsion.
Notes
The broiling bit is optional. This is only if you want your cauliflower wings to have a smoky flavor.
You can use an egg wash or almond buttermilk instead of just the oil.
You can replace the almond flour and garlic powder with a cashew-arrowroot starch.
You can have this with different healthy dips. As we mentioned, this dish goes well with ranch dressing. But if you were to make it healthy, ie, go by the Whole30 ranch dressing recipe. You can use light olive oil, egg yolks, different herbs, and almond milk to make it. If you're vegan you will have to do away with egg yolks.
You can also add these wings in tacos and burrito rolls, to make a different dish out of it.
We have tried to give you different ways of making cauliflower wings–the six-ingredient way, the vegan and low carb method, and so on. Do give our recipe a try and let us know how it turned out in the comments section below. If you have an alternate way to prepare this dish, please don't forget to share it with us.