Chia tea is a tea prepared by adding chia seeds to a green tea, black tea or any other herbal type of tea. Due to the many benefits of chia seeds in improving energy levels and digestive health, this tea is the go-to drink among many health enthusiasts. Chia tea can either be served cold or hot, with honey or not!
Chia Seed Tea Benefits
The many health benefits of chia tea come from its rich antioxidant and mineral content. This tea is also rich in protein, fiber, and essential fatty acids and provides benefits that include the following:
Chia tea also promotes weight management by making you feel full and curbing the habit of snacking between the meals.
How to make Chia Tea?
To make chia tea, all you need are green tea bags, honey, chia seeds, and water. Take a look at the recipe below.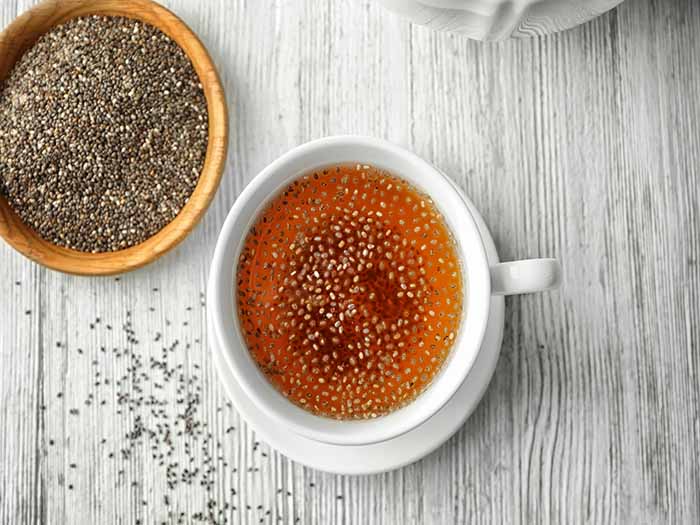 Chia Seed Herbal Tea Recipe
Try your hand at making this easy and nutritious tea!
Print
Pin
Rate
[2]
[3]
Ingredients
1

cup

of water

1

tbsp

of chia seed

1

tsp

of honey

1

tsp

of bag
Instructions
To make chia seed tea, add 1 cup of water to a pan and bring it to a boil.

After boiling, pour the water into a jar or glass

Add green tea to the jar and let it steep.

Next, after removing the tea bag from water, add honey as per your taste.

Now add 1 tbsp of chia seeds to the cup and stir.

Wait for 2-3 mins before serving this tea, as once these seeds get absorbed into the water/tea, they open up, giving your tea a gelatinous or thick appearance.

You can also let it cool in the fridge and then enjoy the drink!
Notes
You can add other ingredients like cinnamon, ginger, vanilla essence, banana, and coconut milk to the tea for additional flavor. There are many different ways in which chia seeds can be added to your diet, these include chia smoothies, chia sweets, and more. You can try adding chia seeds to plain water to supply nutrients to your body while also keeping yourself hydrated.
So now you have all the reasons to add this nutty and sweet beverage to your daily routine! Have fun!