Chicken soup, if you go by what most grandmothers say, is not just good for your body but for your soul too. Maybe that's why everyone should have a simple go-to chicken soup recipe for the days that you don't feel so good or if you are down with a cold and cough. If you are vegetarian or vegan, you can always substitute the chicken with a can of drained chickpeas.
Chicken soup, it is said, is a great immunity booster and has special powers to make the sniffles and sneezing go away. Researchers say that the ingredients in the soup have a mild anti-inflammatory effect that helps ease upper respiratory tract infections. [1]
How To Make Chicken Soup?
A simple, comforting chicken soup needs chicken, broth, and the trifecta of onions, celery, and carrots. These basic ingredients help make the perfect bowl to cozy up with. This basic recipe has been handed down over generations in families. History has it that in Northern Europe, families would use scraps of chicken and vegetables and simmer for hours to make a flavorful, nourishing meal. At the same time, many Jewish families favored raising their chicken and using them for soup. It is said that when Jewish families migrated to America, they bought along with them the tradition of making fresh chicken soup. It is also the foundation for the traditional Jewish chicken matzo ball soup, which is made on important Jewish holidays. In Asia too, the Chinese made chicken broth and used it as a traditional medicinal recipe.
While canned soup in the US became popular in the last few decades, there has been a resurgence in the back-to-the-basics recipes as people prefer to control the sodium content and the freshness of the ingredients. We have put together a basic chicken soup recipe that can easily be made at home and does not require simmering for hours. So let's see the step-by-method of making this delicious soup.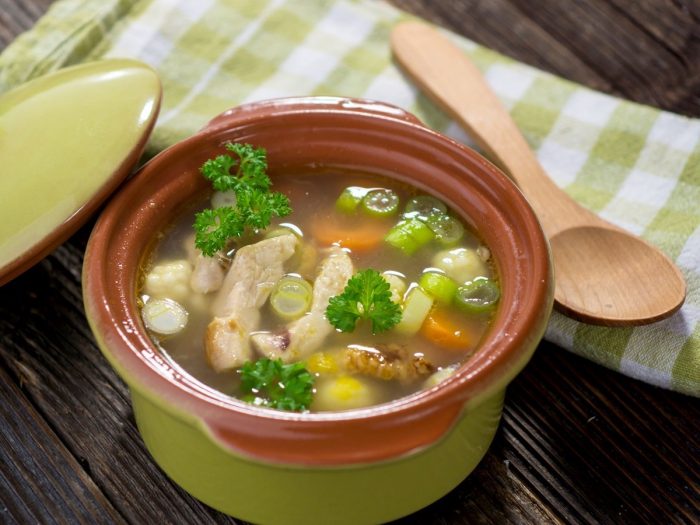 Simple & Satisfying Chicken Soup
A basic chicken soup recipe that can be made in under two hours, but yet tastes like it has been simmering in the oven all day!
Print
Pin
Rate
Cook Time:
1
hour
30
minutes
Total Time:
1
hour
40
minutes
[2]
[3]
Ingredients
1

whole

chicken, cut into pieces

4-5 lb

8

cups

water

3

medium

onions

thinly sliced

2

celery stalks

sliced 1/4 inch thick

6

medium

carrots

sliced 1/2 inch thick

4

garlic cloves [4]

crushed

salt

to taste

ground black pepper

to taste

Rosemary or thyme sprigs

optional
Instructions
In a large saucepan, add water, chicken, black pepper, and coarse salt and bring to a boil. With the help of a slotted spoon or a skimmer, remove the foam that rises to the top. Add celery, onion slices, and garlic.

Cover partially with a lid. Simmer the chicken for 30 minutes. Remove the chicken breast pieces and set aside as white meat cooks faster than the rest of the chicken.

Add carrots and simmer for another 40 minutes. You can add fresh or dried herbs too.

Remove the chicken pieces. You can discard the wings. Cut the rest of the chicken into small pieces, and discard the bones. You can also choose to shred it.

Stir in the desired amount of chicken into the soup and keep the rest aside for other uses. Skim the fat and check for seasonings. Your chicken soup is ready!

You can use the leftover chicken to make delicious sandwiches or wraps!
Notes
You can collect chicken bones to make chicken stock as a base for delicious soups and curries.
You can add your own favorite ingredients to the soup like egg, lemon, parsley, green beans, or chopped parsnips. To make it a heavier meal, you can add the following ingredient while boiling the chicken:
If you have a severe cold, try adding warm spices like ginger and turmeric to the soup. While there are several twists and add-ons to the chicken dish, we would encourage you to try the classic recipe. You may just fall in love with the simplicity of it.
Let us know, in the comments below, your favorite way of making the soup. If you are vegetarian and vegan, feel free to share your favorite substitutes for chicken. We would love to hear from you!