Regular use of comfrey tea can provide a range of health benefits, although there are some important considerations and risks of which you should be aware.
What is Comfrey Tea?
Comfrey tea is prepared by steeping the dried leaves of the comfrey plant, which bears the scientific name Symphytum officinale. The leaves of this plant have been in use for thousands of years, both in Chinese traditional medicine and dating as far back as the ancient Greeks. Nowadays, this plant continues to be used widely in natural healing, although it is primarily recommended for external use, rather than consumption, as you might expect from a tea. The tea can be brewed, allowed to cool, and then applied to numerous parts of the body for relief from certain health conditions. [1]
Comfrey Tea Benefits
The top health benefits of comfrey tea include the following:
Speeding the healing of wounds
Aiding in broken bones
Stimulating digestion
This herbal tea contains a high concentration of vitamins and minerals, including calcium, copper, cobalt, iron, magnesium, potassium, and zinc, as well as vitamins A, E, C, and various B vitamins. In addition to tannins, saponins, and other antioxidants, this tea can help the body initiate its healing processes, and stimulate the regrowth of certain parts of the body, such as bone matter and even your teeth!
The nutrients and antioxidants in comfrey tea also help to treat inflammatory issues throughout the body and have even been known to improve tissue repair and regrowth. [3]
How to Make Comfrey Tea?
If you want to brew comfrey tea at home for yourself, the recipe is quite simple. Let's take a look at the procedure below.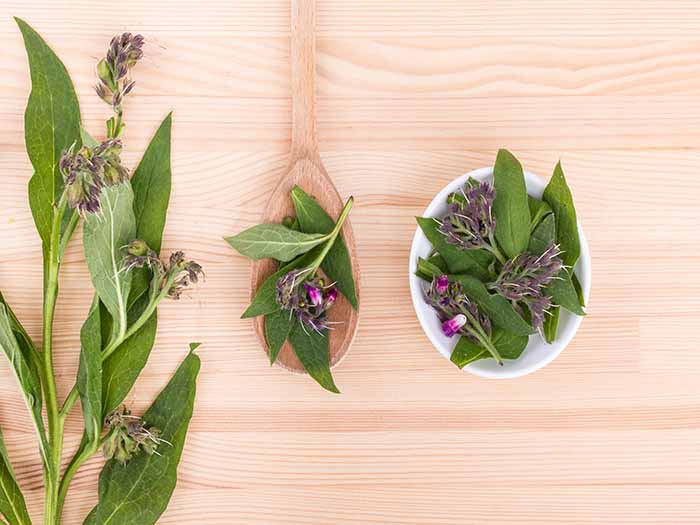 How to Make Comfrey Tea: Easy Recipe
If you're experiencing any kind of pain, then comfrey tea is the go-to drink for you. A herbal infusion, this tea helps to treat body aches of different kinds. Not just that, they are also useful to treat different kinds of ailments. However, care must be taken to ensure that you don't consume more than what's necessary as too much of it can adversely affect you. Let's take a look at the recipe below.
Print
Pin
Rate
[4]
[5]
Instructions
Add 1 teaspoon of dried comfrey leaves to a teapot or infuser.

Heat 1 cup of water to just shy of boiling.

Pour water over the tea leaves.

Allow steeping for at least 10 minutes.

Strain the tea and use appropriately (only consume if approved by your doctor).
Comfrey Tea Side Effects
This tea (and herb) is controversial because of the potential damage it can do to the liver, as well as increasing your risk of cancer. While these side effects mostly appeared in animal testing at a very high concentration of this herbal extract, you should still always speak to your doctor before using this, particularly if you have suffered from liver disease or damage in the past. [7]