Cabbage is one of those vegetables that you must master. Think of summery barbeque coleslaw, a crisp cabbage salad, slightly sour sauerkraut, or a brothy soup. Cabbage can be a tricky vegetable to cut, given its size. But a little practice and you can be an expert! We have a handy guide for shredding cabbage with an easy recipe for a classic coleslaw.
How to Cut & Shred Cabbage?
Cabbage is mostly cut in thin slices. This is the cut most suitable for salads, coleslaw, or sauerkraut. However, some preparations like kimchi, corned beef, or soup may ask for square-cut pieces. Some recipes may ask for cabbage wedges, such as a cabbage roast. We have a brief guide for both cuts:
Prepare: Before you cut the cabbage, you want to properly prepare it. Wash the cabbage and then remove the hard outer leaves. These leaves are likely the ones with the largest residue of any pesticides or herbicides. They will also turn limp and soft – not ideal for any cabbage dish. Cut the stem at the base.
Quarter: Cut the cabbage into quarters. Due to the size of the cabbage, you will want to use the largest knife in your kitchen for this task. We recommend using a chef's knife for the job.
Remove the core: You will see the hard core at the base of each quarter. Remove them out by cutting diagonally at each side of the core. It should come out easily. You will have four cabbage wedges. Some recipes, such as roasts, ask for wedges or halves. You can use the wedge as a whole when roasting. For shredding or cutting it further, keep reading.
Fine shreds: The trick lies in cutting the shreds as fine as you can. This is best done on a mandolin cutter since you can get thin, even slices. If you don't have a mandolin, a knife will do just as well. Lay the wedge cut-side down on the cutting board. There are three ways you can cut the cabbage: diagonally from the base, lengthwise along the longer cut, or horizontally from the bottom. Make sure you have a firm hold of the cabbage as you cut. This will also allow you to make thin slices.
Square-cut: For square-cut pieces, lay it cut-side down on the cutting board. Cut slices, making sure that the gap between the slices is the same as the width you want. Now start cutting horizontally to get square-cut pieces.
Once you have mastered the art, you can use square-cut cabbage for a Simple Cabbage Soup, kimchi, or West African Thieboudienne. Shredded cabbage can be used in many ways, including our refreshing Crunchy Cabbage Salad Recipe. We also have a super simple coleslaw recipe with a choice of dressings.
How to Make Coleslaw?
Coleslaw is an evergreen favorite on barbeque night. It's super easy to make and full of freshness. We have a classic mayo recipe for the dressing. But for those who like a lighter version, we also have vinegar dressing.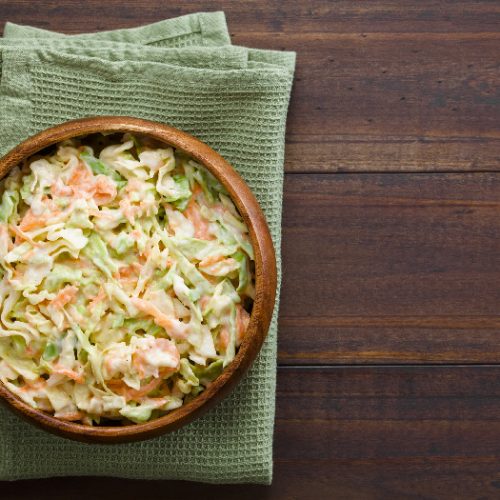 Best Coleslaw Recipe
We have a choice of dressing. You can opt for the classic mayo recipe or go for a lighter version with vinegar.
Print
Pin
Rate
[1]
[2]
Ingredients
1

cup

shredded green cabbage

1

cup

shredded red cabbage

2

carrots

peeled & shredded

1/2

yellow or red onion

sliced

1/4

cup

parsley

chopped
Instructions
Combine all the ingredients (barring the dressing) in a wide salad bowl. Mix together to make sure you have a homogenous mixture. It should look quite colorful.

Prepare your dressing of choice. To make, whisk together the ingredients of either dressing in a bowl till you have a thick emulsion. The vinegar emulsion will naturally look thinner.

Pour the dressing over the shredded vegetables. But don't just dump all the dressing. Pour over about a third of the dressing, give it a toss to ensure that all the cabbage is coated. Now add more dressing only if required.

Some people like their coleslaw with heavy dressing, while some like it a little sparse. You can dress the salad according to your preference. Always add the dressing just before serving. The longer your salad stays in the dressing, the more it gets wilted.

Your fresh and crispy coleslaw is ready! You can serve it as a side dish with steak or sausages or just enjoy it by itself.
Notes
We recommend using different colored cabbages for this coleslaw. The colored strands make a vibrant salad.
Make ahead: You can make this salad ahead of time. Put all the shredded vegetables in an airtight container and put it in the fridge. The dressing can also be prepared and kept in a jar. Mix the dressing into the salad just before serving to make sure the salad is crisp and fresh. While the dressing will stay good in the fridge for at least a month, make sure you consume the cut vegetables within a day.