The first time I ate Ewa Agoyin at a Nigerian restaurant, I was struck by its spicy, creamy texture. It was like nothing I had tasted before. Perhaps the closest was hummus in terms of texture, but with a bit more bite. It was served with an even spicier sauce and bread slice to scoop it up. Months later, I can still feel my mouth watering as I remember the creamy-spicy goodness filling my taste buds!
What is Ewa Agoyin?
Ewa Agoyin is a Nigerian street food made with cooked and mashed beans, often served with a spicy sauce. Interestingly, the origins of this dish are not in Nigeria. The word 'ewa' means beans in Yoruba, the language of an ethnic group by the same name in Nigeria and Benin. 'Agoyin' is the word Nigerians often use for Togolese and Beninese people. This indicates that the dish traveled to the Yoruba-inhabiting region with the Togolese and Beninese people.
In the US, this bean stew traveled with the many Nigerians who made their home here. They brought with them this popular street food from their homeland. More expensive than the usual Nigerian street food, it is hugely popular with hawkers selling out their wares within hours. You can see why its both popular and expensive. The flavors are strong and hit you hard with the first spoon. Made with mashed beans, it is also very filling. Just a small plate can keep you full for hours.
How to Make Ewa Agoyin?
Since it is street food, not many people make Ewa Agoyin at home. It is traditionally made with honey beans or Nigerian brown beans. Since these are difficult to source if you are living outside Africa, the more readily available black-eyed peas can be substituted. The traditional recipe uses a strong dose of red chili peppers and chilies. If your tolerance for spicy food is not very high, you can use less of this.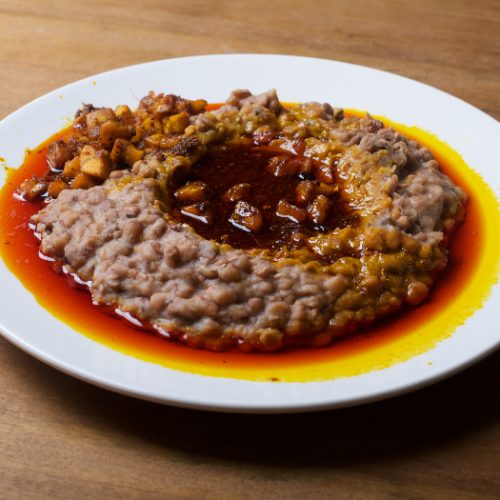 Spicy Ewa Agoyin Recipe
When cooking the Ewa Agoyin, make the accompanying spicy sauce. It gives the dish its trademark fiery kick.
Print
Pin
Rate
Cook Time:
2
hours
30
minutes
Total Time:
2
hours
50
minutes
Ingredients
For the beans
4

cups

Nigerian honey beans/brown beans/black-eyed peas

1

large onion

8

cups

water

or more
For the sauce
4

tbsp

bleached red palm oil or sunflower oil

2

red bell peppers

dried

12-14

dried chilies

2

tsp

Cameroon/Ghana pepper

1

tsp

ginger paste

1

scotch bonnet pepper

or

2

birds eye chili

1/4

cup

dried crayfish

powdered

1

stock cube

salt

to taste

1

large onion

sliced thin
Instructions
Clean and soak the beans overnight. Wash them again and cook them in water. Cook the beans till they turn very soft. This will take about 2 to 2 and 1/2 hours.

The water will evaporate as the beans cook. Add water if you need to, but not too much. When the beans are completely cooked, you should have just about half a cup at the bottom.

Take the pot off the heat and mash the beans with a potato masher or a fork. You can add salt at this stage. The beans will soak up all the cooking water and you should have a pulpy mashed texture.

To make the sauce you will need to rehydrate the dried peppers. For this soak the dried peppers and chilies for about an hour to rehydrate them and then grind them in a blender with a little water. Add the scotch bonnet peppers or bird's eye chili and grind again.

Heat the oil in a pan. Add the sliced onion and fry till they are browned. Take care that they do not burn.

Add the chili paste to the onions and keep cooking, stirring the sauce constantly. Slowly, the water will evaporate and the color will deepen to a deep red.

At this stage, add the stock cube, crayfish, Cameroon/Ghana pepper and salt to taste. Let these sauce simmer further for a few minutes to develop all the flavors. Your sauce is ready now.

To serve, plate the mashed beans and top it with the spicy sauce.
Notes
You can make the beans and the sauce simultaneously to save time. Make the sauce as the beans finish cooking.
This is a very spicy sauce. You can add tomato to reduce the hotness factor. You can also reduce the number of chilies
Do not reduce the amount of oil or add water when cooking the sauce.
You can serve this stew with a chunk of bread.
There are some factors that you may want to keep in mind when cooking Ewa Agoyin:
The sauce is quite oily. So, start with a lot of oil. Do not add water to the sauce as it cooks. You will not get the same flavor. This also means that you should keep stirring as the sauce reduces.
The sauce has a lot of pepper and chilies. If that seems too much, reduce the amount. But keep in mind that it is supposed to be spicy.
Some recipes also include tomatoes to the sauce. Others have added their own flavors, such as other dried fishes like mackerel.
These ingredients may not be available where you stay. So, look for more workable alternatives, such as using sunflower oil in place of palm oil or using peppers and dried fishes available in your locality.
The Ewa Agoyin is served with bread or fried plantain or both.
Learn more about West African food with our comprehensive coverage. If you try our recipe, we would love to know how it turned out. So, write to us and share your experiences.