Matcha green tea frappuccino is a slushy and refreshing drink to ward off your summer woes. Blended with sweetened matcha green tea, ice, and milk, and garnished with fresh whipped cream, matcha green tea frappuccino is a boost of energy you need on a hot perspiring day. An upside to making the tea at home is that you can make it with just the aforementioned ingredients and no added preservatives. So what are we waiting for? Let us get started.
How to Make Green Tea Frappuccino?
Matcha is a popular kind of Japanese green tea made by picking young leaves and blending them into a bright green powder. This powder is then mixed with creamy milk and sugar to give you a delicious frothy green tea frappuccino. Some people also add a bit of vanilla extract for extra flavor. For the health-conscious, it would be prudent to substitute the creamy milk with almond, soy or toned milk and sugar with honey. Let us take a look at the detailed recipe below. But before that, here are a few steps to remember while making your own version of the beverage at home.
The whipped cream added as a garnish to the drink, in the end, is an optional step but personally, we quite love it. It can be made one or two days in advance. The only thing you probably need to remember is to keep it in the refrigerator in an airtight container. Before using it, ensure you re-whip it for a couple of seconds to get it to fluff up.
You can make the whipped cream easily using a handheld blender as it gives better results. All you need to do is add heavy cream and powdered white sugar and whisk them together. Continue whisking them till you get soft peaks.
Some people use condensed milk instead of regular milk to get a thicker consistency. Some add caramel syrup in place of sugar to get a richer taste. But this is definitely not recommended for those who wish to lose some weight.
The best part about making this beverage at home is to custom-make it as per your taste and preferences. You can get as creative as you want and add any of the aforementioned ingredients as per your liking.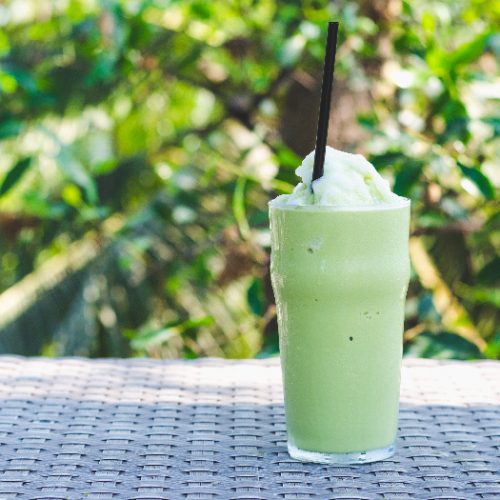 Delicious Matcha Green Tea Frappuccino Recipe
Make your own version of the delicious cold drink by adding milk, matcha tea powder and a sweetener of your choice!
Print
Pin
Rate
Ingredients
2

cups

of milk

as per your preference

4

cups

of ice

2

tbsp

matcha tea powder

1

tsp

vanilla extract

2

tbsp

sweetened condensed milk

1/4-1/2

tbsp

salt

optional
To make Whipped Cream
2

tsp

of powdered white sugar

1/2

cup

of heavy cream
Instructions
To make matcha green tea frappuccino, first, let us start by making the whipped cream. In a tall container, whip together heavy cream and powdered white sugar. Use a handheld blender to mix the two. Continue to mix the heavy cream and sugar until you get soft peaks. Once done, set it aside.

Now, in a separate blender add sifted matcha powder, salt, condensed milk, milk (of your choice), ice, and vanilla extract and blend them together till you get a smooth and slushy consistency.

Once done, pour the drink in two glasses and add the whipped cream and sifted matcha powder as a garnish. Remember to re-whisk the whipped cream till it fluffs up before adding it to the drinks. Use a spoon to add a lump of the whipped cream to the drinks. Serve the cold drinks with a straw and enjoy!
Notes
You can substitute your regular milk with almond, coconut or oats milk if you are vegan.
You can add honey instead of sugar as the former is a healthier option. Some people like to enjoy this drink without adding any sweetener to it.
If you have any other interesting way to make this dish, share it here. And while we can't taste it, we would love to see how it turned out! You can connect with us on Facebook or Instagram and tag your picture with #organicfactsrecipes. [1] [2]