Whipped coconut oil is another form of coconut oil that has air forced into it during the whipping process, where it bonds with lone fats to form a fluffy, stable structure, similar to whipped cream or whipped butter.
How to Use Whipped Coconut Oil?
Whipped coconut oil has many different uses, including as a light skin cream, a hair tonic, face scrub, shaving cream, makeup remover, massage oil and toothpaste. Similar to the regular form of this oil, the whipped variety will also melt when exposed to raised temperature, but due to the physical changes of the oil, it has a slightly higher melting point. The smooth, buttery nature of the whipped variety also gives it a few extra uses, namely as a shaving cream. [1]
Whipped coconut oil also has a similar list of benefits to the normal form of the oil, including its ability to moisturize the skin, improve the digestive system, boost immunity, stimulate blood flow, reduce inflammation, increase the metabolism, aid in weight loss, and speed healing throughout the body. This is primarily due to the high concentration of medium-chain fatty acids, including lauric, capric and caprylic acids, as well as various vitamins, minerals and polyphenolic compounds. [2]
Many people prefer whipped coconut oil because of its consistency and texture, which is decidedly less oily than its natural form. In colder weather or settings, for example, regular oil will be quite hard in its storage container. Therefore, when you try to remove some for use, it can easily crumble, which limits its potential applications. The whipped variety of this oil is very stable and will not harden in the same way, meaning that it can be used in almost any temperature. [3]
With a wide range of uses and a treasure trove health benefits, it comes as no surprise that whipped coconut oil has quickly become a preferred form of this powerful oil. The best part, of course, is that preparing it at home is very easy, and only requires a single ingredient!
How to Make Homemade Whipped Coconut Oil?
Making homemade whipped coconut oil is a relatively simple process, requiring nothing but brute force and coconut oil. Some people choose to add various essential oils for fragrance, such as lavender essential oil, melaleuca oil, or even small amounts of tea tree oil for an added antibacterial boost, but this is optional. Regardless of how you choose to prepare your whipped oil, the best choice is virgin organic coconut oil, as it has not been processed in any way, and will contain the maximum amount of nutrients. The solid form of the oil is also required, as the liquid form will not whip properly. Refrigerate the liquid if necessary to quickly harden the oil. [4]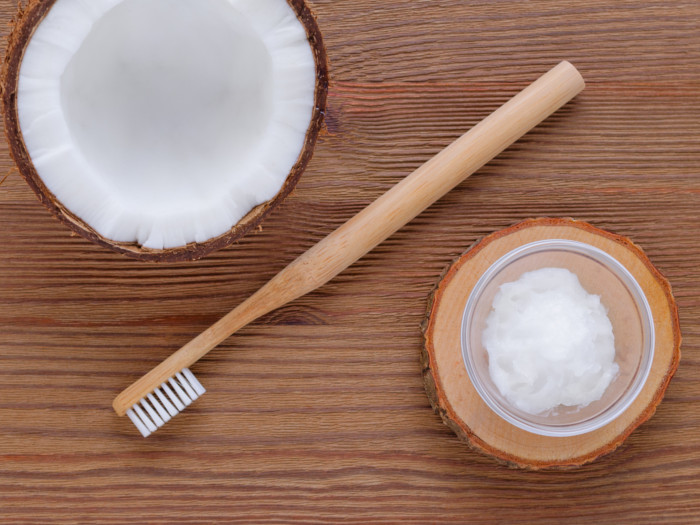 How to Make Whipped Coconut Oil Toothpaste: Recipe
Use this yummy and healthy coconut oil toothpaste to clean those pearly white teeth.
Print
Pin
Rate
Ingredients
Coconut Oil Toothpaste Recipe/Scrub
1

cup

baking soda/ sodium bicarbonate

3-5

drops

peppermint essential oil

(for toothpaste only)
Instructions
To make homemade toothpaste using coconut oil, first, place

the solid coconut oil into the hand mixer.

Put the mixer on the highest setting and thoroughly whip the oil for 5-6 minutes. The texture of the oil should gradually become fluffier and increase in volume.

If using the essential oils, add them to the whipped oil at this point and then whip the mixture for another 10-20 seconds to thoroughly mix the two.

Store the whipped mixture in an airtight container and store in a dark, cool and dry place when not in use. This will increase the shelf life and lower the risk of the oil becoming rancid.
Coconut Oil Toothpaste Recipe/Scrub
Follow instructions above to make whipped coconut oil, but do not add the essential oils.

Once the whipped product is made, mix in the baking soda (this does not require a hand mixer).

Then add the peppermint oil (for toothpaste only).

Store this in a small airtight jar, away from excess heat, light or moisture.
Connect With Us
If you have tried this recipe, we would love your feedback in the comments section below. And while we can't taste it, we would love to see how it turned out! You can connect with us on Facebook or Instagram and tag your picture with #organicfactsrecipes. [5] [6]
Do you wish to share your winning recipes with us? Please click here and fill in the details to get started.