Jollof rice – to people in West Africa, no matter which country they are from – stands for joy and celebration. This delicious, tomato-flavored rice is a must-have dish at weddings, parties, and birthdays, with aunts and grandparents usually making it in huge pots that need at least two people to carry it to the venue. So much so that Jollof rice is used as a verb in West-African speak – you may hear them saying, "Jollofing into the weekend"! So, let's look at the origin of the dish and its recipe.
Jollof Rice: One-Pot Wonder
Jollof rice is made with long-grain rice, tomatoes, and spices, with an extra kick from Scotch bonnet chile peppers. These chile peppers are the most widely used hot pepper in the Carribean. If you cannot source Scotch bonnet chile peppers, you can use habanero peppers and if you prefer to make it less spicy, you may omit it from the recipe altogether.
Jollof is believed to have its origins in the Senegambia region of West Africa among the Wolof people. Since then, this addictive rice dish has traveled through this sub-region of Africa, with the recipe being tweaked locally with spices and meat.
The debate over the best Jollof can go from being light-hearted to a heated argument, with people from Nigeria, Ghana, and Senegal laying claim to its invention. The main difference between Nigerian and Ghanaian Jollof rice is that in Nigeria, they use long-grain parboiled rice whereas, in Ghana, they prefer Basmati or Thai jasmine rice. In Senegal, the rice and meat or fish is usually a one-pot dish with all the ingredients simmering together.
If you don't believe us that people in West Africa take their Jollof rice seriously, here are some fun facts for you: [1]
In November 2016, Facebook founder Mark Zuckerberg made a surprise visit to Nigeria to visit tech entrepreneurs and developers, which started trending in the country within hours. He also said Nigerian Jollof was fantastic, which was quoted in the media several times.
Nigerian minister, Lai Mohammed, was asked by CNN's Richard Quest, "Which country makes the best Jollof rice?". The minister replied, "Senegal" and was trolled, even though he tried to explain that he thought he was being asked about the origin of the rice dish.
How To Make Classic Nigerian Jollof Rice?
Here, to avoid arguments, we look at the step-by-step method to make Nigerian Jollof.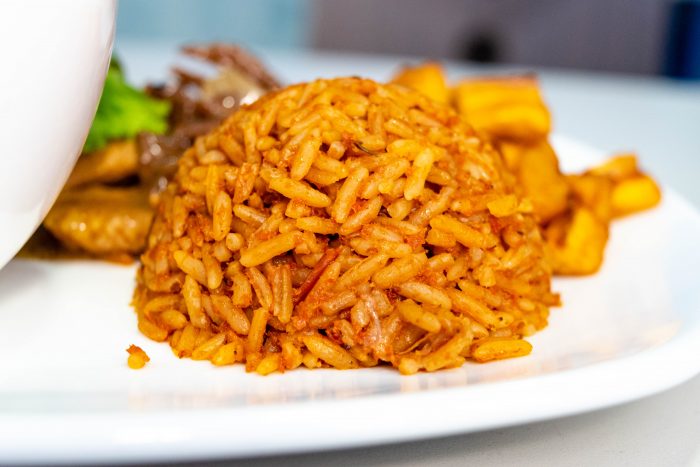 Delicious Nigerian Jollof Rice Recipe
Delicious rice flavored with tomatoes and spices that can be eaten as a main dish or a side dish!
Print
Pin
Rate
Cook Time:
1
hour
15
minutes
Total Time:
1
hour
30
minutes
Ingredients
2

cups

long-grain rice

3

cups

water

6

tomatoes

medium-sized

6

red peppers

3

onions

medium-sized

1

Scotch bonnet pepper

2

dried bay leaves

3

tbsp

tomato paste

2

tsp

Caribbean/Jamaican curry powder

1

tsp

dried thyme

1

tbsp

butter

2

cups

chicken stock

salt

to taste
Instructions
Rinse the rice a couple of times to remove the starch. Parboil the rice with three cups of water in a large saucepan. To parboil, put the rice and the water in the pan and bring it to a boil. Stir well, cover with a lid, and let it simmer for 12 minutes. The rice grains will still be hard and not completely cooked.

Meanwhile,

chop the tomatoes, red peppers, and two onions.

Blend the diced vegetables and a Scotch bonnet pepper in a blender or food processor.

Slice one onion thinly. In a large, thick-bottomed pot, warm 1/3 cup vegetable oil. Add the bay leaves and the onion. Season with salt and sauté.

Add the curry powder and dried thyme. Mix well so that the spices release their aroma. Now, add the tomato paste. Sauté for a couple of minutes.

Add the blended vegetables and stir till it comes to a boil. It will take 12-15 minutes. Add the parboiled rice and the butter and mix well.

Warm 2 cups of chicken stock and add it to the pot and mix well. For the rice to cook, cover the pot with a lid. You can use parchment paper to heal seal the moisture to help cook the rice.

Remove the lid and stir the rice. You can check for seasonings and adjust the salt. Add more water if you feel that it is needed. Cover and let cook for another 5-8 minutes.

Your Jollof rice is ready and it can be served with a side of spicy chicken wings. To make Party Jollof rice, leave the pan for 3-5 minutes longer with the lid so that the bottom layer of rice gets slightly toasty. You may hear the grains crackle. Stir well and let the smoky flavor spread to the rest of the dish. Enjoy!
Enjoy this delicious rice dish from Nigeria and as the West Africans would say, be sure to Jollof with friends and family!
If you have tried this recipe, we would love your feedback in the comments section below. And while we can't taste it, we would love to see how it turned out! You can connect with us on Facebook or Instagram and tag your picture with #organicfactsrecipes. [2] [3]