Oat flour is one of the rising stars in the flour world, where gluten-free versions are taking over bleached all-purpose flour. Oat flour pancakes and honey oat flour bread are some of the most popular products. But bakers are experimenting with this sweetish nutty flour to make cakes, muffins, and savory baked products too.
What is Oat Flour?
Oat flour is nutrient-dense and protein-rich flour made by grinding rolled oats or old-fashioned oats. Since the flour is gluten-free, it has gained popularity in the last few years. It has a slightly sweet taste and lends itself to baking fairly easily. However, because it is gluten-free, baked goods do not rise easily and so, you may need to add more yeast, for instance, while making bread. It is best when mixed with other flours. Oats flour also works as an excellent food thickener.
Nutritional Value
According to the USDA, 1/3 cup (40g) of oat flour, made from whole grain oat groats, contains 160 calories. It has 7 grams of proteins and 4 grams of fiber, which make it a healthy option as compared to all-purpose flour. A 1/3 cup of all-purpose flour has only 4.3 grams of protein and 1 gram of fiber approximately. Oats flour also contains more calcium and iron than whole wheat flour as well as all-purpose flour. [1] [2]
Baking with Oat Flour
If you are a baker looking for healthy options, flour made from oats should definitely be part of your pantry essentials. You can use it to make pancakes, muffins, old-fashioned bread, and cakes. Well-known brands like Bob's Red Mill recommend replacing 20% of the flour in baked goods with oats flour for increased nutrition and great taste. [3]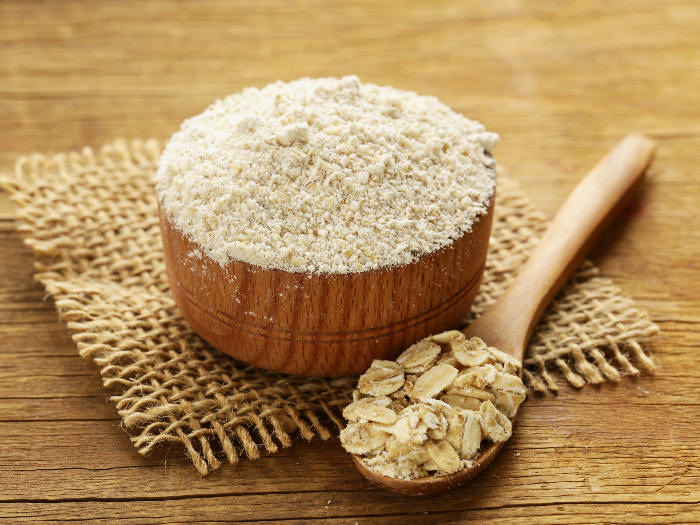 How to Make Oat Flour?
While you can buy this flour from grocery stores or online, you can make it very easily at home. Let us look at the method to make this gluten-free flour.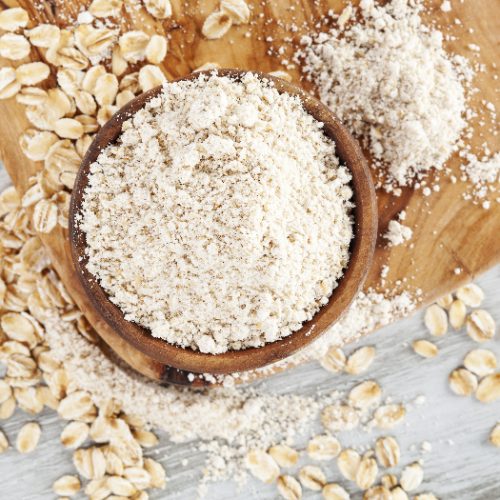 Homemade Oat Flour Recipe
You can make oat flour easily at home with this fuss-free recipe. All you need is a blender and old-fashioned rolled oats!
Print
Pin
Rate
[4]
[5]
Instructions
Add the rolled oats to a blender and blend till they turn into a white powder.

You can check for large pieces of oats. If they are there, shake the oats and blend again. It should not take more than 15-20 seconds if you have a high-speed blender. Do make sure you don't overdo it. Otherwise, the flour will form clumps.

The oats flour is ready to use. You will get about 6 1/4 cups of flour.

You can make oat flour pancakes by substituting this flour for all-purpose flour in the ratio of 1:1. They taste delicious and light!
Notes
You can store the flour in an airtight glass jar in a cool, dry place for a month. You can also freeze the flour and keep it for up to three months. However, since it is an easy process to make oat flour, it is best to make small batches as and when needed.
If you are using oats flour for the first time, you can experiment by making pancakes. The pancakes have a sweet taste and pair well with traditional maple syrup. To make it fancy, add sliced bananas, chocolate chips, or fresh blueberries. You can also make oatmeal cookies with oats flour. They are chewy and crumbly but hit the sweet spot. The best part is that you don't have to feel so bad about eating them as they do pack a lot of nutrition!