In some parts of the world, oat milk is considered one of the best winter drinks around, and it also packs quite a nutritional boost that is easy to add to your weekly diet.
What is Oat Milk?

Oat milk is a specialized form of milk that is made when steel cut oats are allowed to soak in water for a certain period of time. The resulting blend is then mixed and strained, resulting in a heavy, foamy type of milk that is rich in flavor and high in nutrients. From Scandinavia to parts of Asia, oat milk is widely celebrated as an alternative to traditional milk, particularly for people who are lactose intolerant. While it doesn't provide all of the same nutrients as cow's milk or goat's milk, oat milk has a different nutrient profile that makes it appealing to some people. [1]
Oat Milk Nutrition
This milk variant contains a surprisingly large amount of nutrients, including fiber, calcium, vitamin A, and iron. In fact, oat milk possesses twice as much vitamin A as cow's milk, and roughly 10% of your daily required intake of iron. This type of milk is also notably lower in fat, and contains no cholesterol, leading some people to believe that it is actually a healthier option than cow's milk. It also contains approximately 1 gram of protein. [2]
How many calories are there in Oat Milk?
One cup of unsweetened oat milk from a brand such as Oatly has about 120 calories. It is generally more than almond milk (30-40 calories) and skimmed cow milk (90 calories).
Oat Milk Benefits
Not only does oat milk have some impressive nutrients, but it also has a direct effect on your overall health, including things like protecting the heart, boosting the immune system, preventing chronic disease, increase bone strength, and aiding vision, among others.
Protects Cardiovascular Health
With significantly lower levels of fat than cow's milk (particularly whole milk), oat milk can be better for people who are struggling with their heart health. There is also no cholesterol in this milk variant, which lowers your risk of things like atherosclerosis, heart attacks, strokes, and coronary heart diseases. [3]
Improves Vision
There is quite a bit of vitamin A found in oat milk, which can act as an antioxidant in certain situations. More specifically, vitamin A is known to reduce macular degeneration and oxidative stress in the retina.
Increases Bone Strength
Oat milk contains a very high concentration of calcium, as well as iron and various other minerals. This is very important for maintaining bone density as you age, and ensuring that your bones stay strong and durable.
Boosts Immune System
The high level of soluble fiber found in oat milk is known to boost the function of the immune system and help to optimize digestive processes; remember, roughly 50% of your immune system's activities occur within the gut. [4]
Lowers Inflammation
Some research has shown that regular consumption of oat milk can lower overall oxidative stress and inflammation in the body and may help lower the risk of developing chronic diseases. [5]
Oat Milk Recipe
As explained briefly above, this milk is made with either steel-cut oats or whole groats.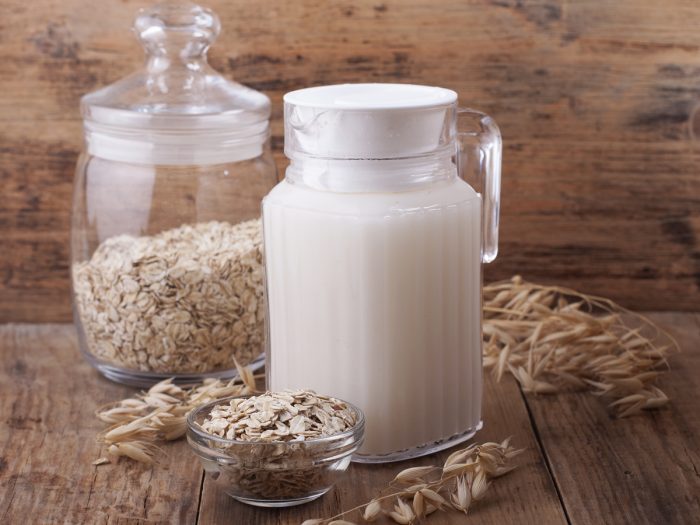 Homemade Oat Milk Recipe
The perfect homemade plant-based milk recipe to try out for a much better health!
Print
Pin
Rate
Servings:
1
medium-sized jar
[6]
[7]
Ingredients
1

cup

of rolled oats or whole groats

4

cups

of water
Instructions
To make oats milk, soak 1 cup of steel cut oats or rolled oats or whole groats in 4 cups of water for 4-6 hours.

Blend this mixture for about 30-45 seconds or until it has an even consistency.

At this point, strain the oats and water through a cheesecloth, trapping all of the oats inside.

Store the remaining milk in an airtight container and keep it in the refrigerator.
Notes
It should stay good for 2-3 days and must be kept in the refrigerator until you are ready to use it. Over blending can cause the texture of the milk to become slimy. That is why avoid blending it for more than 30-45 seconds. Additionally, soaking your oats for a very long time or heating the milk can cause it to become slimy. Strain the milk properly so as to ensure the removal of excess starch, which can cause unnecessary sliminess. A towel or a clean old t-shirt make for perfect strainers as fine mesh strainers and nut milk bags cause too much pulp to get through. You can also add vanilla extract, maple syrup and a pinch of salt to the soaked oats so as to enhance the flavor of the milk.
What does Oat Milk taste like?
The taste of oat milk is similar to that of cow milk and it is thicker and sweeter than most of the non-dairy types of milk.
Where to buy Oat Milk?
If you are short of time and want a ready pack of oat milk then you can find it in supermarkets or local stores in your vicinity. Oat milk is also easily available in online stores.