Anyone who loves Chinese cuisine will know what an important role oyster sauce plays in enhancing the taste of the dishes. Whether it is used as a glossy drizzle on a bowl of blanched vegetables or as a distinctive flavor added to stir-fries and marinades – the oyster sauce is by far the most common ingredient in the Chinese culinary world.
Contrary to popular belief it's relatively a recent find, dating back only to the 19th century. Oyster sauce was made by accident when a certain chef, named Lee Kum Sheung, overcooked the oysters that he had left on the stove to serve the local villagers of Nanshui, Zhuhai, Guangdong province, in China. It was then that he was surprised to taste the delicious, thick, dark brown paste on the wok, which later came to be known as oyster sauce. [1]
What is Oyster Sauce?
Oyster sauce is a thick, brown sauce with a sweet and salty, earthy flavor made of oysters. It is used as a popular condiment in Pan Asian cuisines. It is full of umami, which is one of the five basic tastes. In simpler terms, umami is also known as savory and is reminiscent of the taste of meat and cooked broths. Oyster sauce substitutes include soy sauce, hoisin sauce, fish sauce, and mushroom sauce. If you are allergic to fish or shellfish, you can make use of the substitutes. While they may not be accurate in terms of flavor, they can do wonders. If you don't want to go for the substitutes, there are vegetarian, vegan, and gluten-free variants of oyster sauce, which can be made at home. Let's take a look at the step-by-step technique of making oyster sauce at home.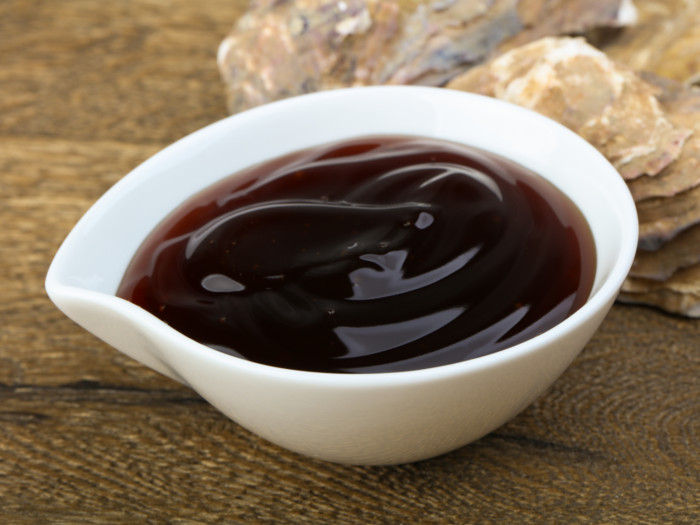 How To Make Oyster Sauce
A quick gluten-free recipe for the thick, brown, intensely flavorful sauce.
Print
Pin
Rate
[2]
[3]
Ingredients
225

gms

shucked oysters with liquid

2

tbsp

water

salt

as per taste

1

tbsp

soy sauce

dark

4

tbsp

soy sauce

light
Instructions
To make oyster sauce, you will need a container of shucked oysters, the liquid of which needs to be retained. For those of you who are unaware of shucked oysters, they are oyster meat, that has been removed from the shells.

For this recipe, it would be advisable to use a container of previously shucked oysters than fresh ones. You need not cut the oysters into accurate pieces as they will need to be filtered, only to retain the sauce.

Preferably chop the oysters much in advance. Cut them into small pieces as that will help the flavor ooze out faster.

In a saucepan, add 2 tbsp of water along with the oysters and the juice from the shucked oysters. Place it on the stove and bring it to a steady boil. Keep stirring to avoid the oysters from sticking to the bottom of the pan.

Cover the saucepan with a lid and allow it to simmer slowly on medium to low flame. Now, keep a close watch on the liquid and while you may not stir it as often, make sure that the liquid simmers steadily. Adjust the heat as per the requirements.

Take down the saucepan from the stove and add salt as per your taste. Stir the liquid well.

Use a strainer to sieve the contents from the saucepan.

Pour the oyster liquid into a saucepan. Add the soy sauce to the mixture. You will need almost 4 tbsp of light soy sauce followed by 1 tbsp of dark soy sauce. A mixture of the two will give the oyster sauce the right amount of depth of flavor. If you're not sure about the quantity of soy sauce to use, start by adding a little at first and gradually add more depending on your taste.


Meanwhile, you can either discard the oyster or use it later. If you want to use it, transfer it to a glass container with an airtight lid. Keep it in the refrigerator and try to use it within 4 days.


Going back to the recipe, keep the saucepan on the stove and allow the liquid mixture to come to a boil. Once it reaches a rolling boil, reduce the heat to medium-low and continue to cook it for 10 minutes


Keep the lid off the saucepan and allow the mixture to thicken as the liquid continues to simmer. The thickening process will be affected if the lid is kept on. Once done, allow it to cool before using it. If you don't wish to use it right away, pour it into a glass container with an airtight lid and refrigerate it.
Notes
If you wish to make the process quick, you can simply add the canning juice from a can of shucked oysters and discard the oysters at the start itself.
For the vegan/vegetarian version of the sauce, you can use sesame oil and ginger to saute a mixture of dried shitake mushrooms and flax seeds as a replacement of the oysters.
How to Use Oyster Sauce?
Oyster sauce can be used in a variety of dishes, such as a dressing for noodles, rice, vegetables, meat or stir-fries. Additionally, it can be used in sauces, gravies, and marinades. In Japanese cuisine, it can be drizzled over sushi rolls to enhance their flavor.
Connect With Us
If you have tried this recipe, we would love your feedback in the comments section below. And while we can't taste it, we would love to see how it turned out! You can connect with us on Facebook or Instagram and tag your picture with #organicfactsrecipes. [4] [5]
Do you wish to share your winning recipes with us? Please click here and fill in the details to get started.