A smoothie is a nutritional powerhouse, especially when it has the right blend of nutrients in it. Avocado smoothies are the perfect go-to breakfast or a healthy afternoon/evening snack when you're on a weight-loss diet. Rich in antioxidants, fiber, minerals, vitamins, and monosaturated fats, avocado smoothies are an effortless way to add valuable nutrition to your diet, particularly when you're short on time. If you've never tried making a healthy avocado smoothie at home, we have the perfect recipe for you!
How to make an Avocado Smoothie?
Not all great recipes have to be complicated. The avocado smoothie recipe is easy to make, involving just 5 ingredients, (sometimes even less) and takes just 5 minutes to prepare. Avocados lend the smoothie a creamy texture, which when combined with other fruits like bananas, berries, mangoes, and vegetables like cucumbers, kale or cilantro, will make your breakfast wholesome yet delicious. However, you can also choose to have it simply as it is, in other words, sans fruits/vegetables, and no, it doesn't have to be boring. Let's take a look at how to make this appetizing and healthy avocado smoothie.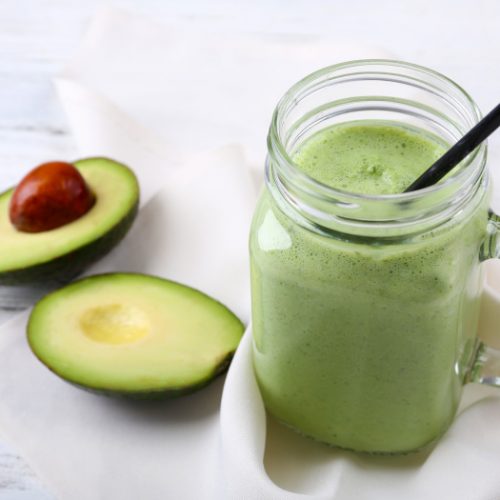 How to Make Avocado Smoothie
Creamy, thick, delicious avocado smoothie to get your day started on a healthy note!
Print
Pin
Rate
Ingredients
1

medium

ripe avocado

1

scoop

(vanilla) protein powder

1

cup

low-fat vanilla greek yogurt/unsweetened almond milk/coconut milk

(you can use vanilla yogurt, when not using vanilla protein powder)

1

tbsp

flax /hemp/sunflower/chia/sesame seeds

(optional)

1

tsp

honey

(optional)
Instructions
To make an avocado smoothie, add an avocado, protein powder of your choice and any dairy-free milk (almond milk or coconut milk) or low-fat Greek yogurt, (whichever you prefer) in a high-speed blender. You can also add chia seeds/flax seeds/sunflower seeds or sesame seeds, whichever option you prefer.

Blend the ingredients together until it becomes thick and creamy. If the consistency is too creamy for your liking, simply add more dairy-free milk to thin it. If you are using yogurt instead, add more of it and a bit of water to thin it. You can add more vanilla protein/ protein to it, to add to the sweetness. If the protein powder you're using is unsweetened, add a tsp of honey to it.

Once done, divide the smoothie among different serving glasses and enjoy the drink. Ideally, it's best when you have it fresh, but if you choose to have it later, you can refrigerate it.
Notes
Note that if you want a creamier and thicker version of an avocado smoothie, you'll need more avocados. The more the avocados, the thicker and creamier the smoothie! Avocado blends well with any fruit and vegetable, so you can always add frozen bananas, berries, kale, spinach, mangoes, etc to the recipe above to enhance the flavor.  
Connect With Us
If you have tried this recipe, we would love your feedback in the comments section below. And while we can't taste it, we would love to see how it turned out! You can connect with us on Facebook or Instagram and tag your picture with #organicfactsrecipes.
Do you wish to share your winning recipes with us? Please click here and fill in the details to get started.
Does Avocado Smoothie Really Help in Weight Loss?
Smoothies, in this case, avocado smoothies, are healthy provided you don't add sugar or any other high-calorie ingredient into it. If you are going to be generous with your add-ins, then you'll just end up with a high-calorie, sugar-laden dessert, which will make you gain weight instead. If you were to substitute dairy-free milk/low-fat Greek yogurt, with high-fat cow milk, and ice cream or honey with sugar, in the aforementioned recipe, then the resultant avocado smoothie would be nothing short of fattening.