Your furry friend might be family to you, but we certainly cannot share every part of our diet with them. We need to be aware of what they are eating. While we need to keep them away from human food that is harmful to them, such as chocolate, we also need to ensure that whatever they are being fed is healthy for them as well. That makes us wonder about several foods, such as peanut butter. Is peanut butter good for dogs? Let's find out.
Is Peanut Butter Good for Dogs?
Peanut butter is essentially peanut paste, possibly with some added elements for the purpose of flavor. The additional natural ingredients could include sugar, salt, honey, and even a combination of other nuts. This is usually true about the organic, natural, or homemade varieties of peanut butter, which are usually made without additional preservatives. These kinds of nut butters are usually considered safe for dogs.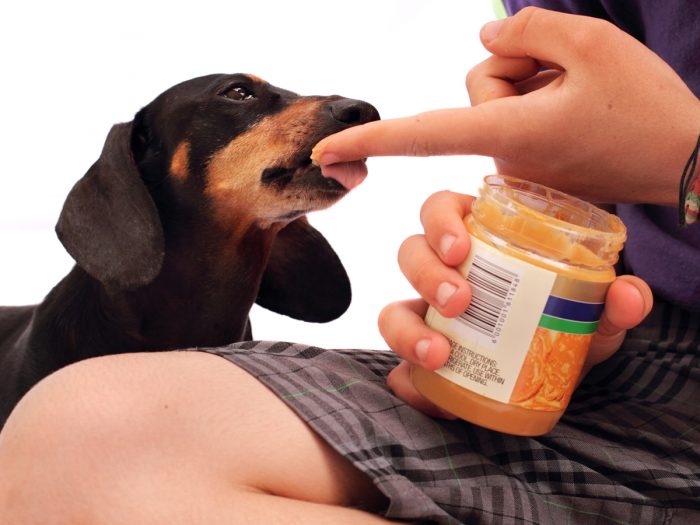 What Peanut Butter is Bad for Dogs?
While this gives you a choice of peanut butters that can be healthy for your dogs as well as you, there are some that should be kept off the pet food shelf. When selecting for your dog, be careful about the following ingredients in peanut butter:
Xylitol: This is a sugar

alcohol

usually used as a substitute for sugar. You are bound to find it in your sugarless chewing gum or breath mints, which is also something you shouldn't give your beloved pet. The ingredient is absorbed more quickly in their

bloodstream

as compared to humans. This can lead to hypoglycemia, following a rapid release of

insulin

.
Chocolate: Cocoa products such as

chocolate

are bad for dogs. It could lead to theobromine poisoning in dogs, which could be fatal. The symptoms could include excitement, restlessness, increased heart rate, increased

urination

, and

seizures

. While it is not the norm, chocolate might find a place in some peanut butter, especially the ones for kids.
These are the peanut butter treats that are exclusive to dogs. Apart from that, it can be safe to assume that if the peanut butter is safe for you, it is safe enough for your dog. There have been no documented cases of peanut butter allergies in dogs.
Is Peanut Butter Healthy for Dogs?
Is peanut butter good for dogs? It is understood better by not only knowing whether it is safe or not, but also whether it healthy and if so, how healthy?
Peanut butter is a source of protein, some good fats, and fiber as well. So, it is generally healthy. However, make sure to give it in moderation.
It is also a great way to distract them and feed them medicines by hiding pills in a dollop of peanut butter.
However, it is best to use peanut butter made at home, where you can be sure of the ingredients used. This ensures a healthy treat for your pets.