If you have an aloe vera plant at home or in your garden, you are lucky because you can make your own aloe vera gel at home. The gel is a natural product that has been used for centuries to heal skin issues such as sunburn, rashes, acne, among others. The gel is also known to promote healthy hair growth.
What Is Aloe Vera Gel?
Aloe vera gel is the natural-gel like substance present in the leaves of the aloe vera plant. According to a report in The Indian Journal of Dermatology journal, the inner gel contains 99 percent water and the rest is made of bio-compounds such as glucomannans, amino acids, lipids, and vitamins. Glucomannan is a natural, water-soluble dietary fiber that expands when it comes in contact with water. This helps make it a wonderful natural product that can help plump up the skin and hair follicles. [1]
DIY Aloe Gel
It is easy to make this natural healing aloe gel at home. All you need is a few healthy leaves of the aloe vera plant. You can even preserve the gel for a month by adding natural preservatives. Let's find out the step-by-step technique to make the gel.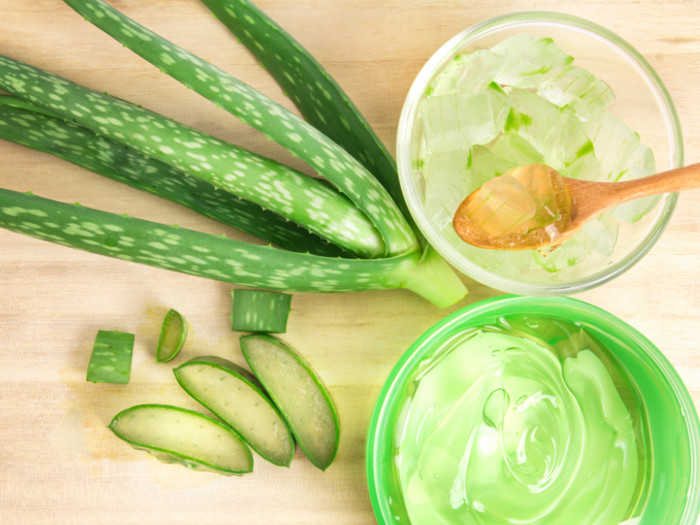 How To Make Aloe Vera Gel
Make your very own natural skin cleanser & moisturizer!
Print
Pin
Rate
Ingredients
500

mg

vitamin C

(optional)

400

IU

vitamin E

(optional)
Instructions
If you have access to an aloe vera plant, take a sharp knife and cut off a leaf from the outside of the plant, close to its base. They are usually more mature and contain plenty of gel. If your plant is too young, make sure you do not cut off too many leaves at once. Aloe vera leaves are also available in supermarkets in the produce section. You can usually get 1/2 a cup of gel from 1 mature aloe vera leaf.

Wash the leaves under cold running water to remove any dirt on the skin.

Place the leaves upright in a bowl to let any white or yellow resin to drain off. This can cause irritation to the skin.

Using a vegetable peeler, peel off the skin of the aloe vera leaf on one side. You will see the sticky gel underneath.

Use a spoon to carefully scoop out the gel. Collect the gel in a clean glass container and make sure you do not get any pieces of the leaf skin in it.

If you have collected a lot of gel and want to preserve it, you can mix it with natural preservatives. In a blender, add aloe vera gel and vitamin C or vitamin E capsules. For every 1/4 cup of aloe vera gel, you can either add 500 mg of vitamin C or 400 IU vitamin E. The foamy gel should be put in a clean, airtight glass jar. It will keep in the refrigerator for 1-2 months.

You can also use fresh aloe vera gel to make a nourishing aloe vera juice or add it to smoothies.
Notes
Consider growing an aloe vera plant in your home as they are low-maintenance plants and grow easily. Make sure you apply the gel with clean hands on skin conditions. Enjoy the benefits of an all-natural gel in your home!
Connect With Us
If you have tried this recipe, we would love your feedback in the comments section below. And while we can't taste it, we would love to see how it turned out! You can connect with us on Facebook or Instagram and tag your picture with #organicfactsrecipes. [2] [3]
Do you wish to share your winning recipes with us? Please click here and fill in the details to get started.