If you are looking for a dessert recipe that is special for the holiday season and yet easy-to-make for a weekend night, then No-Bake Strawberry Cream Pie is the one. It is a simple homemade offering at its best. This dessert is made just using four ingredients – strawberries, graham cracker crust, strawberry jello, and whipped cream. It is the perfect comfort food to have after a long day, or to serve last-minute guests. So without further ado, let's follow the simple instructions given below to make this comforting and delicious dessert at home from scratch.
How to Make Strawberry Cream Pie?
Any dessert that is made using fresh fruits is an instant favorite. This recipe makes use of fresh strawberries and boasts of a fresh flavor with an easy-to-make filling nuzzled in a graham cracker crust. This crust can either be made from scratch or can be store-bought. If you are in a hurry, you can choose the latter and it is perfectly alright. If you don't wish to use jello, gelatin or artificial add-ins, you can make fresh strawberry sauce instead and use it as a sweet glaze over the berries. Given that this is a no-bake recipe, it's quick and simple to make, not to forget, a much healthier substitute to the otherwise baked version.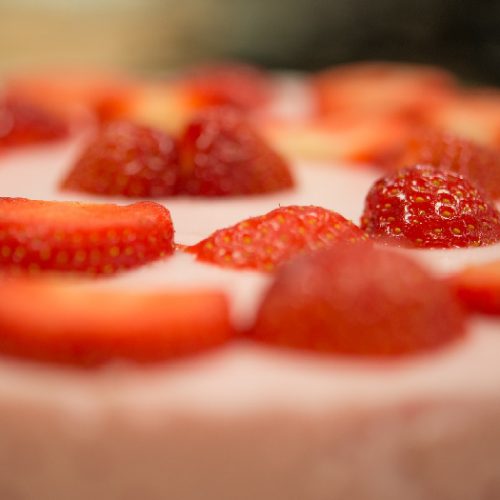 Strawberry Cream Pie Recipe
An easy-to-follow recipe to make this decadent pie for your weeknight dessert cravings!
Print
Pin
Rate
[1]
[2]
Instructions
To make strawberry cream pie, beat sugar and cream cheese together in a big bowl. Then, add vanilla extract and sour cream to it and whip the mixture till you get a smooth consistency.

Once done, pour the mixture into a graham cracker pastry crust. Refrigerate it for 3-4 hours till it becomes firm.

Brush the top of the cake with jelly or fresh strawberry jam. After this, cover it with fresh strawberries cut lengthwise. Voila! Your fresh strawberry cream pie is ready to eat!

If you don't wish to use jam/jelly, you can make strawberry sauce by combining a pound of sliced strawberries, 1/3rd cup of powdered sugar, and 1 teaspoon of lemon juice in a large saucepan. Boil them together over medium heat for 20-23 minutes. It will slowly start to liquefy. Once it thickens, you'll know that the sauce is ready.
Connect With Us
If you have tried this recipe, we would love your feedback in the comments section below. And while we can't taste it, we would love to see how it turned out! You can connect with us on Facebook or Instagram and tag your picture with #organicfactsrecipes. [6] [7]
Do you wish to share your winning recipes with us? Please click here and fill in the details to get started.