Okra water might not seem like the most palatable of all, but with all the benefits that it has to offer, you surely ought to give it a try. Here is an easy recipe which you can enjoy.
Amongst various reasons why you should have this simple drink, probably the most interesting is its anti-diabetic potential. According to a study published in the Journal of Pharmacy and Bio-allied Sciences, the peel and seeds of okra plant have properties that can help manage diabetes. The research showcased that a solution of water with okra soaked in it helped bring down blood sugar levels in diabetic rats. [1]
While further research is required to understand how effective it is for human, there is no harm in giving it a try already. After all, okra with its slimy texture and taste notwithstanding is a nutritious vegetable that's rich in carbs, magnesium, fat, protein, fiber, folate, and vitamins A and C. So let's try out this polarized vegetable in a new form, shall we?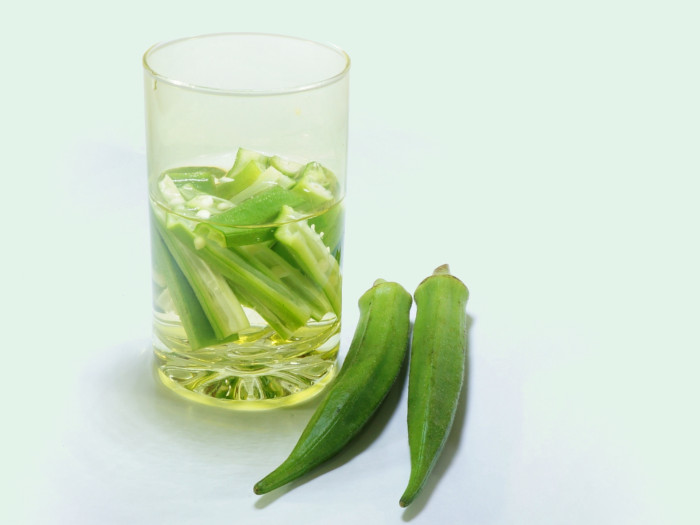 Okra Water Recipe
A nutrient-rich drink to keep your sugar levels in check
Print
Pin
Rate
[2]
[3]
Ingredients
4-5

okra pods

medium-sized

1

cup

water

salt

(optional)

pepper
Instructions
Take 4-5 medium-sized okra pods and wash it thoroughly.

Cut both ends of the pods, and slice them in half. You can also use a knife and pierce each side of the pods.

Now, take a cup filled with water and immerse the pods in it.

Keep the pods soaked in water for 8 hours. Note that you can also keep it soaked in water for 24 hours if you prefer to do so.

Next morning, or after 24 hours, release the leftover sap into the water from the okra pods by squeezing it. You can throw the pods away once you do so.

Pour the water into a glass and drink the nutrient-rich beverage. You can also season the drink with salt and pepper, should you find it bland.

Alternatively, to cut down on the time, boil the okra pods instead of keeping them soaked in water overnight. Once boiled, you can blend the slimy okra pods with water. Either, have it warm as a soup, or wait for it to cool down to have it as okra water.
Notes
If you don't enjoy the taste of okra water, you can blend the soaked vegetable with slices of orange and make a flavorful juice out of it. You can add ice cubes to it if you want to have it chilled. This blend will aid in digestion.
Connect With Us
If you have tried this recipe, we would love your feedback in the comments section below. And while we can't taste it, we would love to see how it turned out! You can connect with us on Facebook or Instagram and tag your picture with #organicfactsrecipes. [4] [5]
Do you wish to share your winning recipes with us? Please click here and fill in the details to get started. [6]