Whoever said they don't like pies, simply didn't know what they were talking about. Pies make for a decadent dessert and are a quintessential delicacy during festivals like Thanksgiving. Not just that, they make for an interesting recipe for Sunday brunches or weekend getaways with family and friends. The pies we know today are relatively a recent inclusion to a history that goes back to the time when man devised a way to prepare the dough in order to bake it into a crust and find things to fill it with. While we all know of delicious pies such as apple pie, pumpkin pie, pecan pie, blueberry pie, and chocolate pie, one recipe that almost never gets old is the peanut butter pie.
How to Make Peanut Butter Pie?
Sinfully buttery, and creamy, the peanut butter pie is one of the most incredible desserts you'll ever eat. With a luscious mousse-like texture and a rich flavor, peanut butter pies are the perfect recipe for last-minute potlucks or family gatherings. It is fairly simple to prepare and can be made in advance and stored in a freezer or a fridge. Here's an easy recipe to make peanut butter pies at home for all your last minute plans.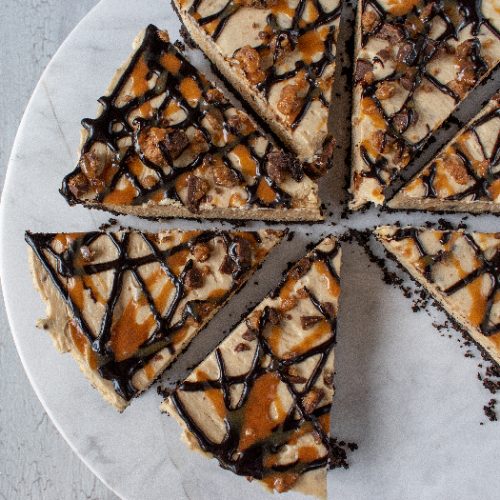 Delicious Peanut Butter Pie Recipe
Rich, creamy, flavorful, melt-in-the-mouth goodness, which is not only easy to prepare but also effortless to store
Print
Pin
Rate
[1]
[2]
Ingredients
3/4

cup

peanut butter [3]

1/2

cup

confectioner's powdered sugar

4

ounce

cream cheese (softened)

1

Graham cracker crust (9 inches)

16

ounce

unwrapped frozen whipped topping, thawed

15

miniature chocolate covered peanut butter cups
Instructions
To make peanut butter pie, beat the peanut butter with the cream cheese until you get a smooth consistency. Thereafter, add the powdered sugar and continue to beat until it becomes smooth. To this smooth paste, add in the thawed whipped topping and keep beating it until you reach a smooth consistency, grazing the sides as required.

Spoon the mixture into the graham cracker crust. Take a knife or spatula and even out the surface of the mixture.

Garnish with miniature chocolate-covered peanut butter cups. Before serving it, chill either for 6 hours or a whole night, depending on the time you have.
Notes
This preparation is rich and quite an indulgence. So ensure you cut small slivers of the pie while serving.
Connect With Us
If you have tried this recipe, we would love your feedback in the comments section below. And while we can't taste it, we would love to see how it turned out! You can connect with us on Facebook or Instagram and tag your picture with #organicfactsrecipes. [4] [5]
Do you wish to share your winning recipes with us? Please click here and fill in the details to get started.