Shepherd's pie may have originated in the late 1700s or early 1800s in Scotland and Northern England as a way to put the leftovers to some good use, but over the years it has become a favorite holiday delicacy the world over, particularly in the US. While the Britishers make the baked pie with diced or minced lamb and a layer of mashed potatoes on top, the Americans stuff it with minced beef instead and call it cottage pie. But what is Shepherd's pie and how do you make it? What are the different variations of the delicacy? Let us find out. [1]
What is Shepherd's pie?
Shepherd's pie is also known as ground beef pie or cottage pie in America. This pie is filled with lots of vegetables and tender beef or lamb, which is cooked together in the most flavorsome sauce, and covered with creamy mashed potatoes. This dish is a great way to reuse a big meal or leftovers into an equally delectable dinner.
How to Make Shepherd's pie?
To make Shepherd's pie, the meat of your choice (whether lamb or beef) is cooked in a gravy of onions and vegetables like carrots, peas, celery to name a few. You may also add a generous helping of chopped mushrooms to the broth as it will bring the right amount of depth in the flavor and an extra dose of heartiness to the filling. It is topped with a layer of creamy (and sometimes cheesy) mashed potatoes, which makes the whole dish an incredibly diverse experience. If you wish to make a healthier version of the dish, you can replace the mashed potato-topping with a mashed cauliflower one.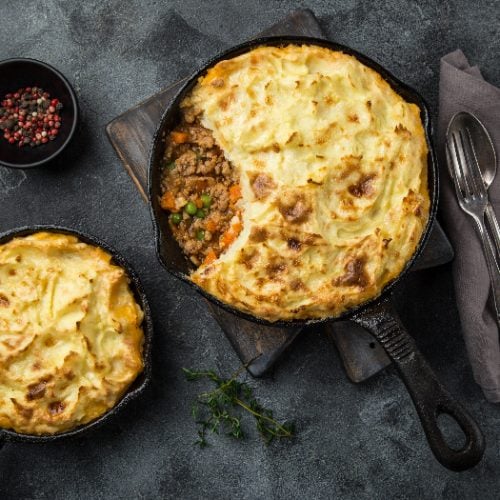 Delicious Shepherd's pie Recipe
Enjoy this easy-to-make, delicious Shepherd's pie recipe with your friends and family this holiday season!
Print
Pin
Rate
Total Time:
1
hour
18
minutes
[2]
[3]
Ingredients
For Beef Mixture
1

large

onion

(chopped)

2

carrots

(peeled and chopped)

2

cloves

of garlic

(minced)

1 and 1/2

lb

ground beef/minced lamb

1

tsp

fresh thyme

1

cup

of fresh peas

1

cup

of frozen corn

2

tbsp

all-purpose flour [4]

2/3

cups

of low-sodium chicken broth

1

tbsp

extra-virgin olive oil

1

tbsp

freshly chopped parsley

(for garnish)

Worcestershire sauce [5]

(as per taste)
For Potatoes
1/4

cup

of sour cream

1/4

cup

of milk

4

tbsp

of melted butter

1 and 1/2

lb

of potatoes (peeled)

freshly ground black pepper

(as per taste)

kosher salt/salt

(as per taste)
Instructions
To make Shepherd's pie, first, make the mashed potatoes. To make them, keep the potatoes in a large pot completely immersed in water and add a generous amount of salt. Bring them to a boil and let them cook until they become soft. This should not take more than 20 minutes. Drain them and let them be in the pot.

Mash the potatoes until they become smooth in texture. Use a potato masher to ensure there are no lumps. Add milk, melted butter, and sour cream to it. These will enhance the taste and also help bring the smooth consistency. Mash them together properly until it is properly mixed and season it with salt and pepper. Once it is made, set it aside.

To make the meat blend, take a large, ovenproof skillet and heat oil in it over medium heat. Once it heats up (not too much as it could burn the ingredients), add carrots, garlic, onion, mushrooms, and thyme (or any other herb of your choice). Cook until it softens and gives out a fragrant. This should take about 5 minutes or so. Add ground beef/minced lamb to the mixture and cook till it ceases to be pink. Once done, drain the fat.

If you wish to add frozen peas and corn to the mixture, now would be a good time to do so. Continue to cook them on medium heat until it softens. Once done. Season it with salt and pepper.

Now check the oven. Preheat it to 400° F. Meanwhile, start to prepare the meat mixture. Sprinkle flour over the meat and stir properly to evenly distribute it. Cook it for a minute or two and add chicken broth to it. Let it simmer for 5 minutes, while the mixture thickens. Add Worcestershire sauce to the mixture as per your taste, which will provide it a sweet and savory flavor with a distinct tangy aftertaste. For the uninitiated, Worcestershire sauce is a fermented condiment prepared from a base of vinegar. Its flavor is enhanced with molasses, anchovies, tamarind, onion, garlic, and other seasonings.

Cover the beef mixture with an evenly distributed layer of mashed potatoes and bake it until they become golden. This should not take more than 20 minutes. Garnish it with your favorite herbs before serving it hot! Given that this is quite a meat-dense dish, you can serve it with a lighter salad such as 'Beet and Goat Cheese Salad' or 'Apple, Walnut and Candied Cranberry Salad', to name a few.
Notes
If there are leftovers, the entire recipe will be cooked in no time. The only thing you will have to make from scratch is the creamy mashed potato. Shepherd's Pie is a great dish to prepare way ahead of time. You can cook it the night before and store it covered in the refrigerator. You can bake it the next day right before serving it. Typically, you can store the cooked mixture for 3-5 days, all covered up, in the refrigerator. You can also cover the pie tightly and freeze it for up to 2 months. You need to cook it in an oven at 350
° F before eating.
Variations of Shepherd's pie
Vegan: To make a vegan shepherd's pie, replace the meat with more vegetables and make mashed potatoes, using vegan butter, milk, and cream cheese.
Vegetarian: To make the vegetarian version of the same do the same as above. Probably, add an extra dose of mushrooms to make it meatier in texture and taste. Moreover, instead of using chicken stock or beef stock, you can use veggie stock and a vegan variant of a sauce.
Chicken or Turkey: Not just beef or lamb, you can also add minced chicken or turkey to make the meat mixture.
Gluten-Free: Use corn-starch instead of all-purpose flour to make a gluten-free shepherd's pie. You can also use cassava flour, almond flour or white rice flour.
Connect With Us
If you have tried this recipe, we would love your feedback in the comments section below. And while we can't taste it, we would love to see how it turned out! You can connect with us on Facebook or Instagram and tag your picture with #organicfactsrecipes. [6] [7]
Do you wish to share your winning recipes with us? Please click here and fill in the details to get started.