If you are someone who has been relying on instant mixes to make the most under-rated dessert of all times – pudding, (and in this case vanilla pudding), then wait no longer as we have the perfect recipe for you. With just a handful of basic ingredients and a whole lot of stirring, you will have the decadent vanilla pudding you've been waiting for!
How to Make Vanilla Pudding?
Pudding as the well-known dessert we all know is of American origin. American puddings are what the British refer to as custard. But did you know that the dish primarily originated in Britain, where it is more savory than sweet? Puddings date back to 1305, where the English word 'poding' meant, "meat-filled animal stomach". However, vanilla pudding, the classic form of the dessert, is the most preferred one world over and we have the perfect recipe for you. So, what are you waiting for? Let's get started. [1]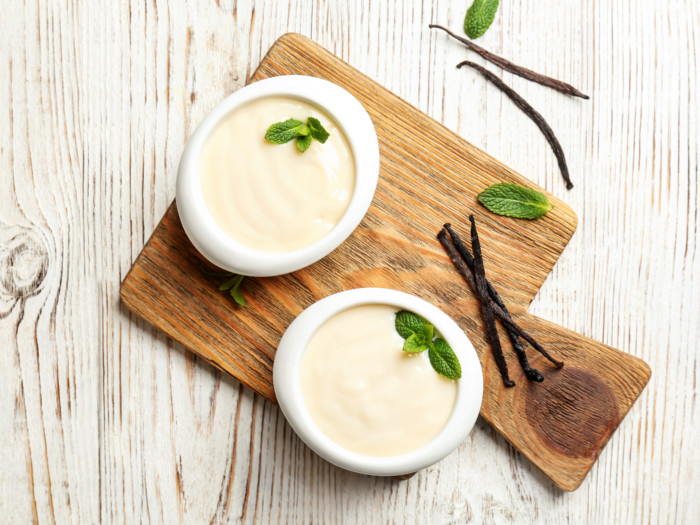 Homemade Vanilla Pudding Recipe
Rich, creamy and the perfect recipe for all dessert lovers!
Print
Pin
Rate
[2]
[3]
Ingredients
Instructions
To make vanilla pudding, put aside 1/2 cup of milk. Meanwhile, in a large saucepan, combine the remaining milk, cream, salt, and sugar and let it simmer on medium heat. Keep stirring the mixture till the sugar dissolves. Remove the saucepan from the stove and allow it to cool for some time.

In the meantime, take cornstarch in a bowl, add in the milk which was kept aside and whisk it till you get a smooth consistency. Thereafter, break the eggs and separate the yolks. Add the yolks to the smooth mixture. Continue to whisk till the mixture is further smoothened.

Now, take the simmering milk from the stove and add it slowly to the yolk mixture, while whisking it to ensure the eggs do not scramble. Once done, transfer the mixture into a saucepan and let it simmer over medium heat. Ensure that the mixture is continuously whisked during this process. You'll notice that it will begin to thicken. Take a thermometer and note the temperature. It should register 180-degree Fahrenheit. Once done, remove the mixture from the stove and add in the butter and vanilla extract. Whisk it till it becomes smooth and shiny. Use a fine-mesh strainer to strain the pudding into a clean bowl/cup.

Once it is prepared, allow it to cool and then refrigerate it for 3-4 hours or overnight. Make sure that you whisk the pudding properly before serving so that it smoothens. If there is leftover pudding, it can be stored in an air-tight container for 5-7 days.
Notes
The longer you whisk the pudding over-heat, the more it will thicken. Also, if you want to make your vanilla pudding interesting, you can jazz it up by adding fruits, jelly, whipped cream, and caramel.
Connect With Us
If you have tried this recipe, we would love your feedback in the comments section below. And while we can't taste it, we would love to see how it turned out! You can connect with us on Facebook or Instagram and tag your picture with #organicfactsrecipes. [7] [8]
Do you wish to share your winning recipes with us? Please click here and fill in the details to get started.