This holiday season, try rompope with your family and friends for a unique taste of Mexico!
What is Rompope?
Rompope is an alcoholic drink that is widely popular in Mexico and Central America. It is similar to eggnog, but its primary flavors are vanilla and citrus rind, typically either lemon or orange. It originated with nuns in Puebla, Mexico as a treat for honored guests, but has since become a holiday favorite across America. [1]
All rompope contain eggs, milk, sugar, and rum. Homemade versions could omit the alcohol so that guests of all ages can enjoy it, but commercial brands do contain about 10% alcohol per serving.
How to Make Rompope?
The process to make rompope is rather simple, let's take a detailed look at it below.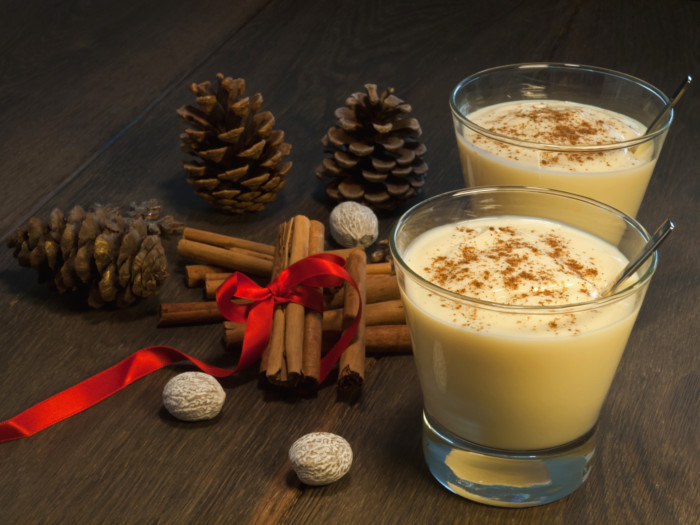 Creamy Rompope Recipe
With a hint of orange, Rompope is one of the most delicious versions of eggnog. This drink can be enjoyed chilled or warmed.
Print
Pin
Rate
Ingredients
8

cups

milk

1

cup

sugar

1

tsp

vanilla

1

orange peel

10

egg yolks

1

cup

condensed milk

2

cups

cream

1-2

cups

of rum or aguardiente
Instructions
Bring the milk, sugar, vanilla, and one orange peel to a boil, then cook on low for about 30 minutes.

Blend the egg yolks with the condensed milk, then mix in the cream.

Ladle one cup of the heated milk mixture into the egg yolk mixture and stir it well, then slowly add the egg yolk mixture to the milk and stir thoroughly over low heat.

Let the mixture cool completely, then add 1-2 cups of rum or aguardiente, depending on how strong you want your drink to be!

Enjoy this drink chilled or serve it warm for extra creamy richness.
You can tweak the recipe to make it vegan, dairy-free, alcoholic, or non-alcoholic. For tips and tricks, you can visit Traditional Eggnog Recipes & Types.
Word of Caution: As with any food or drink cooked with alcohol, it is advisable to exercise moderation as some people can get intoxicated. As it turns out, many food products cooked with liquor still contain alcohol. Also, overindulgence in rompope can cause weight gain as it is high in calories and saturated fat. Also, people with milk or egg allergies, especially children, should avoid the drink. [2]