There are many different recipes for making this iconic Christmas drink, which is eggnog. The many eggnog recipes include vegan eggnog, non-alcoholic eggnog, alcoholic eggnog, and homemade eggnog.
Types of Eggnog Recipe
Let us take a look at the various ways to prepare eggnog.
Nonalcoholic Eggnog Recipe
The nonalcoholic variety of eggnog, as the name suggests, does not contain any alcohol. It is simply made with eggs, milk, cream, and water.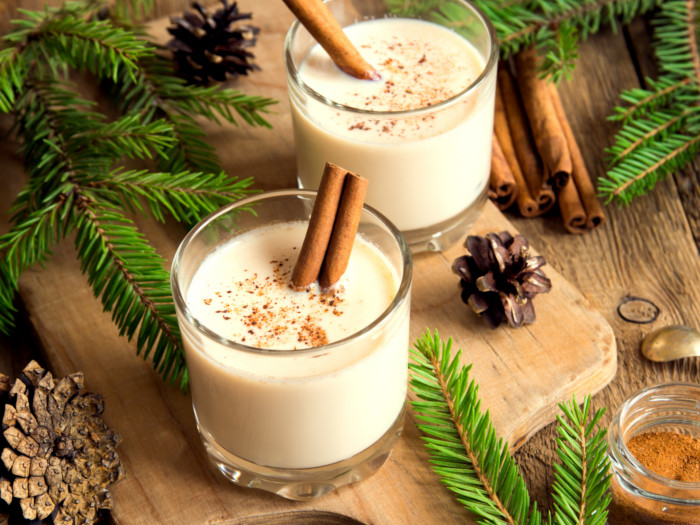 Nutrition Facts

---

Eggnog

Serving Size :
Nutrient
Value
Water

[g]

82.54
Energy

[kcal]

88
Protein

[g]

4.55
Total lipid (fat)

[g]

4.19
Carbohydrate, by difference

[g]

8.05
Fiber, total dietary

[g]

0
Sugars, total

[g]

8.05
Calcium, Ca

[mg]

130
Iron, Fe

[mg]

0.2
Magnesium, Mg

[mg]

19
Phosphorus, P

[mg]

109
Potassium, K

[mg]

165
Sodium, Na

[mg]

54
Zinc, Zn

[mg]

0.46
Vitamin C, total ascorbic acid

[mg]

1.5
Thiamin

[mg]

0.03
Riboflavin

[mg]

0.19
Niacin

[mg]

0.11
Vitamin B-6

[mg]

0.05
Folate, DFE

[µg]

1
Vitamin B-12

[µg]

0.45
Vitamin A, RAE

[µg]

59
Vitamin A, IU

[IU]

206
Vitamin E (alpha-tocopherol)

[mg]

0.21
Vitamin D (D2 + D3)

[µg]

1.2
Vitamin D

[IU]

49
Vitamin K (phylloquinone)

[µg]

0.3
Fatty acids, total saturated

[g]

2.59
Fatty acids, total monounsaturated

[g]

1.3
Fatty acids, total polyunsaturated

[g]

0.2
Cholesterol

[mg]

59
Caffeine

[mg]

0

Sources include : USDA
Alcoholic Eggnog Recipe
While the recipe for alcoholic eggnog remains just the same as the non-alcoholic variety, it simply has alcohol in it. Most commonly, either rum, brandy, cognac or bourbon is used for preparing alcoholic eggnog. The alcohol is added to the recipe after the mixture of milk and egg is prepared.
Dairy-free Eggnog Recipe
To prepare a dairy-free eggnog recipe, you can use many of the amazing alternatives that include the following:
You can just replace dairy milk with these alternatives and the rest of the recipe remains the same!
Vegan Eggnog Recipe
To prepare a vegan alternative to eggnog you can substitute dairy and eggs with the following:
Use

cashews

in place of eggs
Eggnog Nutrition
According to the USDA, eggnog provides many energy and many nutrients that include protein, calcium, magnesium, phosphorus, potassium, sodium, zinc, and B vitamins.
Let us look at how to make this easily at home!
Homemade Eggnog Recipe
Preparing eggnog is not that monstrous of a task. It involves the mixing of certain ingredients, heating them, and then refrigerating the whole mix. We have discussed the detailed recipe below.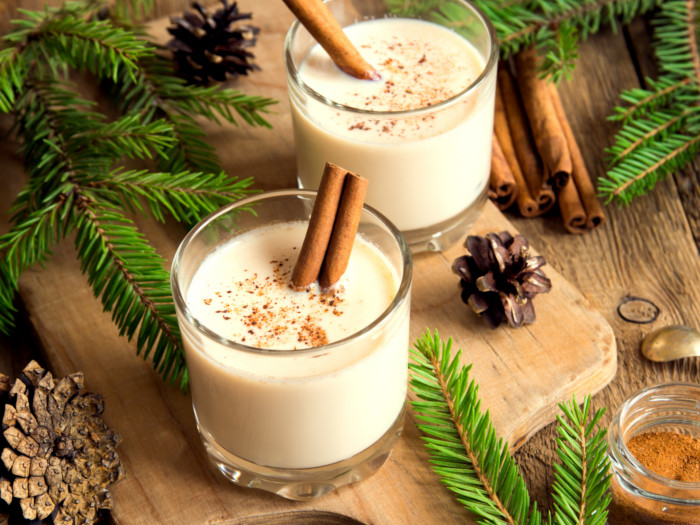 Delicious Homemade Eggnog Recipe
Indulge in this lip-smacking and tasty eggnog recipe and share it with one and all!
Print
Pin
Rate
Instructions
Add eggs, sugar, and a pinch of salt to a bowl.

Whisk the mixture properly.

Add milk and 3/4 of the cream to a saucepan and heat it till the liquid starts to steam.

Mix the egg batter with milk and cream.

Re-heat the milk-egg mixture on medium heat now, and keep stirring it until the mixture is thick enough to stick to the spoon.

Add nutmeg and vanilla extract to the mix and allow it to cool. You can keep it in the refrigerator for 3-4 days for optimum temperature and consistency levels.

Whip the remaining cream in a bowl and add it to the milk-egg mixture to give your eggnog a thick and creamy like texture and consistency.

Sprinkle cloves, cinnamon, and lemon zest on top. Serve it chilled!
Notes
The FDA recommends heating - or pasteurizing - the mixture to 160 degrees to avoid any risk of salmonella.
As per your preferences, you can tweak the recipe here and there to make it vegan, dairy-free, alcoholic, or non-alcoholic.