The many benefits of drinking rosemary tea include optimizing digestion, increasing cognitive function, preventing cancer, treating skin conditions, reducing inflammation, and easing the pain associated with it. It also aids in eliminating anxiety, improving liver function, and boosting hair health, among others. However, there are some potential side effects when consumed in large quantities, such as vomiting, nausea, and spasms, as well as uterine contractions, making it dangerous to use during pregnancy.
What is Rosemary Tea?
Rosemary tea is made by brewing the leaves and stem of the rosemary herb, which has the taxonomic name Rosmarinus officinalis. Native to the Mediterranean region, this herb is one of the most popular in the world for culinary usage and has been used in natural healing for thousands of years. Many of the impressive health benefits of rosemary tea come from the rosmarinic and caffeic acids present in the herb, along with salicylic acid, potassium, and various antimicrobial, antibacterial, and antioxidant compounds.
Watch Video: 5 Surprising Benefits Of Rosemary Tea
5 Surprising Benefits Of Rosemary Tea | Organic Facts
Benefits of Rosemary Tea
Drinking rosemary tea is potentially helpful for people who are suffering from Alzheimer's, dementia, arthritis, chronic pain, hair loss, anxiety, stress, depression, inflammatory bowel disease, and a number of skin conditions. Rosemary tea has a lot of benefits to offer, some of which are listed below;
Skin Care
The compounds found in rosemary tea are well known to improve the appearance of the skin, especially in preventing UV induced damage thanks to their antioxidant and anti-inflammatory properties. Additionally, its antibacterial activity is known to prevent acne.
Improves Circulation
Rosemary tea is known as a stimulating substance for the circulatory system because it has anticoagulant properties, similar to aspirin, which can improve the flow of blood through the body. This can help prevent excessive blood clotting that can lead to strokes and heart attacks.
Cognitive Function
Certain antioxidant compounds found in rosemary, namely carnosic acid, have been proven to stimulate memory and protect neural pathways from being filled with beta-amyloid plaque. Rosemary has also shown the potential to inhibit neuronal cell death and brain inflammation. This is very good news for people who want to stay sharp as they get older and prevent the onset of Alzheimer's and dementia as per a study conducted by Solomon Habtemariam in the Pharmacognosy Research Laboratories & Herbal Analysis Services, UK.
Aids in Digestion
The anti-spasmodic and carminative properties of rosemary tea make it ideal for people suffering from diarrhea, bloating, and abdominal cramping. This herbal tea has been used to clear up digestive issues for generations and may also improve nutrient uptake by relieving inflammation in the gut. Research published in the Journal Research in Pharmaceutical Sciences indicates that rosemary extract may be effective in treating inflammatory bowel diseases.
Anticancer Potential
Rosemary tea is packed with antioxidants, which allows it to seek out and neutralize free radicals, the natural byproducts of cellular metabolism that can cause cellular mutation, cancer, and apoptosis. According to Dr. Mohammad Shahadat Hossan, University of Nottingham, this tea possesses rosmarinic acid, caffeic acid, and carnosol, all of which act as an anticancer agent particularly prevent against colon cancer.
Heals Inflammation
One of the key ingredients of this powerful tea is carnosic acid. Research has shown it to reduce the levels of nitric acid in the body that can be a trigger for inflammation. In combination with other antioxidant and anti-inflammatory compounds, this can potentially help people suffering from many conditions associated with inflammation, including arthritis, headaches, muscle pain, joint disorders, hemorrhoids, and hypersensitivity to allergens.
Analgesic
The pain-relieving qualities of rosemary tea are well known and are largely the result of salicylate, which is a compound quite similar to aspirin. Whether you are recovering from an illness, surgery or injury, or perhaps someone with chronic pain, this tea may help relieve some of your pain.
Hair Care
Many people use rosemary tea to improve the health of their hair, but not by drinking it! You can use this tea as well as rosemary oil to scrub the scalp and hair, thereby helping to improve the nutrient content of the hair, and also potentially reducing dandruff. The antibacterial properties can keep skin conditions at bay and protect against hair loss.
Liver Function
Early research has shown that rosemary can improve the health and function of the liver, due to its free radical scavenging and reducing properties. This can help keep the liver healthy so it can continue to effectively eliminate toxins from the body.
Nervine Properties
Soothing anxiety and stress, and helping people relax, is another popular use of this tea. In animal studies, the nervine qualities of this brew have been shown to decrease behaviors associated with stress and promote calm. The analgesic properties of salicylate may help in soothing nerves and stress.
How to Make Rosemary Tea?
Rosemary tea can be made very easily with a few sprigs of rosemary herb, hot water, and a dash of natural sweeteners, such as honey or sugar. Unlike many herbal teas that require only the leaves to be steeped for a tea blend, rosemary tea is made by steeping both the leaves and the stems of rosemary. This tea can be made with either fresh or dried leaves, and can even be made through powdered leaves, although this is less common.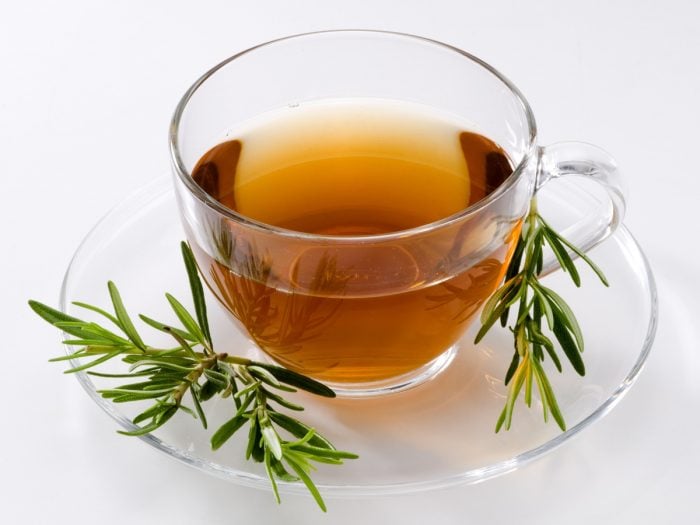 Rosemary Tea Recipe - A Popular Herbal Remedy
Enjoy the soothing effects of this aromatic herbal infusion!
Print
Pin
Rate
Ingredients
1

tsp

rosemary

(dried, fresh or powdered)

1

cup

water

(filtered)

1

tsp

honey or sugar

(if desired)
Instructions
To make rosemary tea, bring the water to a boil in a small pot and then reduce the heat.

Add the rosemary herb to the water and allow it to steep for 5-6 minutes.

Once done, switch off the stove and allow it to cool for some time. Then, strain the mixture into a teacup. If you want to add a sweetener, you can add a tsp of honey or sugar as per your preference.
Notes
If you allow the tea to steep for over 10 minutes, it will not only ooze out more of the healthy oils and nutrients but also make the tea stronger and give it a bitter taste. If you use a fresh sprig of rosemary tea, you won't need to filter it as you will automatically leave the rosemary needles on the stem before adding it to the boiling water to brew it. On the contrary, if you use dried rosemary, ensure that you don't use more than a teaspoon of the tea leaves for every cup of boiling water.
Rosemary Tea Side Effects
The side effects of rosemary tea include strong allergic reactions, gastrointestinal distress, uterine contractions, skin redness, bleeding disorders, and even seizures. This is due to the powerful essential oils found in this herb, which can be irritating to the body when consumed in large amounts. here have also been some documented instances of contact dermatitis (skin irritation) associated with rosemary in some people. However, if you limit your intake to 1-2 cups of properly prepared rosemary tea, you should not experience these side effects. Before adding any herbal remedy to your health regimen, it is best to speak with your doctor regarding possible interactions or risks.
Pregnancy – Some of the compounds found in rosemary tea may stimulate

menstruation

, which is dangerous during pregnancy, particularly in the first two trimesters, as it can result in miscarriages, uterine bleeding or premature labor. Furthermore, breastfeeding mothers should avoid this tea as it may decrease milk supply, though more research on the subject is needed.
Seizures – For those who have known seizure disorders, some of the active ingredients within rosemary tea may exacerbate these conditions. Speak with your doctor before trying this powerful herbal tea.
Stomach Issues – Some of the most common side effects of drinking rosemary tea include nausea, vomiting, inflammation of the gut, and hemorrhoid bleeding. This is typically only seen when large amounts of rosemary are consumed, not the relatively small amount used in the brewing of this tea.
Aspirin Allergy – One of the chemicals found in rosemary tea, salicylate, is very similar to aspirin, and if you are allergic to aspirin, your body may respond in a similar way.
Bleeding – If you suffer from a bleeding disorder, the anticoagulant nature of this herbal tea may make your condition worse. It can also cause bruising and tenderness of various tissues in those with certain afflictions. Again, speak to your doctor before trying rosemary tea.