Spaghetti squash is a broad category of cultivars closely related to pumpkins and zucchini that has a rich nutrient profile and can be cooked in a variety of ways.
What is Spaghetti Squash?
Spaghetti squash is a winter vegetable that can come in a number of colors, shapes, and sizes. This squash variety belongs to the subspecies Cucurbita pepo and may be found in yellow, orange and white color. The unique name of this vegetable comes from the consistency and appearance of the meat inside the tough rind when it is cooked. You can pull the flesh with a fork, and it forms long strands, just like spaghetti. It is often used in place of traditional wheat or rice noodles as a healthier option.
Similar to many other squash types, spaghetti squash is a versatile vegetable that is hardy and relatively easy to grow and can be stored for long periods of time before use.
Spaghetti Squash Nutrition
This popular squash type is rich in essential nutrients, such as vitamin B6, dietary fiber, potassium, niacin, pantothenic acid, and manganese. A single serving of this squash provides between 5-10% of all these critical nutrients. There are trace amounts of other B vitamins, along with iron and calcium. Spaghetti squash is also rich in beta-carotene and vitamin C, two important antioxidant compounds that can protect your general health.
Spaghetti Squash Carbs
According to the USDA, 100 grams of spaghetti squash contains 6.91 grams of carbs, and 1.5 grams of fiber, making it a good choice for those who are trying to cut down on their carb intake.
Spaghetti Squash Calories
One of the reasons this squash is so popular is its low-calorie count. A single serving of raw squash (100 grams) only contains about 31 calories (source: USDA). This is a filling and nutritionally efficient vegetable that won't compromise your weight-loss goals.
Benefits
There are many benefits to regularly adding this squash to your diet, including its ability to improve digestion, boost immunity, build strong bones, and prevent chronic disease, among others.
Baked Spaghetti Squash
One of the simplest ways to enjoy squash is by roasting or baking it. Let us look at the step-by-step method to make baked spaghetti squash.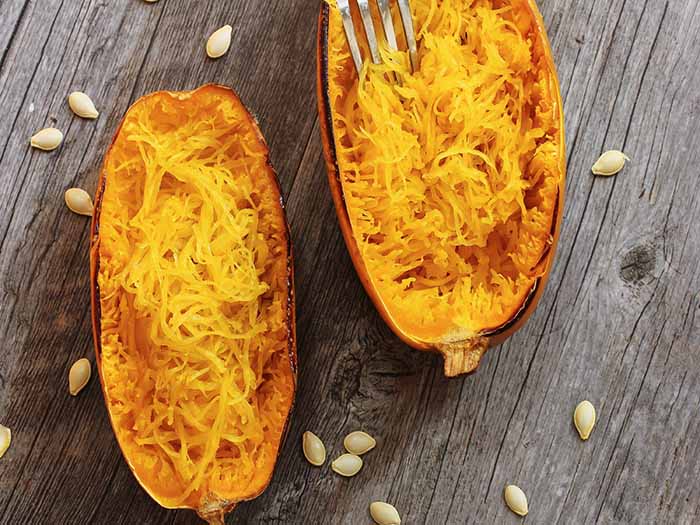 How to Cook Spaghetti Squash?
You can prepare this squash in a number of ways, including steaming, baking and microwaving. Cutting the squash open and baking is the preferred method for many at-home cooks.
Print
Pin
Rate
Ingredients
1

winter squash

1

tbsp

olive oil

salt

to taste

pepper

to taste
Instructions
Preheat your oven to 400 degrees and line a cookie sheet with aluminum foil.

Slice off the top and bottom of the squash, and then cut the squash in half lengthwise.

Scoop out the seeds and discard (or save to roast them later!).

Rub olive oil on the inside of the squash. Sprinkle with salt and pepper.

Place them cut-side down and bake for 45-55 minutes.

Remove from the oven and allow to cool for a few minutes.

Using a fork, shred the inner walls of the squash, revealing the spaghetti-like strands of this aptly named squash!
Side Effects
Although allergic reactions to this squash are rare, they can occur in some individuals, often appearing as a mild rash or swelling of the throat, lips, and tongue. More severe allergic reactions may require immediate medical attention, including hives, serious swelling of the throat, or anaphylaxis. Discontinue use immediately if allergic symptoms appear. Due to the high fiber content of this squash, some people may also temporarily experience mild gastrointestinal symptoms, such as diarrhea, bloating, cramps or excess flatulence.