Using St. John's Wort oil is a simple and easy-to-apply herbal remedy for countless skin conditions and other health issues.
What is St. John's Wort Oil?
St. John's Wort oil is an oil infusion of the flowers of St. John's Wort, a flowering plant in the family Hypericaceae, [1]which is widely used around the world. It is important to note that the name St. John's Wort oil can apply to the essential oil derived from the plant itself, as well as a preparation where the wilted flowers are soaked in oil and the volatile components are extracted. Depending on which type you are using, the guidelines for use may be different, so be sure to take this into consideration. This oil is most commonly used as a massage oil, but it can also be incorporated in other creams, salves, moisturizers, and natural remedies to improve their efficacy. This oil should not be consumed internally, as it can have a range of negative side effects. [2]
The active ingredients in this oil are hyperforin and hypericin, as well as various sesquiterpenes, rutin, kaempferol, and quercetin, which have antioxidant properties. Using this oil in moderation is recommended, as it is quite powerful and may result in unwanted side effects when used in excess.
St. John's Wort Oil Benefits
There are many benefits to using St. John's Wort oil, including the following:
Healing wounds
Treating burns
Curing insect bites
Reducing inflammation
Treating psoriasis
Relieving muscle pain
Treating arthritis
Treating depression
Relieving sunburn
Boosting immunity
Treating stomach ulcers
The combination of hyperforin and hypericin is what delivers most of these benefits to this powerful oil. When a few drops are rubbed into insect bites or on patches of inflammation, these compounds can stimulate immune function and prevent infection. If you experience a severe sunburn, applying a few drops of this oil, combined with a carrier oil, can eliminate the discomfort and pain of the burn while healing. Pain caused by sciatica and fibromyalgia can also be treated with the help of this oil. Due to its antioxidant and moisturizing properties, St. John's Wort oil can help in treating stomach ulcers too. [3] [4]
In terms of immunity, this oil is well known to prevent fungal and bacterial infection on the skin like psoriasis and shingles. It can also be beneficial for the scalp and nails when used in moderation. If you suffer from arthritis or more acute pain in the muscles, rubbing a few drops of this oil on the site can quickly eliminate the swelling and redness, and improve range of motion. Even for people trying to treat hemorrhoids, a blend of St. John's Wort oil and Helichrysum oil can quickly soothe that painful condition. In traditional medicine, this oil was dropped directly into the ear to treat earaches or ear pain. Finally, aside from its topical uses, you can also use St. John's Wort oil in aromatherapy to reduce depression and boost energy! [5] [6]
How to Make St. John's Wort Oil?
Many people enjoy preparing their own herbal remedies at home, and St. John's Wort oil is quite easy to prepare; all you need are freshly wilted St. John's Wort flowers.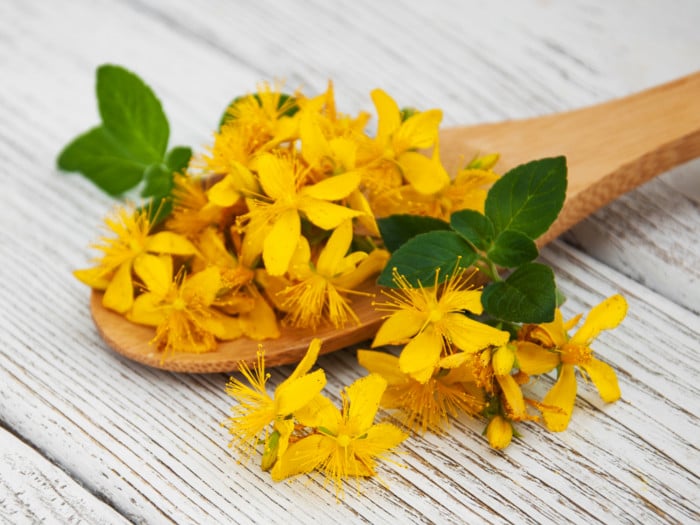 How To Make St. John's Wort Oil: Easy Recipe
St. John's Wort Oil is perfect to treat any kind of boil or skin irritation. You need to make use of the freshly wilted plant when making the infused oil. There is of course more to this, which we shall see in the recipe given below.
Print
Pin
Rate
Ingredients
freshly wilted St. John's wort flowers

olive oil/almond oil/soybean oil
Instructions
To make St. John's wort oil, harvest the blossoms from St. John's Wort flowers and let them wilt for 24 hours.

Place the wilted petals in a clean mason jar.

Seal the jar tightly and place on a windowsill where it will receive ample sunlight.

Open the jar every 2 days and wipe out any condensation that has formed.

The oil will gradually turn red.

Strain out the flowers after 1 month and store the oil in a cool, dry place, away from direct sunlight and you're good to go! You have your own quick recipe for all ailments related to the skin.
St. John's Wort Oil Side Effects

While there are countless benefits of this oil, there are also some side effects, such as potential complications with pregnancy and sensitivity to the sun.
Pregnancy: There is limited research on the effects of this oil on pregnant and nursing women, so they are generally recommended not to use it. [7]