On days when you wish to seek comfort in a cup of warmth, vanilla chai tea is the perfect solution. With a dollop of freshly whipped cream and a sprinkle of warm spices on top, it is a delectable extension of the traditional Indian tea. It is unquestionably a soothing drink for the frosty winters.
Vanilla chai has many health benefits because of the ingredients it includes. Tea contains antioxidants that help reduce inflammation, vanilla helps to uplift your mood, and spices help protect you from chronic conditions like heart diseases and respiratory illnesses. So, let's take a look at how to make this healthy and tasty drink below. [1] [2] [3]
How to Make Vanilla Chai Tea?
Crafted with a hint of vanilla, milk, tea, and a lot of spices, vanilla chai is sure to impress your taste buds. Making it is very simple because all you have to do is brew a simple cup of tea, add warm milk, spices, your favorite sweetener, and vanilla extract to it. The aroma is irresistible. So, you will have to wait until all the contents blend well and transform into the best tea you will ever have.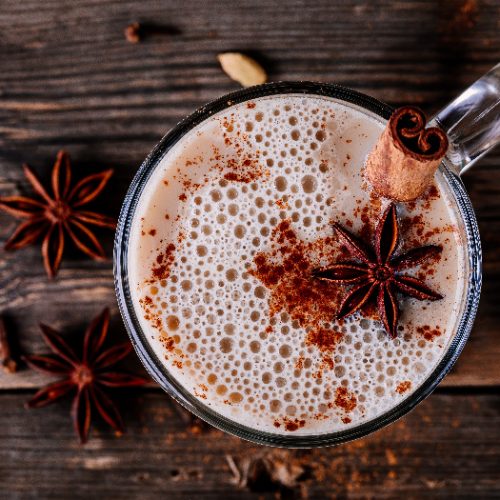 Blissful Vanilla Chai Tea Recipe
Bursting with flavors, this iconic cup of tea is simple to make and delicious in taste. Pair it with chocolate teacake or cookies and you are good to go!
Print
Pin
Rate
[4]
[5]
Ingredients
3

black tea bags

1 1/2

cup

water

1

cup

warm milk

of your choice

1/4

cup

heavy whipping cream

optional

2

tsp

honey

optional

1 1/2

tsp

vanilla extract [6]

1/4

cinnamon stick [7]

optional

1

cardamom pod

optional

1

whole clove

optional

1

whole peppercorn

optional

2

star anise pods

optional
Instructions
To make vanilla chai tea, pour water in a saucepan and bring it to a boil. Add the teabags once you see bubbles in the water. Lower the heat and let the tea steep for 2-3 minutes.

You can add the spices of your choice at this stage. This will help the tea absorb the flavor and fragrance of the spices.

After you add the spices, add milk and honey. Within 30 seconds, add vanilla extract to the tea. Once done, turn off the heat in a minute.

Now using a strainer, pour the tea into the cups. You can also add a dollop of freshly whipped cream and sprinkle some allspice for a fancy, picture-worthy drink.
Notes
The original way of making vanilla chai tea involves using black tea bags but you can also prepare it with ready-to-use vanilla chai tea bags. Opt out of using the vanilla extract and tea bags if you use these. You can choose to use all the spices at once, but that could overpower the flavor of vanilla. That is why it's best to add one or two spices at a time. This way you will be able to enjoy the flavor of each ingredient. If you want to use lactose-free or vegan milk, you can use it in place of cow milk. If you feel like adding a healthier sweetener than sugar or honey, feel free to use stevia drops. For making cold vanilla chai tea, combine the tea with ice in a blender and top it with a scoop of icecream.
Connect with Us
If you have tried making vanilla chai, we would love your feedback in the comments section below. And while we can't taste it, we would love to see how it turned out! You can connect with us on Facebook or Instagram and tag your picture with #organicfactsrecipes. [8] [9]
Do you wish to share your winning recipes with us? Please click here and fill in the details to get started.