Chai tea is a spicy and delicious beverage that is loved throughout the world and offers a number of excellent health benefits.
What is Chai Tea?
Chai tea is a popular variety of tea that is prepared using milk, tea, and various spices. While the recipes vary depending on where you are in the world, it is generally considered a healthy beverage. It is perhaps best known as an Indian beverage, where it is known as masala chai, and may be combined with cinnamon, cloves, and ginger. Some other ingredients you may find in a chai tea blend include fennel, cardamom or black peppercorns. You can use black, oolong or green tea in the production of chai tea, which has become a global variant of tea and is enjoying a massive burst of popularity in the United States and elsewhere. [1]
Nutrition Facts

---

Tea, hot, chai, with milk

Serving Size :
Nutrient
Value
Total lipid (fat) [g]
0.92
Carbohydrate, by difference [g]
8.98
Energy
49
Water [g]
88.21
Caffeine [mg]
9
Theobromine [mg]
1
Sugars, total including NLEA [g]
8.82
Fiber, total dietary [g]
0.1
Calcium, Ca [mg]
57
Iron, Fe [mg]
0.04
Magnesium, Mg [mg]
7
Phosphorus, P [mg]
44
Potassium, K [mg]
85
Sodium, Na [mg]
22
Zinc, Zn [mg]
0.21
Copper, Cu [mg]
0.01
Selenium, Se [µg]
1.5
Retinol [µg]
25
Vitamin A, RAE [µg]
25
Carotene, beta [µg]
2
Vitamin E (alpha-tocopherol) [mg]
0.02
Vitamin D (D2 + D3) [µg]
0.6
Thiamin [mg]
0.02
Riboflavin [mg]
0.09
Niacin [mg]
0.05
Vitamin B-6 [mg]
0.02
Folate, total [µg]
5
Vitamin B-12 [µg]
0.23
Choline, total [mg]
7.6
Vitamin K (phylloquinone) [µg]
0.1
Folate, food [µg]
5
Folate, DFE [µg]
5
Cholesterol [mg]
3
Fatty acids, total saturated [g]
0.56
4:0 [g]
0.03
6:0 [g]
0.02
8:0 [g]
0.02
10:0 [g]
0.02
12:0 [g]
0.02
14:0 [g]
0.09
16:0 [g]
0.24
18:0 [g]
0.11
18:1 [g]
0.23
18:2 [g]
0.03
18:3 [g]
0.01
16:1 [g]
0.01
Fatty acids, total monounsaturated [g]
0.24
Fatty acids, total polyunsaturated [g]
0.05
Sources include : USDA [2]
Chai Tea Nutrition
The nutrition in this tea is largely based on what spices are added to the basic blend, but considering that most chai tea begins with a basis of black, green or oolong tea, it usually contains good amounts of vitamin A, iron, caffeine, and sodium, as well as the numerous antioxidants contains in the tea, such as catechins or polyphenolic compounds. Ginger, peppercorn, fennel, cinnamon or cloves add a diverse range of other nutrients, minerals, and antioxidants to this beverage. [3]
How to Make Chai Tea?
Making your own chai tea at home is quite simple, requiring only a few common ingredients you likely have on your spice rack. Again, the ingredients in this tea may vary; this recipe is a rather standard example. So let's get started.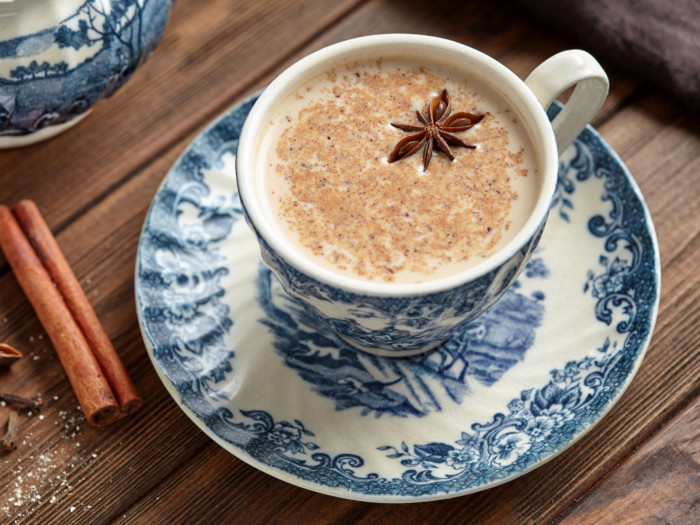 How to Make Chai Tea: Easy Recipe
One of the most common things you see in a coffee shop these days is chai tea. The word chai, in India, means tea, so essentially chai tea is nothing but tea. However, Americans refer to milk spiced tea as chai tea. It is fairly simple to prepare the beverage at home. So let's take a look at its easy recipe below, shall we?
Print
Pin
Rate
[4]
[5]
Ingredients
Instructions
To make chai tea, first,

bundle up 2 pieces of cinnamon bark, 10 cloves, and 1 teaspoon of cardamom seeds in a cheesecloth.

Place the spice mix in a pot of water and bring to a low boil.

Reduce to a simmer for 15 minutes, then turn off the heat.

Add 1-2 black tea bags and let it steep for 3-4 minutes. You can also add black tea powder if you don't have teabags.

Remove the tea bags and spice mixture.

Add 2 cups of milk to it and 1/4 cup of honey.

Once done, serve warm and enjoy with biscuits/cookies on the side.
Chai Tea Benefits
The top benefits of this tea rich in antioxidants include reducing inflammation and indigestion, regulating blood sugar levels, aiding weight loss, and protecting the heart, among others.
Reduces Stomach Issues
The most basic spice ingredients in chai tea have an effect on digestion, including cinnamon, ginger, and fennel, which help relieve flatulence, reduce inflammation, and stimulate proper digestive processes. [8]
Relieves Inflammation
Ginger is present in almost every chai tea recipe, and this well-known spice is a powerful anti-inflammatory compound, capable of reducing chronic inflammation, which leads to chronic diseases and oxidative stress. [9]
Protects Heart Health
Reducing inflammation and lowering stress hormones in the body both help to protect cardiovascular health.
Manages Diabetes
Studies have found that regular intake of this tea, with its health-regulating ingredients, is able to control the release of insulin and glucose, making people with diabetes able to control their symptoms. A study in the Molecules journal shows that the consumption of chai tea and its extract play an antidiabetes role by alleviating oxidative stress and improving blood sugar levels in people with type-2 diabetes. [10] [11]
Does chai tea have caffeine?
Chai tea is generally made with black tea. A cup of black tea (8 fl oz) has about 47 mg caffeine. This amount is almost down by half when you make chai tea as you mix milk in the tea. Some people also use decaf teabags so that allows the tea to be caffeine-free.
Potential Downsides of Drinking Chai Tea
There are some notable side effects of drinking this tea, such as complications with pregnancy and stomach issues. For those who are pregnant or breastfeeding, caffeinated drinks like tea should be avoided for the most part. If you consume an excessive amount of chai tea, you are also likely to suffer from gastrointestinal problems, such as diarrhea, as well as nausea, restlessness or anxiety. Moderation, as in all things, is critical when consuming this strong tea.