Vanilla extract is a baker's delight and necessity because vanilla adds a fragrant aroma like no other. No wonder, it is one of the most loved flavors in the world. It can be expensive to buy quality natural vanilla extract but it can be easily made at home. Let us look at what sets a good extract apart from the artificial ones, how to make it at home, and how to replace it if you don't have it on hand.
What is Vanilla Extract?
Vanilla extract is a natural product made by saturating vanilla pods in a solution of distilled alcohol (35-40 percent alcohol). It is usually amber or brown in color. The extract is used to bake cakes, cookies, cupcakes, muffins, as well as in puddings and ice creams. It can also be used to balance flavors in savory dishes.
Pure vanilla extract ingredients are just two – vanilla beans and ethyl alcohol. Sometimes, very little sugar may be added to tone down the harsh notes of the extract. Most of the beans are sourced from Madagascar, Tahiti, Mexico, Indonesia, and Uganda. With the demand rising for vanilla beans worldwide, the extract comes at a steep price tag. There are cheaper versions available such as artificial vanilla flavor, made of synthetic vanillin, a by-product of the wood pulp industry. Vanilla essence, which is also an imitation, can be made from crude oil. To make sure you have the pure extract, it is best to read the ingredients label on the bottle. [1] [2] [3]
Nutrition Facts

---

Vanilla extract

Serving Size :
Nutrient
Value
Water [g]
52.58
Energy
288
Energy [kJ]
1205
Protein [g]
0.06
Total lipid (fat) [g]
0.06
Ash [g]
0.26
Carbohydrate, by difference [g]
12.65
Sugars, total including NLEA [g]
12.65
Calcium, Ca [mg]
11
Iron, Fe [mg]
0.12
Magnesium, Mg [mg]
12
Phosphorus, P [mg]
6
Potassium, K [mg]
148
Sodium, Na [mg]
9
Zinc, Zn [mg]
0.11
Copper, Cu [mg]
0.07
Manganese, Mn [mg]
0.23
Thiamin [mg]
0.01
Riboflavin [mg]
0.1
Niacin [mg]
0.43
Pantothenic acid [mg]
0.04
Vitamin B-6 [mg]
0.03
Fatty acids, total saturated [g]
0.01
16:0 [g]
0.01
18:0 [g]
0
Fatty acids, total monounsaturated [g]
0.01
18:1 [g]
0.01
Fatty acids, total polyunsaturated [g]
0
18:2 [g]
0
18:3 [g]
0
Alcohol, ethyl [g]
34.4
Sources include : USDA [4]
Vanilla Extract Nutrition
There are 37 calories in 1 tablespoon of vanilla extract, according to the US National Nutrient Database. It also has 1.6 grams of carbohydrates and an equal amount of sugar in a tablespoon. There is no fat in the extract. [5]
According to a study published in the Journal of Agricultural and Food Chemistry, the vanilla extract contains vanillin and several other bio-compounds that have antioxidant properties and can be potentially used in food preservation as well as nutraceuticals. [6]
It is expensive to buy vanilla extract as the wholesale prices of vanilla are in the range of hundreds of dollars for a kilo. You can make your own at home and it is much easier on the wallet too! Here is a simple recipe.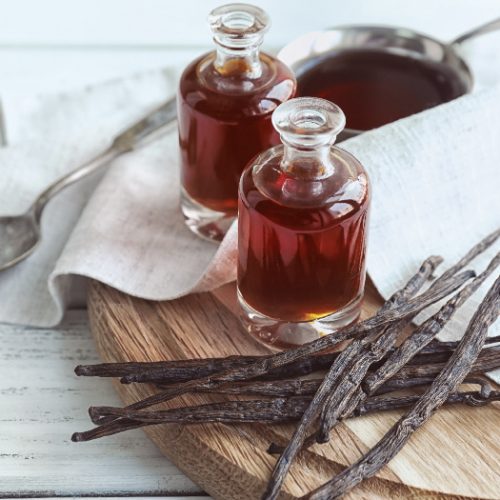 How To Make Vanilla Extract: Easy Recipe
An easy-to-make-at-home vanilla extract recipe!
Print
Pin
Rate
Servings:
1
750 ml bottle
[7]
[8]
Ingredients
1

750 ml

vodka

(35-40% alcohol)

12

vanilla beans [9]
Instructions
Choose good quality vanilla beans as it will help you get the best vanilla extract.

Cut each vanilla bean lengthwise and with the help of a butter knife, scrape the seeds out each of the beans.


Transfer the vanilla bean paste into the 750 ml vodka bottle.

Now, cut the vanilla beans into small pieces to fit into the bottle.

Wipe the bottle top clean and close the cap.

Store in a cool, dark place for the 3-6 months.

You can shake it every few weeks. By 3 months, the vanilla extract should be ready to use. If you can keep it for 6 months, the vanilla flavor will be fully extracted from the vanilla beans. You can leave the beans in for up to a year.

When you are ready to use the extract, make sure you filter it using a cheesecloth into a clean, sanitized 750 ml glass bottle.

The vanilla extract is now ready to be used! It can be used in puddings, cakes, baked dishes, and even in your coffee.
Notes
You can substitute the vodka for rum, gin, or brandy. It works best when the solution has 35-40 percent alcohol. Also, you can use the leftover vanilla beans to make vanilla sugar.
Top Vanilla Extract Substitutes
If you don't have vanilla extract on hand or want to use a substitute, you don't have to look much further from your pantry. The best substitutes are maple syrup or any pancake syrup, almond extract, vanilla milk, rum, or brandy. Maple syrup can be substituted for an equal amount of vanilla extract called for in the recipe. Honey also works well but maybe less sweet. Also, almond extract works well while baking; however, you need only half the amount of almond extract as it is much stronger.
Vanilla milk or vanilla-flavored soy milk are also good replacements. Make sure you adjust the amount of milk or liquid in the recipe. Rum or brandy has a woody, smoky aroma and can be used in equal measure. You can also just crush vanilla pods or grind it finely to make vanilla bean paste. This works very well, especially if you are not too particular about black specks visible in the dish.
FAQs
Is Vanilla Extract Gluten-free?
Pure vanilla extract is gluten-free as it is a combination of vanilla beans and alcohol that has been distilled. Distilled alcohol does not contain gluten, regardless of the grain used, because it has been vaporized. However, it is best to check the label before choosing a brand. Most leading brands in the market will specify if they are gluten-free. [10]
Can I Use Vanilla Extract in Coffee?
If you want to avoid sugar or flavored creamers in your coffee, you can make your own gourmet vanilla coffee by adding a few drops of vanilla extract in coffee. Alternatively, you can brew a pot of coffee with a vanilla bean. Remember, the longer you let it steep in the coffee, the more fragrant it will be.
Is It Safe To Use Vanilla Extract For Teething?
Vanilla extract has been traditionally used as a home remedy to relieve a baby's teething pain. Usually, a drop of vanilla is rubbed on the tooth and the gums of the babies to calm them down. However, there is no scientific evidence to verify this claim. According to the Handbook of Medicinal Herbs by James A. Duke, the extract can be used for calming tummies too but says that the vanilla plant may have allergens. Also, since it contains alcohol, it is best to seek the advice of a pediatrician before using it on babies. [11]
Can Vanilla Extract Get You Drunk?
The US FDA requires that for a vanilla extract to be termed pure, the solution needs to have 100 grams of vanilla bean constituents per liter and a minimum of 35 percent alcohol. Most extracts in the market contain 35-40 percent alcohol. This alcohol content is comparable to that in Jägermeister, or perhaps a little less than in vodka or rum. So, it is possible to get drunk off this extract. [12]