Having a glass of artichoke tea isn't the most common drink to unwind, but it is surprisingly good for your overall health.
What is Artichoke Tea?
Artichoke tea is an earthy and beneficial tea brewed from the leaves, stalk, and roots of the artichoke plant. Scientifically known as Cynara scolymus, most people are only familiar with artichokes as appetizers, or they enjoy eating the pickled artichoke hearts. The idea of brewing a tea with this unusual vegetable dates back thousands of years, to the ancient Greeks and Romans, and it remains a viable remedy for many common health conditions. [1]
The taste of artichoke tea is unexpectedly pleasant, with a smooth sweet flavor that is rather subtle. Despite the sweetness, there is an earthy note to it that some people try to cover with a bit of natural sweetener. However you choose to prepare it, this unique tea can have some very impressive health effects.
Artichoke Tea Health Benefits
The nutrient-rich artichoke tea contains vitamins, folate, and minerals such as phosphorus, zinc, and iron that have health benefits for the liver and help detoxify the body. Oher health benefits of artichoke tea may include lowering blood pressure, aiding weight loss, and optimizing digestive processes, to name a few.
May Improve Skin Appearance
This vegetable is very dense in antioxidants, such as quercetin and rutin, as well as vitamin C, all of which can help protect the skin from chronic disease and oxidative stress, thus preventing wrinkles, age spots, and blemishes. [2]
May Have Antioxidant Properties
On a similar note, artichoke's dense antioxidant levels may also help you avoid the negative effects of free radicals on the rest of the body and also aids in lowering the risk of chronic diseases.
May Improve Heart Health
This tea is known to lower blood pressure and overall cholesterol levels, which can prevent conditions like atherosclerosis, heart attacks, and strokes. [3]
May Aid in Weight Loss
There are some trace minerals in this tea that can suppress the appetite, which can help to prevent overeating and aid in weight loss goals. [4]
May Detoxify
Studies find that artichoke tea is able to increase liver cleansing and reduce toxicity in the body, which may help the metabolism and reduces strain on the immune system. [5]
How to Make Artichoke Tea?
You can brew artichoke at home, provided you don't want to drink it right away, as the process is a bit time-intensive. So let us get started with the recipe.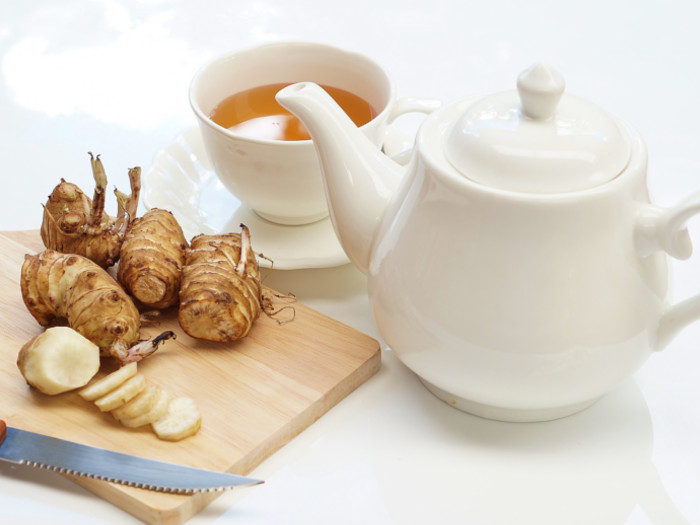 Artichoke Tea Recipe For the Stomach and Liver
A cup of sweet artichoke tea is your solution to all health problems!
Print
Pin
Rate
Servings:
1
medium-sized jar
Ingredients
4

artichokes

1.5

gallon

of water

2

tsp

honey

(optional)

1

sprig

rosemary

(optional)

1

lemon

(optional)
Instructions
To make artichoke tea, first, trim down the artichoke, by removing the layers and just keeping the vegetable. Boil 1.5 gallons of water for 4 artichokes. Let the water boil for about 20 minutes.

While boiling, cover the lid. Once done, turn off the lid, and let the artichokes steep in the water for an additional 20 minutes. This will help to draw out more nutrients.

Thereafter, remove the artichokes one by one.

Squeeze the juice out of a lemon and add to the tea to enhance the flavor. You can also add a teaspoon of honey or any other sweetener you want. Honey is, however, considered to be healthier. Furthermore, you can add a sprig of rosemary to give the overall flavor a boost. Enjoy the warm cup of tea with friends and family.
Notes
You can drink it twice a day. Be mindful of the quantity you make as it does not stay longer than 3 days in the refrigerator.
Artichoke Tea Side Effects
There are quite a few good things about artichoke tea, but there are some considerations, such as allergic reactions and issues with gallstones. Some people are allergic to artichokes or may react to this concentration of its active ingredients. Start by drinking a small amount, and if you experience side effects besides a bit more flatulence, you may be sensitive to this tea. People with kidney or gallstones may want to avoid this tea, as it can exacerbate these problems. Pregnant and breastfeeding women are not recommended to drink this potent preparation.