A good dinner recipe doesn't have to always be elaborate and complicated. Sometimes just a simple soup is all that you need to satiate your hunger pangs and make your soul happy. Potato soup is not only easy to make but also wholesome and delicious, not to forget easy on the pocket. This particular recipe is effortless to prepare and will definitely simplify your weeknights. You can put together the soup quickly with just a handful of ingredients to your rescue. All you need are some potatoes, bacon, onion, garlic, flour, and sour cream or yogurt.
How to make Creamy Potato Soup?
Potato soup is the perfect comfort food you could ever ask for. Perfectly rich and creamy, the soup is full of flavor and can be a delightful break from your otherwise healthy diet. This recipe is for those weeknights when you want to eat something different but don't want to spend a lot of time in the kitchen preparing it. The perfect potato soup should be creamy, devoid of lumps, and have the right blend of flavors. So what are we waiting for? Let's take a look at the easy-to-follow recipe below.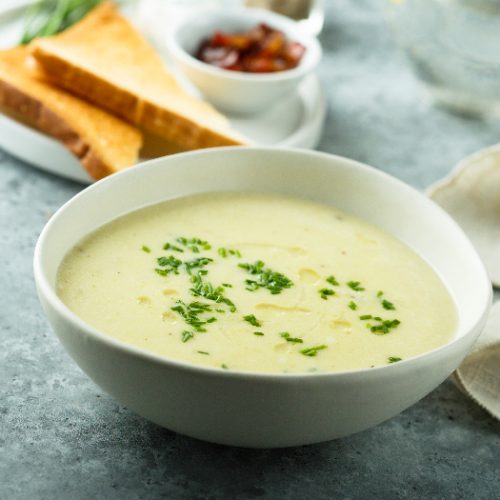 Delicious and Rich Creamy Potato Soup
With an extra dose of bacon and potato goodness, this is a soup you won't be able to resist!
Print
Pin
Rate
Ingredients
6

strips

of uncooked bacon (cut into small pieces)

2 and 1/2

lbs

of golden potatoes

1/3

cup

of all-purpose flour

3

tbsp

of butter

3

large

garlic cloves (minced)

1

medium

yellow onion (chopped)

4

cups

of chicken broth (optional)

2

cups

of milk

salt (as per taste)

2/3

cup

of sour cream or yogurt

1

tsp

of ground pepper

1/2

tsp

chili flakes

shredded cheddar cheese and additional bacon for topping

(as per requirement)

2/3

cup

of heavy cream (optional)
Instructions
To make thick and creamy potato soup, first, cook the bacon pieces in a large oven or a soup pot over medium heat till it becomes adequately brown and crisp.

Once done, take the bacon out of the pot and keep it aside. Meanwhile, leave the fat in the pot.

Thereafter, chop the onions and mince the garlic and fry them in butter over medium heat until the onions become tender. This should ideally not take more than 5 minutes.

Now to that, add diced potatoes along with chicken broth, milk, heavy cream, salt, pepper, and chili flakes in the aforementioned proportions or as per requirement. Stir well. If you want to keep the soup light, you can avoid adding heavy cream to the soup. Additionally, you can skip putting chicken broth to the soup if you're a vegetarian.

Allow it to boil and cook until the potatoes become tender. This should take you about 10 minutes. Pierce them with a fork to see if they have become tender.

Take the potato pieces along with the onions and garlic and blend it properly till you get a smooth puree.

Once done, take the pureed soup to the pot and add sour cream or yogurt to it. Furthermore, add the reserved bacon pieces to it and stir well. Let the soup to simmer for 15 minutes before serving it hot.

You can garnish the soup, either with fried bacon pieces, sour cream or fried potatoes.
Notes
You can add basil, parsley or oregano as a seasoning to enhance the taste of the soup. You can add extra and a variety of vegetables to your soup.
Connect With Us
If you have tried this recipe, we would love your feedback in the comments section below. And while we can't taste it, we would love to see how it turned out! You can connect with us on Facebook or Instagram and tag your picture with #organicfactsrecipes. [1] [2]
Do you wish to share your winning recipes with us? Please click here and fill in the details to get started.