A doughy, sticky, rich indulgence prepared with the madness of honey and nuts – here is the best and simplest recipe for baklava – may it be melt in your mouth good, and may it remind you of all things food. Hailing from the Mediterranean and Middle Eastern regions, baklava is usually served by Christians, Muslims, and Jews during special occasions such as Christmas, Easter, Ramadan, and Rosh Hashanah or the Jewish New Year. In some places, it is also served at weddings. So are you ready to take on the baklava journey now? Let's dive in!
What is Baklava?
Baklava is a sweet and rich pastry made with filo dough and filled with a variety of nuts such as walnuts, pistachios, and almonds. It is then held together by honey and butter. Some people also prepare baklava with just a pistachio filling, making it an even more prized and expensive affair. Others usually just sprinkle ground pistachios on top.
It is important to note that since baklava is rich in sugar, butter, and nuts, it might not be the best idea for those with diabetes. However, it might be helpful to know that it also has a sugar-free version. Having said that, one wouldn't swear by the taste of the sugar-free baklava, as it is one dish that is known for its sweet taste. In some circles, you might also hear them call baklava as the sweetest dish out there. [1]
Origin
The origin of this sweet treat is a bit disputed as many countries fight to claim it as their own. The Turkish gave baklava its name, though it is widely viewed to be of Greek origin. There are no historical documents to prove its actual place of origin, but if certain sources are to be believed, baklava is of Central Asian Turkic descent. Other sources, such as the book by Alejandro Colas on Food, Politics, and Society, state that the desirability of this dessert makes it a tough contender that everyone wants to claim, from the Arabs and Turks to the Greeks. [2] [3]
As stories go, there is one which comes from the Topkapi Palace, Istanbul, Turkey, where the great sultan in the 15th century distributed the now known version of baklava during the Ramadan procession. There are also mentions of baklava recipes in ancient Chinese cookbooks. The paper-thin technique of rolling the baklava dough comes from the Greeks, where it is known as 'filo' or 'phyllo', meaning 'leaf' or 'sheet'. Later, in the 18th century, from the time of the last Queen of France, Marie Antoinette, a pastry chef created the special 'dome' style of cutting baklava, thereby giving a French touch to it.
So maybe, put simply, it is difficult to decipher where exactly this delicious dessert comes from, but what is fairly easy to understand is that no matter where it comes from, baklava tastes divine. This brings an end to the origins and pushes us forward to the next and most important question – how to make baklava? [4]
Baklava Recipe
Often considered as a difficult-to-make-recipe, baklava is fairly easy to prepare given you follow the instructions properly. Many people choose to get filo or phyllo dough from the market instead of preparing it at home. This cuts down on the labor of the whole process by a great margin. In this recipe, we take phyllo dough from the market and straightly move on to the baklava.
Now before we begin, it is important to note that this sweet dish has different variations to it, thanks to its much-debated origin. It can be prepared with just pistachios or with a combination of different nuts. Many people don't put pistachios at all on and in their baklava. Probably the trickiest part while preparing this dessert is the handling of the thin and soft phyllo sheets. Let's take a look.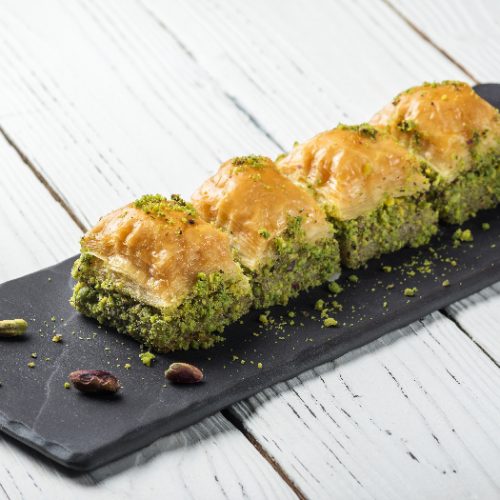 How to Make Baklava?
A flaky, crispy, and heavenly baklava recipe to make at home!
Print
Pin
Rate
Total Time:
1
hour
15
minutes
Ingredients
For the pastry
For the syrup
3/4

cup

sugar

3/4

cup

water

3/4

cup

honey

1

lemon

optional

5

cloves

optional

1/2

tbsp

orange extract

optional
Instructions
For the syrup
To make the honey syrup, place sugar and water in a pan and stir it till the sugar dissolves. Now, add honey, orange extract, and cloves to it and mix. Once it boils, lower the heat and let it simmer for 30 minutes till the mixture takes a thick syrup-like consistency. Once it is ready, let it cool and add lemon juice to it. You can remove the cloves too.
For the pastry
First thing first - preheat the oven to 350 degrees F.

Next, you would want to prepare the filling. Take the walnuts, hazelnuts, and pistachios and put them in a food processor. Add the ground sugar, cinnamon, and cloves to it. Pulse the mixture till it is chopped well.


In a saucepan, melt the butter on low heat. Once the butter is nearly melted, switch off the heat. The rest will melt with the heat of the pan.

Here comes the important part - clear up enough space to keep your bowl of filling, baking pan, melted butter, and the pastry brush. Make sure there is enough space for the phyllo too.

Now carefully unwrap the phyllo sheets and unroll them next to the baking pan. Try placing one phyllo sheet on the baking pan to see if it fits. If there is extra phyllo falling out of the pan, trim it with scissors.

Next up, spread the phyllo sheet on a damp tea towel and cover it with another. This will prevent cracks from forming on it while you assemble your baklava.

Now with a soft hand, brush up the baking dish with the melted butter and spread out your phyllo sheet on top of it. Put some more butter and spread a few sheets on top of the first sheet.

Continue with the process till you have used up to 1/3rd of the phyllo package. On the top of the last sheet, evenly spread the first layer of nut mixture.

Over the first layer of the nut mixture, spread out another 4-5 layers of phyllo with butter between them. Now add the final layer of nut mixture on top of it. If need be, cut off the extra layer of phyllo. Generously brush butter on the final layer.

With this, your baklava is almost ready. Cut it into diamond-shaped pieces around 1/2 inch deep. Once done, place it in the oven and let it bake for 45 minutes. It is important to keep checking the oven while your baklava is getting baked. This is because sometimes the heat level in the oven varies and you don't want it to overbake.

Once ready, take out the baklava from the oven and pour the honey syrup on the entirety of it. Let the syrup absorb into the rich dessert and then garnish it with the remaining cup of chopped pistachios. It's ready to serve now!
Notes
How to Store? Thankfully, baklava has a long shelf life. It can stay for up to 2 weeks easily when put in the right conditions. Make sure to keep it in an airtight container in a fridge. If you want to maintain the crispiness of the dessert, store it at room temperature, however, keep in mind that when kept outside of the fridge, your baklava might not stay beyond a week.
Tips for the Recipe
If you want to make things simpler, here are a few tips to keep in mind.
Handling Phyllo
It is suggested to take the phyllo dough out of the freezer at least one night before when you make baklava. Keeping this dough in the freezer will result in cracks and this surely won't help your recipe.
Use extra caution while unwrapping the dough. Advise to unroll it only where you plan to make your recipe as it is difficult to move phyllo once laid out.
Make sure to cover your phyllo sheets with a tea towel to keep them damp.
It is okay if you see a rip on the phyllo dough. It breaks easily. The good thing is that while making baklava, you will be using several of these sheets. So one sheet breaking won't have too much of an impact on the final product.
If your phyllo sheet does not fit in the pan, you can cut it with the help of scissors. It is easier to cut it with scissors as compared to a knife. This is because the knife pulls and drags on the layers making it more prone to cracks.
It is advisable to not use butter in excess on the sheets. Instead of coating every layer completely with butter, you can just randomly brush it once every few sheets. Phyllo sheets easily damage, so do not press too hard.
Making Baklava
Use a sharp knife to cut the baklava and make sure you do it before baking it. Once you have baked it, you can cut again just to make sure it is not sticking anywhere.
You can use rose water to give an additional flavor to your baklava. You can mix it with water and spray it over a few layers of the phyllo sheet.
Baklava is best served after it sits for a while. You can serve it a day after making it.
That is all there is to the recipe, now make sure you enjoy it with your friends and family! If you like the recipe or try it at home, we would love to hear from you in our comments section.