Black trumpet mushrooms are difficult to forage in the wild woods but well worth the effort if you manage to get your hands on them. These mushrooms, with soft suede-like skin, have a rich, nutty taste that can make a simple dish like pasta or risotto a gourmet treat. Their woodsy aroma, quite similar to the expensive truffle, has made them one of the most popular wild mushrooms that are also budget-friendly.
What are Black Trumpet Mushrooms?
Black trumpet mushrooms (Craterellus cornucopioides) are one of the most delicious tasting mushrooms in the world. As the name suggests, they are blackish-grey trumpet-shaped fungi that are closely related to golden chantarelle mushrooms. Black trumpets cannot be cultivated and are foraged in the wild. They are native to Europe and North America, where they are found in the damp woods. Even though black trumpets grow in clusters and have a unique appearance, they are difficult to locate as they can almost appear like black holes in the ground. You can usually get lucky near streams or mossy areas in the woods. If you don't stay close to the woods, you can purchase black trumpets online. They may also be sold as black chantarelles. [1]
In terms of health benefits, these wild mushrooms are antioxidant-rich and have potential antimicrobial properties. Even though they are quite menacingly called the trumpet of death, they are non-poisonous and edible. Another popular name for this mushroom is the horn of the plenty. [2]
How To Cook Black Trumpet Mushrooms?
If you have managed to get hold of fresh or dried black trumpets, make sure you make it the star of the dish like the black trumpet risotto. This creamy risotto recipe gets a depth of flavor from the smoky-tasting mushrooms and makes for a wonderful fancy meal at home.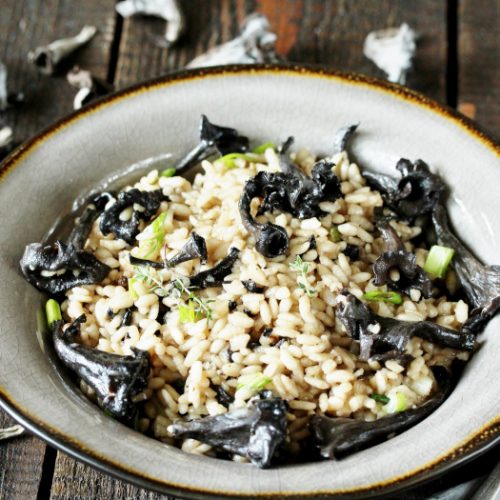 Black Trumpet Risotto Recipe
Black trumpets make a delightful deep-flavored play with the creamy risotto. Enjoy it with a glass of crisp, dry white wine for a fancy meal at home.
Print
Pin
Rate
Ingredients
1/2

cup

black trumpet mushrooms

preferably dried

1

cup

arborio rice

2

garlic cloves

minced

2

shallots

minced

2

tbsp

bacon

chopped

3

cups

chicken stock

1

cup

white wine

1

tbsp

lemon juice

freshly squeezed

4

ounces

unsalted butter

2

tbsp

olive oil

extra virgin

1/2

tsp

black pepper

freshly ground

salt

to taste

1/3

cup

Parmesan cheese

grated

1/4

cup

scallions

chopped
Instructions
Cleaning Black Trumpets
To make the black trumpet risotto, you have to begin with reconstituting and cleaning the dried mushrooms. Boil the mushrooms in a saucepan with enough water to cover them. Remove from heat, strain, and let cool. You can reserve the water to make the risotto. Pull the mushroom gently apart and wash well to remove any soil or debris. Keep aside.

If you are using fresh mushrooms from the wild, you will have to split the mushroom into two to clean off the soil and grit properly. Clean the inside and outsides surfaces of the mushrooms by rubbing the soil gently off with your thumb. Lay it on a kitchen napkin to dry off. You can also use a salad spinner and spin it dry. You can increase the amount to 1 cup if using fresh mushrooms.

Chop the mushroom into bite-size pieces.
Cooking Black Trumpet Risotto
Warm olive oil in a large saucepan. Add the bacon and let it cook for three minutes. Now, add the minced garlic and shallots and sauté till fragrant.

Add the mushrooms and cook for another five minutes till they soften.

Now, add the arborio rice and mix it well. Add the wine and raise the heat to high. Stir well and let the wine reduce to dry.

To make a creamy, soft risotto, keep adding half a cup of chicken stock and stirring till the liquid is fully absorbed. You can also use the reserve black trumpet stock if you have it.

Once the rice is slightly chewy and creamy, add the parmesan cheese, butter, and scallions. Blend all the ingredients well.

Season with salt and freshly ground pepper. Finish it by adding the lemon juice and serve immediately.
Notes
If you are using store-bought chicken stock, make sure you buy the low-salt version.
Dishes simmered in alcohol can retain anywhere from 4 percent to 85 percent of the alcohol, according to a study by the U.S. Department of Agriculture's Nutrient Data lab. So, if you are following a total avoidance of alcohol, you may want to skip the white wine. You can head over to 8 Best White Wine Substitutes For Cooking for helpful tips. [3]
Other Ways To Use Black Trumpets
Black trumpet mushrooms, simply sautéed with butter, go well with eggs, pasta, and meat. They also make a striking presentation with any pale-colored grilled fish such as salmon. However, if you are looking for a special way to savor wild black trumpets, here are our two favorite recipes.
Black trumpet spread: Coarsely chop the black mushrooms and sauté with minced garlic and dried rosemary in butter. Add cream cheese and let it melt. Blend well. Remove from heat and put in an airtight glass jar. Refrigerate for a couple of hours for the flavors to come together. You can serve this as a spread with crackers, toasted bread, or even with raw vegetables.
Black trumpet topping for pizza: Take 2 tablespoons of butter in a skillet. Add finely sliced onions and let them caramelize. Set aside. In the same pan, add 1 tablespoon of olive oil and add 1/2 cup of chopped black trumpet mushrooms. Sauté till cooked. Season with salt and freshly ground pepper. Preheat the oven to 500 degrees F. Brush pizza dough with olive oil. Top it with the onions and black trumpets. Add 8 ounces of ricotta cheese and freshly grated Parmesan. Bake it for 10 minutes or till the cheese starts to bubble. Garnish with finely chopped basil.
Storing Black Trumpets: These mushrooms have a good shelf life. You can keep them in an open container covered with a damp towel. Otherwise, they get grey and brittle. If you have too many on hand, dehydrate them in the oven or sun-dry them. You can then powder the mushrooms and use it to flavor soups, stews, rice, and pasta.
Word of Caution: If you are looking for black trumpets in the woods, it is best to go with an experienced person. However, black trumpets are usually termed easy for mushroom forage beginners as they have a unique appearance.