If you want to follow the bulletproof regimen, but aren't fond of coffee, bulletproof tea is the way to go. Meant for people on low-carb diets such as keto or intermittent fasting, it gives your day a delicious kickstart.
What is Bulletproof Tea?
Bulletproof tea is based on the now-famous recipe for the bulletproof coffee by Silicon Valley entrepreneur Dave Asprey. The tea emerged later as an alternative version for those who don't want the caffeine or prefer tea. In some ways, it is perhaps closer to his own inspiration which was based on yak butter tea. The recipe uses a blend of tea and MCT oil with butter, coconut oil, or ghee. The tea provides a boost of energy, the perfect beginning to your day.
How can Bulletproof Tea Help in Weight Loss?
Based on the principles of biohacking, bulletproof tea uses biological means to 'hack' the body. It uses healthy fats to reduce weight and improve metabolism. Research published in Practical Gastroenterology revealed that MCT oil aids in digestion, oxidation, and absorption of food, which makes it extremely useful when dealing with gastrointestinal disorders. It suggested that it can be used as a supplemental source for calories. It also helps in ensuring an enduring effect of exercise, as indicated by an article published in 2018 in PLOS One. [1] [2] [3]
How to Make Bulletproof Tea?
If you want to enjoy your bulletproof tea and get its full benefits, here are a few tips you can follow:
Picking the tea: It can be made from black, green, or oolong tea. To ensure that you maintain the quality of the brew, pick a high-quality tea. Bold or strong flavors work well here. But if you don't like it, stick to milder flavors.
The fat: The three fats you can use in this recipe are coconut oil, butter, or ghee. While the original coffee recipe asked for grass-fed butter or ghee, this may not be accessible for everyone. In such a case, you can use organic products. Make sure that the butter is unsalted.
MCT oil: Or medium-chain triglyceride oil is one of the key ingredients in the bulletproof tea. If you cannot find it, you can substitute it with coconut oil. In fact, MCT oil is derived from raw coconut or palm oil. However, MCT oil is made by concentrating the MCT in raw coconut oil. Hence, it contains a far higher concentration of MCTs.
Additives: You can make the tea more delicious and nutritious with some simple additions. For an added dose of proteins in this keto-friendly tea, you can add ingredients like hemp seed powder. For enhancing the taste you can add spices like cinnamon.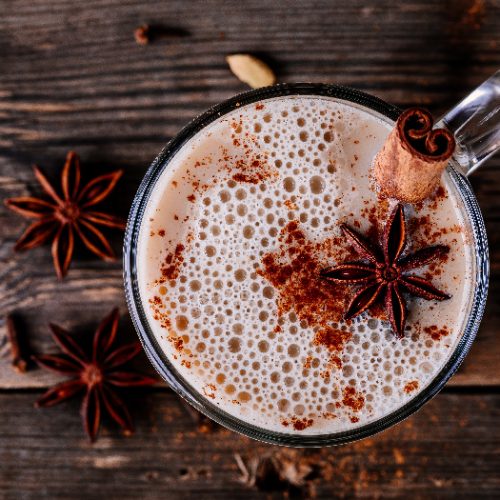 Bulletproof Tea Recipe
Emerging as an alternative to the keto coffee, the bulletproof coffee follows the basic principle. Just substitute the coffee with the tea.
Print
Pin
Rate
[4]
[5]
Ingredients
1

tsp

tea or teabag

black, white, or oolong

1

tbsp

coconut oil or MCT oil

1

tbsp

butter, ghee, or coconut oil

1

pinch

cinnamon powder [6]

optional
Instructions
Start with brewing the tea of your choice. Steep the tea leaves or the teabag in the hot water for a few minutes.

To the hot tea, add coconut or MCT oil. Then add the butter, ghee or coconut oil.

Whiz up this blend with an immersion blender or in a food processor. The tea will get lighter in color with foam on top.

Drink up this creamy tea.
So, try this energy-boosting cup of tea first thing in the morning. Since the tea is believed to improve metabolism, we also suggest that you keep some healthy snacks ready! If you want to know more about bulletproof coffee, check out this article by its inventor Dave Asprey.