Who wouldn't love a bowl of hot, plumpy, chewy, perfectly-cooked brown rice with a quick stir-fry on the side and a steak of roasted chicken to go? Cooking a pot of flawlessly prepared brown rice is not difficult, however, sometimes, it doesn't quite turn out the way you would like. Badly cooked brown rice is either too granular or mushy, while flawlessly cooked brown rice has a distinct flavor and a great texture. It is also known to be healthier and more fibrous than its white counterpart. Here is our article, 15 Impressive Benefits Of Brown Rice to prove that! Anyway, here's a recipe that will ensure you get perfect brown rice every time you attempt to make it. [1]
How To Cook Brown Rice?
We have the perfect method of cooking brown rice that will work on just about any type or brand of rice, except perhaps the instant variety. The instant and quick-to-cook ones are processed and hence it is difficult to put a standard cooking time for them. Anyway, follow these simple instructions to get perfectly cooked brown rice.
Start by rinsing the rice. This step is very important as you need to remove the excess starches from the rice. If they remain, they will cause the rice to become clumpy and gummy as you begin to cook it. We want our brown rice to be fluffy and hence this step is extremely important and cannot be ignored. Preferably use a fine-mesh strainer over a large bowl till you find the water in the bowl running clear.
You can also soak the grains if you'd like. Soaking the grains help in removing some naturally prevalent phytic acid in it that helps make it more tender and digestible. It will also help speed the process of cooking the rice. To soak it, add brown rice to a large pot and immerse it with twice the amount of lukewarm water. This means that for every cup of water. use at least 2-2 and 1/2 cups of water. Allow the rice to soak uncovered in the pot for at least 2 hours or overnight. Once done, drain and rinse once more. This step is, however, optional.
Once the rice is properly rinsed and the excess starch removed, measure the water to rice ratio accurately. For every cup of rice, use 2 and a half cups of water. Thereafter, in a medium-sized saucepan, add the water and rice in the aforementioned ratio. Add a teaspoon of extra-virgin olive oil to it and stir it well.
Now it is time to cook the brown rice. Allow the water to boil on low heat. Cover it and let it simmer for nearly 45 minutes till you start to see the rice turn tender.
Once that happens and the water fully gets absorbed, turn off the heat. Allow the pot to sit with the cover on for about 10 minutes. Thereafter, remove the lid and check the texture of the rice. It should be fluffy.
The recipe card given below will explain the entire process in great detail. Follow the step-by-step process to get steaming hot, perfectly-cooked brown rice.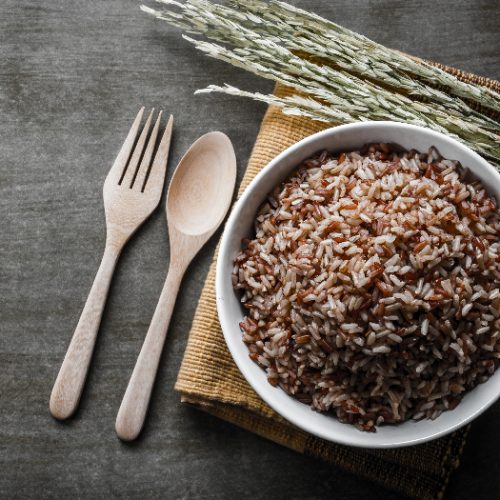 How To Make Perfectly-Cooked Brown Rice: Easy Recipe
Get the perfectly-cooked brown rice to go with a side dish of stir-fry veggies and a steak of meat!
Print
Pin
Rate
[2]
[3]
Ingredients
1

cup

brown rice

medium or long-grain

2

cups

of water

1

tsp

olive oil

1

tsp

salt
Instructions
To make extra fluffy brown rice, first, start by rinsing it. Take a fine-mesh strainer and put the rice in it. Rinse it thoroughly and rigorously under cool water. It is okay to have a bit of moisture on the rice.

If you want, you can choose to toast the rice. This step is, however, optional. In a small pan, take some oil and warm it over medium heat. Add the rice and toast it until it becomes dry and starts to appear a bit toasted on the tips. You will also begin to get a nutty fragrance. Once that happens, you'll know that the rice is well toasted. Ensure that this process is done on medium-heat otherwise you could end up burning the rice.

If you want to avoid toasting the rice, skip to this step directly. Place the rice in a saucepan and gradually pour the water into the pot along with the rice. The water will steam and bubble first if you decide to toast the rice before this step. While the water continues to steam, add a pinch of salt and stir properly.

Thereafter, allow the water to boil over low heat so that the water is just simmering. Allow the rice to cook this way for 45 minutes. Do not remove the lid of the pot to check if the rice is cooking.

Once you come to believe that the rice is almost ready, uncover to check if the water has been fully absorbed. If you find a little bit of water at the bottom of the pot, it is okay. However, if you find more than a teaspoon of water there then drain it off immediately. The rice should be chewy and tender if you touch it at this point in time. If for some reason you find the rice to still remain crunchy in parts, that means that it isn't fully cooked. That also means that you need to add more water and continue cooking the rice. After 10 minutes of cooking it on low heat, you can check if the rice is done.

Once the rice is perfectly cooked, take it off the heat and allow it to sit that way for nearly 15 minutes. This is again a very important step as it doesn't let the rice become too sticky and allows it to loosen up a little. You can then use a spoon or a fork to fluff up the rice. You can then transfer it to a serving dish. Serve it hot along with some stir-fried vegetables. Enjoy!
Notes
You can refrigerate leftover brown rice for nearly 5 days if put in an airtight container.
You can also put it in proper zip-lock bags and airtight containers and freeze it for up to 3 months.
How To Eat?
Given that brown rice is a healthier option, although the taste may be quite different, you can replace white rice with it in any of the recipes below. [4]
You can also use it to add texture to vegan meatballs and veggie burgers. Additionally, you can mix in vegetables, brown rice, your favorite sauce, and some protein and make a delicious healthy grain bowl for yourself. Toasted brown rice is also used to make the famous Japanese Genmaicha Tea.