While summers remind you of barbeques and corn on the cob, the humble crookneck squash can also easily make its way into the list. Summer squashes are versatile and can be baked, grilled, roasted, pickled, or even stuffed into bread and muffins.
What Is Crookneck Squash?
Crookneck squash (Cucurbita pepo) is a type of yellow summer squash that gets its name from its slightly crooked neck. It is native to North America. The flesh of the squash is pale yellow, and it contains edible seeds. It has a creamy, nutty flavor and tastes delicious when sautéed with butter. The Agricultural Research Organization states there are six kinds of summer squash, which include cocozelle, crookneck, scallop, straightneck, vegetable marrow, and zucchini.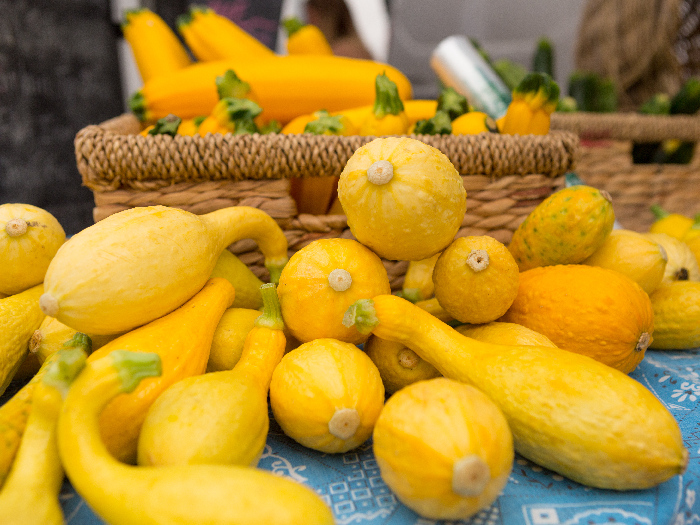 Squash, melons, and cucumbers belong to the same family (Cucurbits), according to the University of California Cooperative Extension. Crookneck squashes are a simple addition to any vegetable garden. They grow on non-vining bushes quite prolifically. However, you should harvest them when the skin of the squash is still soft. As the summers get hotter, the squashes can get tougher or turn orange in color. They are the sweetest when they are smaller in size (4-5 inches).
Nutrition Facts

---

Squash, summer, crookneck and straightneck, raw

Serving Size :
Nutrient
Value
Water

[g]

94.28
Energy

[kcal]

19
Protein

[g]

1.01
Total lipid (fat)

[g]

0.27
Carbohydrate, by difference

[g]

3.88
Fiber, total dietary

[g]

1
Sugars, total

[g]

2.88
Calcium, Ca

[mg]

21
Iron, Fe

[mg]

0.44
Magnesium, Mg

[mg]

20
Phosphorus, P

[mg]

32
Potassium, K

[mg]

222
Sodium, Na

[mg]

2
Zinc, Zn

[mg]

0.29
Vitamin C, total ascorbic acid

[mg]

19.3
Thiamin

[mg]

0.05
Riboflavin

[mg]

0.04
Niacin

[mg]

0.45
Vitamin B-6

[mg]

0.1
Folate, DFE

[µg]

19
Vitamin B-12

[µg]

0
Vitamin A, RAE

[µg]

8
Vitamin A, IU

[IU]

150
Vitamin E (alpha-tocopherol)

[mg]

0.13
Vitamin D (D2 + D3)

[µg]

0
Vitamin D

[IU]

0
Vitamin K (phylloquinone)

[µg]

3.2
Fatty acids, total saturated

[g]

0.09
Fatty acids, total monounsaturated

[g]

0.01
Fatty acids, total polyunsaturated

[g]

0.08
Fatty acids, total trans

[g]

0
Cholesterol

[mg]

0
Caffeine

[mg]

0

Sources include : USDA
Crookneck Squash Nutrition
Summer squash is nutritious and low in calories too. According to the USDA, 1oo grams of raw crookneck squash is only 19 calories. It has a high amount of vitamin C, folic acid, potassium, and magnesium. It also contains calcium, iron, phosphorus, sodium, zinc, and copper.
How To Cook Crookneck Squash?
An interesting fact about summer squash is that while it is classified botanically as a fruit, it is cooked just like a vegetable. You have to be careful not to overcook them as they become soggy and wilted. They are best grilled, sautéed, or roasted and make for a perfect side to barbequed meat at a summer party. Also, they can be used for kabobs or spiralized to replace pasta as a low-carbohydrate dish. Here is a simple recipe for stuffed summer squash.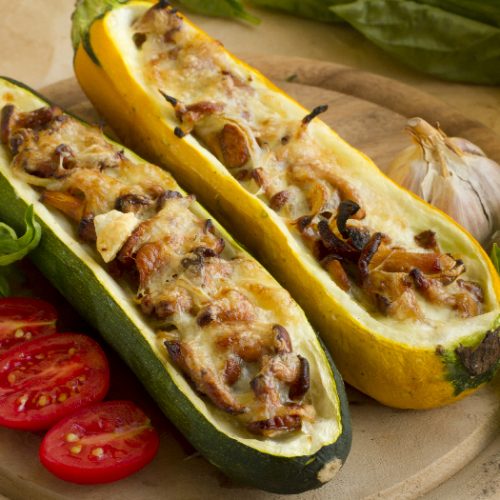 Stuffed Summer Squash
An interesting way to get your children to have their vegetables while having their meat too!
Print
Pin
Rate
Ingredients
2

summer squash

4

oz

Italian sausage

1

garlic clove

minced

1/2

cup

red onion

chopped

1/2

cup

tomato

chopped

1.5

cups

shredded cheese

1

tbsp

Parmesan cheese

grated

1

tbsp

olive oil

1

tsp

Italian seasoning

1/2

tsp

black pepper

crushed

salt

to taste

2

tbsp

parsley

chopped (optional)
Instructions
Bring a large pot of water to boil. Cut the squash lengthwise into two halves and scoop out the flesh with a spoon. Keep the scooped out squash aside to use later. Using a wooden spoon, put the squash gently into the boiling water and let it cook for a couple of minutes.

Then, in a skillet, add olive oil and warm it. Add the garlic and onion and stir till softened. Next, add the tomatoes and scooped out squash. Sauté for ten minutes. You can now add the Italian sausage and cook it till brown. Add salt, pepper, and the Italian seasoning.

Preheat the oven to 350°F. Grease a 13 x 9 baking dish with olive oil or cooking spray.


Place the squash skin down in the baking dish. Spoon the sausage mixture into the squash boats evenly. Top them with the shredded cheese and sprinkle Parmesan cheese. Bake for 30-35 minutes till the cheese melts and the squash is fork-tender.

Sprinkle parsley on top, if desired. Enjoy this summer special!
Notes
You can substitute the tomato for 1/2 cup bell pepper or 1/2 cup spinach for a different flavor. 
Try roasting thinly sliced squash. You also slice them lengthwise and bake them with sprinkled cheese and your choice of seasonings.
So, go ahead and have fun this summer with different kinds of squash!