Many people rely on digestive biscuits for a sweet treat at the end of a meal that can also deliver some unexpected health benefits!
What are Digestive Biscuits?
Digestive biscuits are sweet biscuits, commonly known as cookies in other parts of the world, that were invented in Scotland in 1839 by two doctors. Initially developed as an aid for digestion after a meal, these biscuits are similar in taste and texture to graham crackers. The moniker "digestive" is thought to come from the addition of sodium bicarbonate (baking soda) in the recipe. While that may have been part of it, these wholesome, whole-grain biscuits also traditionally contained bran germ, oatmeal, malt, and whey, all of which have benefits for your digestive system.
In supermarkets today, digestive biscuits can be found in a variety of different flavors besides plain malts, such as mint or orange. Chocolate-coated digestive biscuits remain the most popular variation, but they can also be found in savory renditions and are quite popular for cheese plates. McVitie's, which created the chocolate-dipped biscuit in 1825, remains the most popular and prevalent brand today. The biscuits are often served with tea or coffee, and sometimes dunked, but the biscuit itself is very delicate and falls apart quickly.
Digestive biscuits are considered a staple in the U.K. and can often be found at import stores in other countries. They are sold in the United States as well, usually in the specialty sections of markets, but they are not allowed to be sold under the name "digestive", as it implies medicinal qualities that are unproven.
Nutrition of Digestive Biscuits
A serving of two digestive biscuits contains roughly 150 calories, 20 grams of carbs, and 6 grams of fat. That service size also has approximately 2 grams of protein, 5 grams of sugar, and 1 gram of fiber.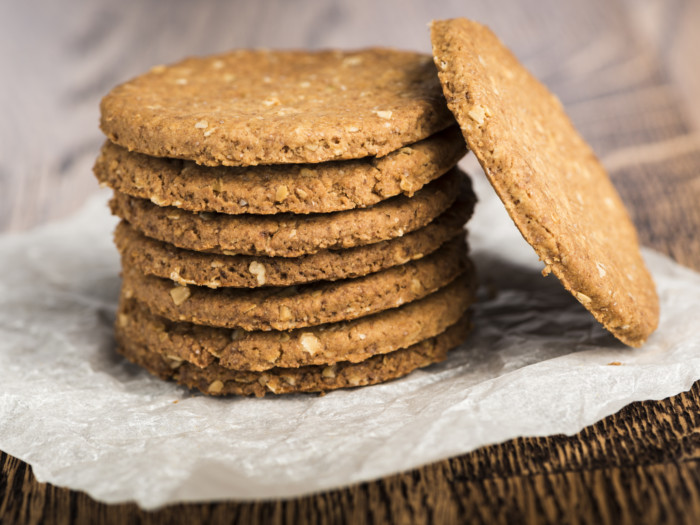 Digestive Biscuits Benefits
Although many digestive biscuits are very sugary, you can find low-fat or whole wheat flour biscuits. This regional delicacy has remained popular today not just because of its taste. A true whole wheat flour biscuit, with its combination of baking soda and fiber, will indeed help you digest a large meal. These biscuits are also a decent source of iron and are generally low in saturated fats, which gives them an advantage over more popular brand-name cookies. These little cookies are also packed with slow-release energy, so they're a great snack for long hikes or mid-day office breaks.
The moderate amount of fiber in these cookies will help to stimulate the digestive process by bulking up a stool and driving peristaltic motion, thus ensuring regularity in your bowel movements. According to a report by Linda Nazarko published in the British Journal of Healthcare Assistants, high-fiber foods like digestive biscuits can help to control your bowel movements and prevent constipation. Eating these biscuits after a meal will also help to extend your satiation, preventing additional snacking before your next meal, which can aid in weight management efforts.
Good for Your Health or Bad for Your Waistline?
Despite being initially invented as a health food, it's pretty clear these days that the benefits of digestive biscuits can easily be outweighed by the sugar and fat content found in many varieties. These biscuits are also generally high in sodium, and some kinds may even contain saturated fats from frosting or flavoring. Furthermore, besides containing small amounts of fiber and protein, digestive biscuits contain few other valuable minerals or vitamins. So, while they may be billed as healthy, it's best to treat these biscuits as the sweet treat they are.
How to Make Digestive Biscuits At Home?
Of course, the best way to enjoy a healthy, but satisfying digestive biscuit is to master making them at home. Let us look at a simple recipe for delicious homemade digestive biscuits.
Directions
Step 1: Sift together 170 grams of wholemeal flour with 170 grams of

oatmeal

.
Step 2:

Next crumble 150 grams of very cold butter into the flour, until it has a breadcrumb texture.
Step 3:

Stir in ½ tsp baking soda, 55 grams of any kind of dark sugar, and ½ tsp salt.
Step 4:

Add 2-3 tbsp of milk until the dough holds well.
Step 5:

Flatten into a round circle, then wrap in clingwrap and chill for half an hour.
Step 6:

Preheat the oven to 170C° and line two baking sheets with parchment paper.
Step 7:

Roll out the dough to a width you desire (4mm recommended) then bake for 12-15 minutes.
Step 8:

Let the biscuits cool on the rack for 5 minutes when done.
If you prefer a sweeter biscuit, you can add nuts or dried fruit, ginger, cinnamon, or you can even dip them in chocolate. To dip, melt the chocolate in a glass bowl over a pot of simmering water. Once the biscuits are completely cooled, you can dip them carefully on one side in the chocolate, then leave them to cool again thoroughly until the chocolate has hardened.