While fruit wine may not be something that regularly crosses your palate, it turns out that grapes are not the only fruit that can produce such a delicious alcoholic beverage!
What is Fruit Wine?
Conventionally, most people think of wine as being made from grapes, but people make wine from all kinds of different fruits in different parts of the world. Fruit wines can be made with any number of types of fruit and the alcoholic content of most fruit wines averages around 11%. Furthermore, based on the types of fruits being used, fruit wine can also have a number of potential health benefits!
Types
There are many different types of fruit wine. They include strawberry wine, elderberry wine, apple wine, blackberry wine, cranberry wine, plum wine, pineapple wine, and more.
Strawberry wine is a summer favorite of home winemakers and is known to be very sweet.
Elderberry wine is a traditional, tart English wine that has been made for centuries. [1]
Apple wine is another tart, sour German wine that is similar in taste to dry ciders.
Blackberry wine is a sweet, dark British wine that is sometimes blended with elderberries.
Cranberry wine is another home winemaker favorite, liked for its ease of drinking and clarity.
Plum wine is a favorite drink in Japan, Korea, and China. Instead of fermenting the fruits, however, the plums are soaked in distilled liquor. [2]
Pineapple wine is produced all over the world, from Southeast Asia to Africa. It is a dry wine with a heavy pineapple bouquet that is unusual, but undeniably delicious.
Dandelion wine is an American-style wine made with dandelion petals.
Rosehip wine is made from the seed fruit of roses and is considered one of the best fruit wine varieties, although it can be a bit costly. [3]
Orange wine is typically hard to make, as the fruit is so acidic, and the quality of the wine depends highly on the yeast that is used during production.
How to Make?
Let us take a look at the detailed recipe to make the fruit wine of your choice.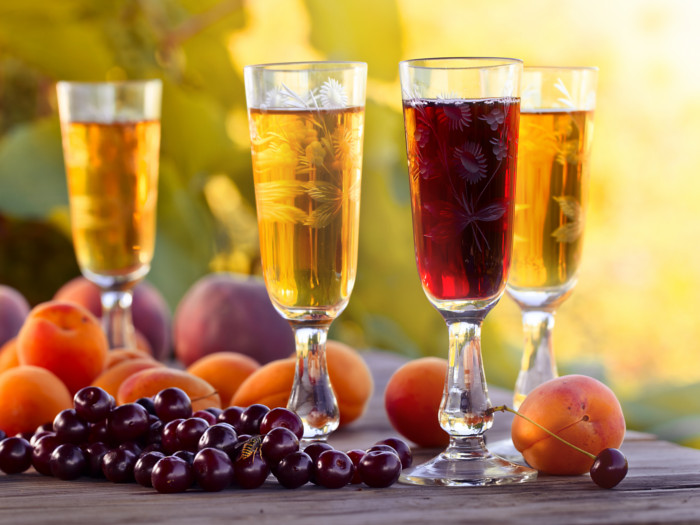 Fresh Fruit Wine Recipe
Enjoy this fermented beverage with a fruit juice of your choice as a base.
Print
Pin
Rate
[4]
[5]
Ingredients
1

gallon

of water

2

pounds

of sugar

6-8

pounds

of your desired fruit
Instructions
To make fruit wine, freeze 6-8 pounds of your favorite fruit for a few days beforehand.

Bring 1 gallon of water and 2 pounds of sugar to a boil.

Pour the boiling sugar water over your desired fruit, stir, and then cover tightly.

Next day, mash the fruit and stir in the yeast. Cover the mixture again. Continue to uncover and stir once a day for a week.

Strain the mixture and pour it into glass jugs. Leave a few inches of room in each bottle. Place the jugs in a dark, cool place.

In one month, siphon the wine into new jugs to clear out any sediment or fruit matter from the bottom.

Age the wine for as long as appropriate, which will depend on the type of fruit you're using.
Do you wish to share your winning recipes with us? Please click here and fill in the details to get started.
Word of Caution: Moderation is key when it comes to alcohol consumption. The risks involved with drinking excessive alcohol can be short term such as violence and injuries to long-term health risks such as chronic diseases. [6]