Thieves essential oil is well known to reduce stress, neutralize bacterial and viral pathogens, improve digestion, strengthen bones and reduce inflammation, as well as lowering fevers, healing skin conditions, aiding weight loss and strengthening the respiratory system.
The benefits and uses of thieves essential oil are particularly valuable for people suffering from a weak immune system, gastrointestinal problems, inflammatory conditions, skin irritation, poor respiratory health, obesity, hypertension, and osteoporosis, among others.
What is Thieves Essential Oil?
Thieves essential oil is a blend of five essential oils, which include clove essential oil, rosemary essential oil, lemon essential oil, eucalyptus essential oil, and cinnamon bark essential oil. It has a rich, spicy, and earthy aroma. This essential oil has potent antiseptic, disinfectant, and antibacterial properties, according to a report published in The American Journal of Essential Oils and Natural Products. It is commonly used as a home remedy for colds & coughs, as well as for domestic purposes such as house cleaning.
It is one of the oldest and most interesting oils, based on the unique history of how and why it was developed. Legend has it that in the 15th century, when a terrible plague spread like wildfire across Europe claiming more than millions of lives, four thieves from Marseilles were busy notoriously robbing people, who were dead, of all their possessions. The thieves themselves did not contract any infection as they had applied a powerful herbal blend of natural oils on their bodies. This came to be known as thieves essential oil.
Benefits & Uses of Thieves Essential Oil
The health benefits of thieves essential oil are mainly due to the amazing and potent properties of the five essential oils. So, let's get straight to the most important health benefits and uses of thieves essential oil.
Reduces Fever
Lemon oil can effectively reduce fevers and lower levels of free radical activity, according to a 2018 research report on citrus oils published in the International Journal of Molecular Sciences. Also, a study by naturopathic doctors, Angela E Sandlon and Davis W Lamson, found that eucalyptus oil and its major component, 1,8-cineole, have antimicrobial properties. It can fight all kinds of bacteria, including Mycobacterium tuberculosis, viruses, and even Candida. This makes thieves oil a good remedy for colds, coughs, and fever.
Anti-inflammation
Clove, eucalyptus, and rosemary essential oils, present in thieves essential oil, have an anti-inflammatory effect on the body. According to a 2010 study by a team of Japanese researchers led by Mariko Hotta, clove and eucalyptus essential oils helped suppress COX-2, an enzyme that creates inflammation, pain, and fever in the body. The study suggests that the essentials oils helped suppress the production of COX-2 by 25%. Furthermore, an experimental animal study revealed that rosemary oil had potential anti-inflammatory properties.
Improves Respiratory Health
A study conducted in Italy published in Phytotherapy Research examined the antibacterial effects of various essential oils on respiratory pathogens including Staphylococcus aureus, pneumoniae, and Klebsiella pneumoniae. Cinnamon oil showed the strongest antibacterial effect, followed by clove oil – both of which are present in thieves essential oil. Furthermore, the BMC Complementary and Alternative Medicine, in its June 2012 report by Ameur Elaissi, said that eucalyptus oil has the potential to treat certain respiratory bacterial infections and fungal diseases.
Strengthens Immune System
All of the ingredients in thieves essential oil have an impact on the immune system, either with antibacterial, antiviral, antiseptic or antioxidant. A 2017 study by Xuesheng Han et al, published in Cogent Medicine, suggests that essential oil blends can potentially impact cells by improving immunity and speeding up wound healing. This is what made this oil so popular back in medieval times, as it was believed to be a protective shield against the plague. As it turns out, the concentrated infection-fighting chemicals in this oil make for a great defense of the body against infections of all kinds.
Improves Bone Health
This isn't the most common use of thieves essential oil, but the active ingredient in clove oil, called eugenol, is known to stimulate the absorption of essential minerals by the body, leading to healthier bones and a lower chance of developing osteoporosis. An experimental study conducted in India on rats with clove oil extract application showed that eugenol has bone-preserving properties and can be potentially used as therapy for osteoporosis.
Weight Loss
Lemon essential oil, present in thieves oil, has been considered a weight-loss tool for quite a while, as it can stimulate the release of certain hormones in the body that signal "fullness". A study published in Phytotherapy Research suggested that lemon essential oil could be useful in the treatment of obesity and other related diseases.
Home Cleaner
Many people use thieves essential oil, in small amounts, as a house cleaner. According to a Journal of Essential Oil Research report, when thieves oil was diffused in a controlled environment, it significantly reduced the number of airborne bacteria and prevented transmission of pathogens. With a fragrant aroma (the cinnamon cuts through the strongest) and powerful antiseptic properties, giving the surfaces in your home a quick wipe with thieves essential oil makes it much harder for germs and bacteria to take hold.
Skin Care
Eucalyptus and lemon oils have strong disinfectant and antiseptic properties, making them a good choice for cleaning surfaces in your home. While it is also used topically on the skin, a formal study is needed to check the efficacy.
How Do You Make Thieves Essential Oil?
You can make thieves essential oil in several ways, but most recipes include five essential oils: clove, cinnamon, lemon, eucalyptus, and rosemary. There are various recipes that have been popularized over the centuries, but these are the five base ingredients you will find in most thieves essential oil preparations. In all recipes, clove, and lemon essential oils are the dominant ingredients.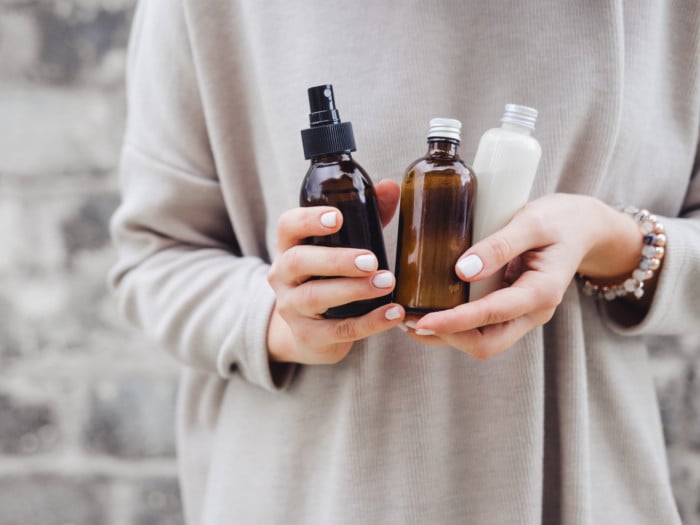 Thieves Essential Oil Recipe
An essential oil blend well-known for its potential germ-killing abilities
Print
Pin
Rate
Ingredients
2

tbsp

clove essential oil

2

tbsp

lemon essential oil

2

tbsp

eucalyptus essential oil

2

tbsp

rosemary essential oil

2.5

tbsp

cinnamon bark oil
Instructions
Gather all five essential oils and a 15 ml glass bottle, tinted blue or brown. Tinted glass bottles help reflect the sun's rays and protect the essential oil blend.

Add all five ingredients to the bottle.

Shake vigorously to blend the oils well. You can store the bottle in a cool, dark, and dry place.
Thieves Essential Oil Diffusion
Thieves essential oil can be diffused throughout your home for excellent results, filling the space with a warm, inviting smell, while also slowly being inhaled and distributed on the body. This type of full-body immersion isn't how this oil was originally used, but it can provide access to the wide range of health benefits listed above.
Now that you know the benefits and the recipe, don't keep them to yourself. Go ahead and share the information!