The benefits of using coconut oil on your hair include a richer shine, less irritation on the scalp, less dandruff, more protein in the hair, fewer split ends, and a lower risk of hair loss. This oil is particularly beneficial if you suffer from dry or damaged hair, and can even help de-tangle badly knotted hair. Although they are called hair masks, it is essentially just a mixture of oils and other key components that are then massaged into the hair and scalp.
The use of coconut oil on the hair has been going on for generations, and the rich, moisturizing properties of this oil are also well known for use on the skin. Coconut oil contains a number of medium-chain fatty acids, vitamins, minerals and antioxidants that can protect the skin from infection and irritation, while also strengthening the hair, improving its ability to grow, and making it more difficult for split ends to form. Lauric acid and vitamin E (source: USDA) are also both important nutrients when it comes to hair health, and can be found in significant quantities within coconut oil. These help to prevent hair loss in many cases, while also rejuvenating the skin of the scalp and eliminating dry, flaky skin. [1] [2]
That being said, this oil is not appropriate for every hair type, and it should not be used in excess. People who lack enough protein in their hair can benefit from coconut oil because it helps to lock in those proteins. However, those people who have coarse or brittle hair occasionally find that coconut oil can have an adverse effect, making their conditions worse. Obviously, those who have an allergy to coconuts or coconut-derived products should also avoid this type of hair mask. [3]
If you haven't used this type of hair mask in the past, start with a small amount of oil and see how your hair reacts. The results should be a healthy head of hair with a minimum of oil, a notable luster, and a clear scalp that allows for proper growth.
How to Make a Coconut Oil Hair Mask?
There are many different coconut oil hair mask "recipes", but the most popular have a base of coconut oil and another essential oil, typically argan oil, marula oil or cinnamon oil, and may also contain honey, avocado oil, or even shea butter. Let's take a look at the recipe to make your own coconut oil hair mask at home. [4]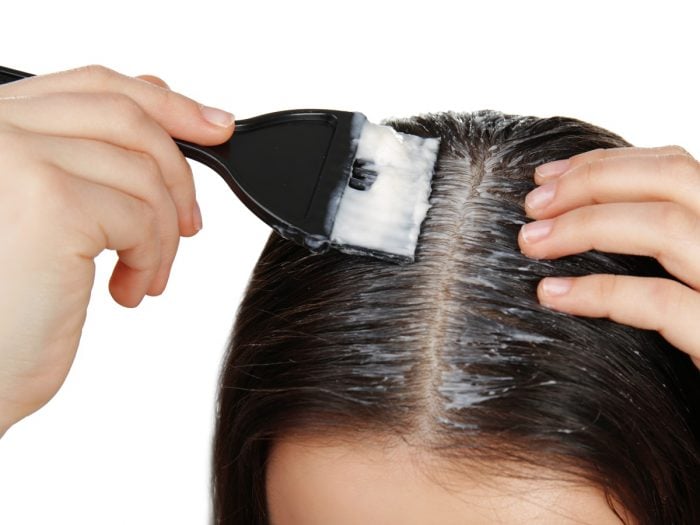 An Easy DIY Coconut Oil Hair Mask Recipe
Hair masks can be really quite expensive. Wouldn't it then be wonderful if you could make it at home? Coconut oil can penetrate through the hair shafts, adding moisture to the locks, making them stronger and repairing them from the roots. Additionally, it's rich in antioxidants, which nourishes the hair and helps it grow and remain healthy. If your hair is super dry and parched, add coconut oil to the conditioner, and add other moisturizers such as eggs, argan oil, bananas, etc to tame the frizz and detangle the locks. So let's get started with the DIY process of making this mask at home.
Print
Pin
Rate
Ingredients
2-3

tbsp

coconut oil

2

avocados

2

tbsp

argan oil, marula oil,cinnamon oil, honey or shea butter
Instructions
You can blend up a banana with a few tablespoons of coconut oil for an effective mask, or blend two avocados, coconut oil and other essential oils to create a thick, green hair paste.

The key is to include 2-3 tablespoons of coconut oil and then other soft, mineral-rich, or moisturizing substances such as other essential oils, typically argan oil, marula oil or cinnamon oil, honey, avocado oil, or even shea butter.

Together, the effects of such nutrient-rich ingredients can quickly heal your hair and keep it protected for weeks!
How to Use a Coconut Oil Hair Mask?
To prepare a very simple coconut oil hair mask, take 2-4 tablespoons of coconut oil, mix in 10-15 drops of the essential oil of your choice and thoroughly mix the two. Thoroughly apply the mixture to your hair with your fingers, massaging it into the strands. Avoid making large clumps in the hair, and also rub it directly on your scalp. You should leave this hair mask on for between 30 and 90 minutes, depending on how deep of a cleanse you want, and then wash out the mixture. [5]
However, that is easier said than done. The coconut oil can be a bit difficult to remove, but people have found success by mixing a raw egg with warm water and then coating the hair with this second mixture for 5-10 minutes. Following that, simply wash off the the oil and the egg mixture with warm water. This should remove the majority of the oil from your hair, leaving behind your shiny, healthy, rejuvenated locks!
How Coconut Oil Hair Mask is Used in Hair Treatment?
You should use a coconut oil hair mask to treat your hair if you find that you're constantly battling split ends, are seeing increased hair loss, have trouble combing your hair smoothly, do not like the appearance of your hair, or are worried about increased signs of dry skin or dandruff. All of these symptoms indicate that you are lacking key nutrients and minerals in your hair. It could also mean that your hair is protein-deficient, a problem that coconut oil can fix by coating the hair and preventing the leeching of protein. The lauric acid found in this oil is also highly antibacterial and anti-fungal in nature, meaning that it can protect the skin and scalp from many infections that cause dandruff, irritation or hair loss. [6]
Hair masks are typically done at home, but are highly recommended by hair specialists, provided that people know the right amount of ingredients to use, and that they have hair that will respond well to such a treatment. Again, only use a coconut oil hair mask after you have tried a small amount and seen good results. Otherwise, essential oils like marula or argan oil can be used instead.