You can make coconut oil lip balm using a few simple ingredients, including coconut oil, beeswax, olive oil, sea salt, honey, or lavender, depending on the particular recipe you want to follow.
Coconut Oil Lip Balm Benefits
If your lips are chapped, inflamed, flaking, cut, or cracked, coconut oil lip balm can help moisturize, protect from infections, speed the healing process, and leave your lips feeling smooth and supple. You can purchase a traditional lip balm in stores around the world, but many of the chemicals and additives in these popular products may be toxic, or have other side effects for your skin and lips that you want to avoid. Many of them are only effective for very short periods of time, before leaving your lips dried out even worse than before. Others are oily and only function to coat your lips, rather than soak in to have longer-lasting effects.
For those who are ready for an all-natural solution to your chapped, cracked or weather-beaten lips, the benefits of this specialty lip balm will pleasantly surprise you. [1]
Lip Moisturizer
The primary purpose of any lip balm is to moisturize lips that have chapped, cracked or otherwise damaged through exposure to the elements, a lack of moisture, or excessive licking of the lips. This can be painful and even dangerous, so adding a protective layer of moisture is essential. As per USDA, coconut oil contains fatty acids and vitamins such as vitamin E. These nutrients are able to penetrate the outer layers of the lips to deliver moisture where it is needed most. More importantly, unlike many other lip balms, this variety will lock in moisture and make it more difficult for chapped lips to return. [2] [3]
Boosts Immune Protection
When your lips crack, they become much more susceptible to various pathogens, such as bacteria or viruses, that can do further damage to your lips. The medium-chain fatty acids found in this oil-based lip balm, particularly capric, caprylic and lauric acids, have natural antibacterial, antiviral and anti-fungal properties, meaning that they can give your lips an immune system boost and ensure that those cracked, exposed areas don't become infected. [4]
Improves Appearance of Lips
Lips that are chapped and cracked are anything but kissable, and can look a bit worse for wear. The vitamin E in coconut oil, also known as tocopherol, as well as the antioxidants found in other components of this lip balm, can help smooth the skin, promote collagen cross-linking, and keep the skin looking and feeling healthy. You want a consistent texture on your lips, as well as a healthy glow of natural color, which coconut oil lip balm can provide. [5]
Speeds Up Healing
The other effect of the antioxidants and vitamins found in coconut oil lip balm is their ability to stimulate healing. The oil will encourage blood flow to the narrow capillaries in the lips, which brings oxygen and nutrients to those cells, making the healing process much faster. Sometimes, chapped or cracked lips can take days or weeks to heal, but that can be sped up significantly with a lip balm that includes coconut oil. [6]
How Do You Make Coconut Oil Lip Balm?
You can make coconut oil in a number of ways, but most recipes include beeswax, olive oil, various essential oils, honey or salt. Two of the most popular recipes are explained in more detail below.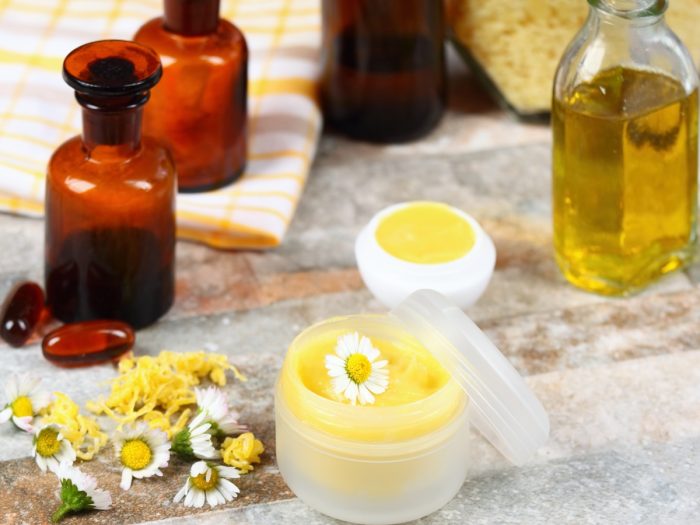 How to Make Coconut Oil Lip Balm: Easy Recipe
That coconut oil is excellent for the skin is a known fact. But did you know that it also works wonders on the lips? The healing, soothing and moisturizing properties of coconut balm make it a perfect lip balm to be directly applied to the lips. So what are you waiting for? Let's get started with the recipes.
Print
Pin
Rate
[7]
[8]
Instructions
To make coconut oil balm, first, add all three ingredients to a double boiler. Alternatively, put them in a glass bowl over a smaller pan, which you will fill with water on the stove.

Then as the water below begins to heat up, the oils and beeswax will begin to liquify and blend. Stir gently so the mixture is consistent.

Once they are thoroughly mixed, carefully pour the blend into a small glass jar or other container. Store this in a dark, dry and cool place to increase its longevity.

To use, simply run your finger along the top of the hardened mixture; the heat of your finger will be enough to melt a small amount. Apply it to both lips and allow it to soak in; you should see noticeable results within a few days of use, and relief from any pain or inflammation within a few minutes.
DIY Recipe No 2
First, melt the coconut oil and beeswax in a double boiler (if a double boiler is unavailable, put them in a glass bowl above a smaller pan of boiling water on the stove.

Once the mixture is fully melted, remove from the heat and mix in the honey, almond oil and your chose essential oils.

Before the mixture can fully cool (and harden) pour it into a small glass jar or container, or you can buy empty lip balm tubes and fill those up accordingly.

Allow the lip balm to fully harden and cool before closing the lids on these containers. Store them in a cool, dry and dark place when not using them.

Apply them as you would a normal lip balm, and re-apply at least daily when you are suffering from chapped or cracked lips. This is also a great preventative measure, particularly in the winter, or in dry, windy climates.
Connect With Us
If you have tried this recipe, we would love your feedback in the comments section below. And while we can't taste it, we would love to see how it turned out! You can connect with us on Facebook or Instagram and tag your picture with #organicfactsrecipes. [12] [13]
Do you wish to share your winning recipes with us? Please click here and fill in the details to get started.